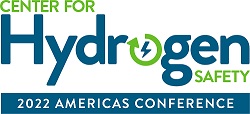 The Center for Hydrogen Safety is holding its 3rd hydrogen safety conference covering the Americas. This conference will bring together representatives from industry, government, and academia to highlight the safe use of hydrogen in commercial and industrial applications. This years conference is being held in partnership with RE+ and WHA International. Smart Energy Week is the largest gathering of solar, smart energy, microgrids, energy storage, hydrogen fuel cell professionals, EVs, and wind professionals in North America.
Please visit the RE+ website to register for RE+ events and WHA website to register for H2 Safety Trainings.
Be part of CHS 2022 Americas Conference
Sept. 20-22 in Anaheim, CA.

Anyone with an interest in working safely with hydrogen should be at this event. Those new to the field will learn and develop a solid foundation for their future work. Those with limited experience will learn the reasoning for the practices they have been taught. Those with considerable experience will supplement their knowledge and contribute by participating in sessions.
Speakers from Air Products, Honeywell UOP, Sandia National Lab, Jensen Hughes, the Hydrogen Council, Nel Hydrogen Fueling, Compressed Gas Association, California Fuel Cell Partnerships and more will be presenting, along with other leaders in hydrogen and hydrogen safety. Join us.
Top Reasons to Attend
Open to all individuals interested in hydrogen safety

Gain insight on best practices and lessons learned for hydrogen projects

Collaborate to further develop and increase awareness of the hydrogen safety culture

Network with industry experts, engineers, managers, operators and end-users of hydrogen