Center for Hydrogen Safety Americas Conference 2024
We invite you to be an active participant in shaping our upcoming 2024 conferences. Your feedback is crucial in helping us curate engaging and informative events that cater to the needs and interests of our diverse community. Whether you have suggestions for compelling topics, influential speakers, interactive activities, or any other ideas, we want to hear from you. Your input will directly influence the content and direction of our conferences, making them more impactful and relevant.
Free Hydrogen Lab Safety Course
The Center for Hydrogen Safety has created a lab safety course focused on specific safety aspects of working with hydrogen in the lab. This course is free for anyone to take and covers:
General laboratory safety culture
Identification, prevention, and mitigation of hydrogen hazards
Specific design considerations for hydrogen laboratories and experimental equipment
Safety and Emergency planning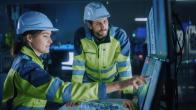 Hydrogen Safety Education
As the number of producers and end-users of hydrogen grows, the Center for Hydrogen Safety is committed to providing resources to educate them on the safe handling of this critical energy carrier. The Center has created eLearning courses specific to hydrogen safety, webinars on pertinent topics, and leveraged AIChE's deep portfolio of process safety resources to meet that commitment.
CHS First Responders Micro Training Learning Plan
Increasing availability and adoption of fuel cell electric vehicles (FCEVs) presents new safety challenges for First Responders (FR). The Center for Hydrogen Safety (CHS) in collaboration with AIChE has developed a microtraining learning plan as part of the Hydrogen Safety for First Responders training. This 4-part multimedia course aims to better inform incident responders and support the safe handling and use of hydrogen in a variety of fuel cell applications.
Giving Back.
Donations small and large and make a difference, and remember all gifts to the AIChE Foundation are tax-deductible. Learn more about AIChE's Doing a World of Good campaign.