Young Professionals Community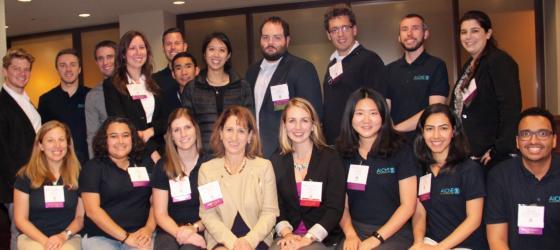 Young Professional (YP) members are a vital and active group of AIChE members. AIChE Young Professionals are:
Under the age of 35 and have graduated from an undergraduate institution,
Those new to the working world,
Masters or PhD students,
Those looking for a career in chemical engineering post-graduation, and
Those who have been working for a few years and starting to advance in their careers.
The Young Professionals Committee (YPC) works to increase participation among Young Professionals in AIChE benefits, services and volunteer opportunities. The committee
Serves as an intermediary between undergraduate students moving into the next phase of their professional or academic careers,
Creates technical and social programming for YP's at AIChE conferences,
Provides leadership opportunities for YP members to develop new initiatives within AIChE,
Supports sub-sections of local sections that hold events especially geared toward YP's,
Supports and vocalizes the needs of YP's within the Institute, and
Helps define the future of AIChE and the chemical engineering profession.
Interested in getting involved? E-mail ypc@aiche.org for more information.
Recent Events
Thursday, April 28, 2022, 7:00pm EDT
AIChE Young Professionals are invited to attend a new hybrid event of the National Capital Section of the American Institute of Chemical Engineers. Event : Dr. Steven A. Arndt, a Distinguished R&D Staff Member at the Oak Ridge National Laboratory will be speaking at a special dinner event with...
Read more
Thursday, October 28, 2021, 1:00pm EDT
On Thursday, October 28, 2021, a Catalysis & Reaction Engineering Division Webinar: "Catalytic Challenges and Opportunities for Shale Gas Utilization," will be hosted through Zoom. The webinar starts at 1:00 p.m. ET, but the webinar link will become active 15 minutes early. You will be able to...
Read more
Recent Activity
We are excited to announce the Electrification and Decarbonization of Chemical Synthesis webinar, organized jointly by the CRE division and the Young Professionals Community. We will be featuring Karthish Manthiram, a Professor of Chemistry and Chemical Engineering at Caltech for his presentation...