The CCPS Process Safety Fundamentals Certificate Program (CCPSf) is designed for students and early career professionals. If your goal is increasing your process safety knowledge, then CCPSf is right for you.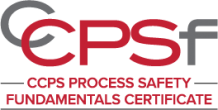 CCPSf Courses
The CCPS Fundamental (CCPSf) recognizes those individuals who focus on process safety either in their education or employment, who have taken 48 hours of AIChE Safety and Chemical Engineering Education (SAChE) courses, and who intend to continue increasing their process safety knowledge.
Finishing the certificate program is based on the completion of existing Safety and Chemical Engineering Education (SAChE) courses, consisting of 24 courses total, grouped into five sections of 3–6 courses each:
Process Safety Basics
Introduction to Hazards
Understanding Risk
Practical Applications for Managing Risk
Risk Based Process Safety (RBPS) Pillars
Credit is given for any courses already completed and courses are free for students. If you have already completed any of the courses within this program, please contact
ccps-certified@aiche.org
before enrolling in the CCPSf Certificate Program to receive a discount off of the bundle price for the remaining courses. You must request the discount prior to enrolling. Refunds will not be given after purchase of the CCPSF bundle for courses already completed.
Why Apply?
The self-paced courses are aligned with the CCPS RBPS Elements and will start the Early Career Professional on the path to the CCPS Process Safety Professional Certification (CCPSC).
Per the U.S. Bureau of Labor Statistics Latest Numbers data around a certification in general:
Engineers with a certification earned 15% more than those without
Engineering managers earned 21% more
And workers aged 25–34 earned 29% more
Are You Ready for More?
Those with 5 or more years professional experience and a degree in a STEM field may be interested in the CCPSC, a more rigorous certification that verifies your competency in the latest process safety tools and techniques. The CCPSC is based on passing an application and exam, and is designed for professionals experienced in process safety.