Center for PEAK Leadership - Developing our Society's Leaders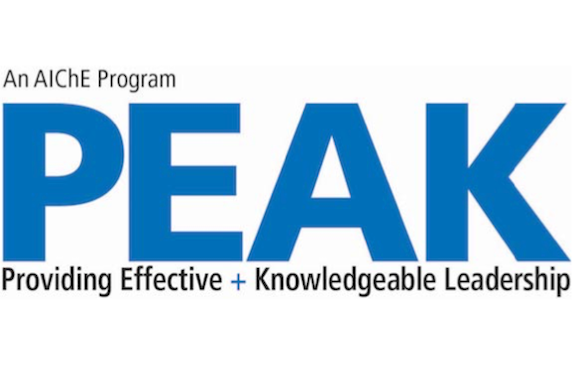 Course ID:

Type:

Face-to-Face Course

Language:

Skill Level:

Duration:

PDHs:
Good news! The PEAK workshop is now being offered as an instructor-led virtual course.
The PEAK course is offered on the following date. Registration is now open. Cost of enrollment is $650.
Dates for in-person to be determined.
PEAK stands for Providing Effective and Knowledgeable leadership, which is the goal of this program.
The overall program is based on best practices for leadership development training. It includes a face to face workshop (one or two are offered each year in conjunction with AIChE events) and then the use of online eLearning materials—to be taken at your convenience via AIChE Academy.
The PEAK Workshop addresses the 4 key themes of the program:
Developing Personal Capabilities
Working with Others
Outcomes/Focusing on Results
Setting a Clear Direction
In addition to learning invaluable leadership skills that apply to your volunteer work as well as your job, a side benefit is you will get to network and interact with other AIChE leaders in both appointed and elected roles.
Online eLearning
Developing Personal Capabilities:
Navigating AIChE (Coming Soon)
Working with Others:
Diversity and Volunteerism (Coming Soon)
Improving Gender Diversity and Inclusion (Coming Soon)
Outcomes/Focusing on Results:
Completed Staff Work (Coming Soon)
Setting a Clear Direction: