Center for PEAK Leadership - Developing our Society's Leaders - Virtual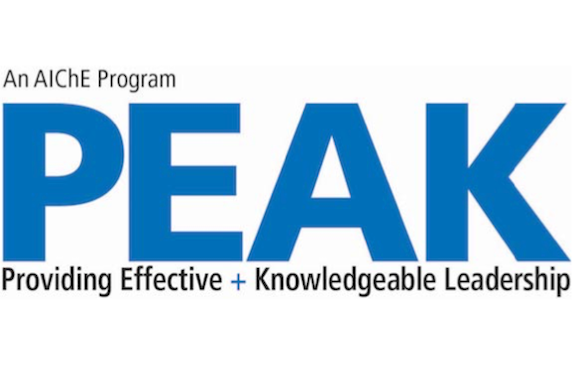 Course ID:

Type:

Instructor-led Virtual Course

Language:

Skill Level:

Duration:

PDHs:
The PEAK course is offered on the following date. Registration is now open.
New Course Dates: August 31, 2022 and November 30, 2022
Outline of program is given below in the outline tab.
PEAK stands for Providing Effective and Knowledgeable leadership, which is the goal of this program.
The overall program is based on best practices for leadership development training. It includes an instructor-led virtual workshop and then the use of online eLearning materials—to be taken at your convenience via AIChE Academy.
The PEAK Workshop addresses the 4 key themes of the program:
Developing Personal Capabilities
Working with Others
Outcomes/Focusing on Results
Setting a Clear Direction
Workshop Description:
This is a leadership development workshop for technical professionals taught by a PhD Chemical engineer and corporate veteran with over 10,000 hours of experience leading teams. Technical professionals need leadership skills in order to change their organizations and groups for the better whether they hold a formal leadership position or not. This leadership development workshop focuses on science-based techniques for improving teamwork, collaboration, negotiation, inclusion, and working with other technical people. First, workshop participants will become familiar with AIChE's PEAK Leadership Certification Program and understand why new leadership behaviors are needed for working with volunteers and within their organizations today. Second, workshop participants will learn ways to lead high-performance teams which are teams focused on outcomes and results. Third, workshop participants will learn ways to grow their personal collaboration capabilities. Fourth, workshop participants will learn how to improve negotiation and inclusion in working with others. Fifth and finally, workshop participants will learn several proven tactics for improving interactions with other technical people.
How Attendees Benefit from this Workshop:
Here is what past attendees of the PEAK Workshop have said:
"The presenter was awesome. Knowledgeable and personable. Great material, presented at a level accessible to those totally new to this type of thinking."
"I actually got to see positive models for leadership (a rarity in my experience). Now I have an idea of what is possible."
"I solved my problem in one of the course exercises!"
Online eLearning
Developing Personal Capabilities:
Navigating AIChE (Coming Soon)
Working with Others:
Diversity and Volunteerism (Coming Soon)
Outcomes/Focusing on Results:
Completed Staff Work (Coming Soon)
Setting a Clear Direction:
Setting SMART Goals (Coming Soon)
About the Facilitator:
Dr. Valerie Patrick, President of Fulcrum Connection LLC, is a facilitator, leadership trainer, and professional speaker that has helped a wide variety of technical organizations improve performance through science-based leadership and collaboration since 2014. Dr. Patrick is a PhD chemical engineer from CalTech with 25 years of corporate experience leading technical and strategic initiatives to identify and deliver new sources of organizational value at Bayer and Monsanto. Dr. Patrick's corporate leadership positions have included 4 years as the first Sustainability Coordinator/Strategist for Bayer North America (BNA) reporting to CEO Greg Babe, 1 year leading the Creative Center for Bayer Material Science's (BMS's) innovation organization, 3 years leading the Transportation Industry Innovations group for BMS's innovation organization, and 3 years as a research manager for a 22-person group at Monsanto. Dr. Patrick has over 10,000 hours of experience as a team leader in corporate and academic settings. Her first book When Bad Teams Happen to Good People: Your Complete Repair Guide for Successful Teamwork will be available from Career Press in 2021.
Pricing
Teams
(10 or more)
Minimize cost and maximize learning with Train-A-Team.
Learn more
---
Individuals
Each year AIChE Operating Councils identify incoming leaders who will be enrolled in the program free of charge. However, all AIChE members are eligible to enroll in PEAK. The cost of the program is $650 for AIChE members (includes the instructor-led virtual course and the use of the on-line...