Vision 20/20
Vision 20/20, developed by CCPS, looks into the not-too-distant future to demonstrate what perfect process safety will look like when it is championed by industry; driven by five tenets; and enhanced by community passion and global societal themes.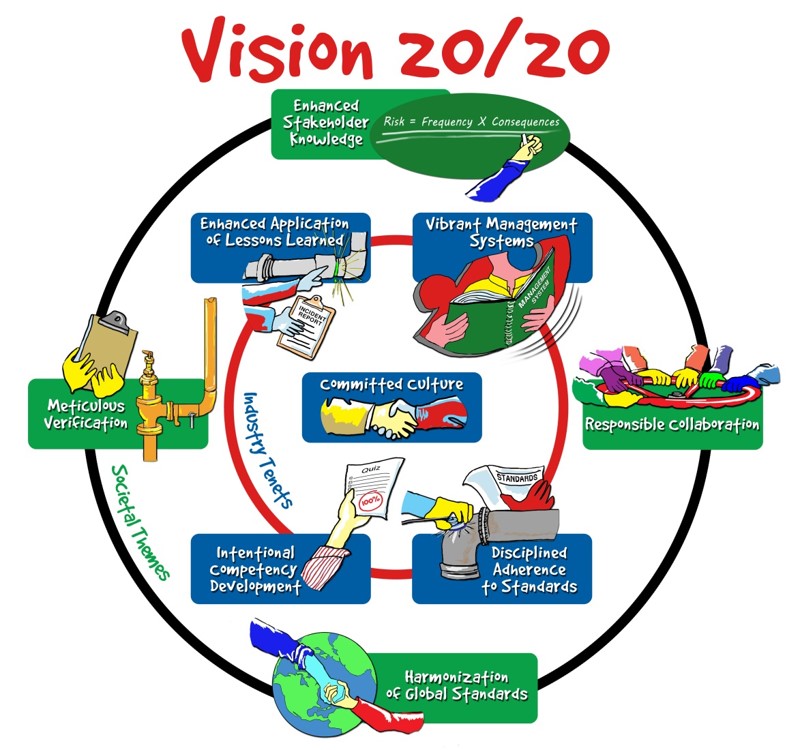 In 2011, the Center for Chemical Process Safety (CCPS) began a project called Vision 20/20. In this CCPS project, Committee members sought to envision the process safety future and ask what will be the characteristics of companies with great process safety performance in the future. What will distinguish the companies with fewer process safety incidents from those with more process safety incidents? How can we work together in companies and with all our stakeholders to further process safety performance?
Envisioning the future, the CCPS project subcommittee members identified five tenets that companies with great process safety performance will live by. The subcommittee also identified activities that need to occur in the public domain, beyond the tenets that apply to companies. The four societal themes, if achieved, would also have a significant positive impact on process safety performance. Together, the five company tenets and four societal themes were introduced at the Global Congress on Process Safety in 2013 and at numerous other occasions throughout the year.
Five Industry Tenets
These five industry tenets, combined with a fervor for great process safety, provide a powerful framework for Vision 20/20's success. Process safety results will dramatically improve if a company has:
Four Societal Themes
We've come a long way since Flixborough, Seveso and Bhopal. Yet, in spite of industry's continuing process safety vigilance, catastrophic events still happen. To transform process safety culture, industry and the public need to work together to improve.
Vision 20/20 details how the five tenets of culture, management systems, standards, competency, and lessons learned are enhanced by the community's involvement, and supported by these four societal themes: