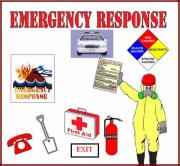 ---
Process Safety is a disciplined framework for managing the integrity of operating systems and processes handling hazardous substances by applying good design principles, engineering, and operating practices. It deals with the prevention and control of incidents that have the potential to release hazardous materials or energy. Such incidents can cause toxic effects, fire, or explosion and could ultimately result in serious injuries, property damage, lost production, and environmental impact.
For more information see the summary pamphlet for Risk Based Process Safety at:
http://www.aiche.org/ccps/resources/publications/summaries/summary-guide...
Chemical Process Safety is just another name for Process Safety. Chemical Safety pertains specifically to protection against the toxic effects of chemicals that arise in normal usage. For more on this topic go to the World Health Organization website at: http://www.who.int/topics/chemical_safety/en/
Process Safety was born on the banks of the Brandywine River in the early days of the 19th century at the E. I. du Pont black powder works. Recognizing that even a small incident could precipitate considerable damage and loss of life, du Pont directed the works to be built and operated under very specific safety conditions.
Process safety has always been an important consideration in chemical engineering, and the activities of the American Institute of Chemical Engineers (AIChE) have expanded over the years to more formally focus on this critical aspect of chemical engineering practice. Early initiatives included the annual symposia on Safety in Ammonia and Related Plants, dating back to the early 1950s, and the Loss Prevention Symposium, first held in 1967. These activities led to the formation of the AIChE's Safety and Health Division in 1979, and the division assumed responsibility for these existing programming activities. Following the Bhopal tragedy in India, AIChE formed the Center for Chemical Process Safety (CCPS) in 1985 as an industry alliance to share and enhance process safety expertise in the industry.
For more details see Hendershot, D. C. (2009), A history of process safety and loss prevention in the American Institute of Chemical Engineers. Proc. Safety Prog., 28: 105–113. doi: 10.1002/prs.10318
Visit Bhopal Information Center for more information on Bhopal incident
Following the Bhopal tragedy in India, AIChE formed the Center for Chemical Process Safety (CCPS) in 1985 as an industry alliance to share and enhance process safety expertise in the industry. One of the early CCPS activities was the creation of the Safety and Chemical Engineering Education (SACHE) program to enhance teaching of process safety in the university chemical engineering curriculum. The CCPS has published over 80 books on process safety.
Process safety has gained corporate importance, process safety expertise has extended into the general skill set of chemical and petroleum engineers and operators, and many industry-wide guidelines for process safety have been developed, largely through the efforts of CCPS. In 1992 the Occupational Safety and Health Administration issued the Process Safety Management of Highly Hazardous Chemical Standards which had 14 main elements. Nevertheless, many organizations are still challenged with effectively implementing the management systems they have developed. In 2005 The Center for Chemical Process Safety introduced the concept of Risk Based Process Safety (RBPS) as a means to overcome what seemed like stagnation in the process safety journey.
In 2007 the CCPS published Process Safety Leading and Lagging Indicators. Within this document is a description of three types of metrics:
"Lagging" Metrics – a retrospective set of metrics that are based on incidents that meet the threshold of severity that should be reported as part of the industry-wide process safety metric.
"Leading" Metrics – a forward looking set of metrics which indicate the performance of the key work processes, operating discipline, or layers of protection that prevent incidents
"Near Miss" and other internal Lagging Metrics – the description of less severe incidents (i.e., below the threshold for inclusion in the industry lagging metric), or unsafe conditions which activated one or more layers of protection. Although these events are actual events (i.e., a "lagging" metric), they are generally considered to be a good indicator of conditions which could ultimately lead to a more severe incident.
The relationship of leading and lagging metrics to process safety events is shown in the Process Safety Metric Pyramid: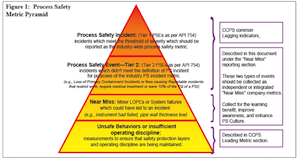 ---
In 2013 CCPS published the Process Safety Leading Indicators Industry Survey, which identified three key areas of focus for improving performance:
Follow-up on actions across the spectrum of Process Safety management Systems
Learning Experiences and Management of Deviations
Management Engagement.
This document can be found at: http://www.aiche.org/sites/default/files/docs/pages/8404_leading.web_v2.pdf
Since September 11, 2001, plants have been reluctant to provide the public with details about the hazardous materials and processes they utilize. While you may view this as secretive or uncooperative, you should keep in mind that a terrorist could use this same information to attack the plant, with the intention of hurting you. Plants handling hazardous material do provide detailed information on the secure handling of these materials to the appropriate government agencies. Nonetheless, for your own safety and security, you need to know certain basic information: how the company will inform you of a process safety or security incident that could impact you, and what you should do after you've been informed. If you do not have this basic information, contact the plant's community liaison. Other questions you may be interested in:
Do the Fire and Police Departments know how to respond to incidents that occur at the plant?
Does the local hospital know the kinds of chemicals and other hazards that the community could be exposed to in case of an incident?
Know the sound of the emergency alarm, the all-clear signal, and other means of emergency communication from the plant
In case of an off-plant release, you should receive instructions from your local government officials. Most likely you will be instructed to t "shelter-in-place." To shelter-in-place, close all windows and doors, shut off all heating and air conditioning, and seal other openings to the outside, such as room air conditioner inlets and cracks under external doors. For more information on sheltering in place, click here.
know how to evacuate if you are told to do so. There may be several alternate routes depending on the direction of the wind. Keep an evacuation kit handy so you don't have to delay your escape while looking for critical items you have to take with you.
The Department of Homeland Security provides a very thorough discussion of emergency preparedness at www.ready.gov
Chemical releases are very rare, but they can happen. So people who live or work near facilities that handle or manufacture chemicals, or who live near chemical transportation routes (rail or highway) should be prepared to take the necessary steps to assure their personal safety if a release occurs in their community.
If you live near a plant, contact the plant emergency planning officer and ask about emergency alerts and procedures.
Find out the emergency alert procedures of your city or town by contacting the local agency with responsibility for emergency management. Some municipalities with large concentrations of chemical or petroleum facilities may have "Local Emergency Planning Councils (LEPC's)." In others areas, emergency management may be the responsibility of the fire or police department, or may be a separate department.
Learn how to prepare your home and family for emergencies by obtaining the information available at www.ready.gov.
Be familiar with how to "Shelter-in-Place".
Consider joining or forming a "Community Emergency Response Team (CERT)".
It should first be understood that there is no such thing as a typical chemical release, so responses to each event need to be tailored to the circumstances. In general, citizens in their homes or in public buildings should await instructions from the emergency incident commander before evacuating. It is important to await instructions to be sure to evacuate safely, for example to avoid evacuating directly into the path of the release. While awaiting instructions begin taking steps to "Shelter-in-Place," as sheltering is one of the most common responses.
Citizens in public open areas should move to the nearest building. If it is obvious which way the release is traveling, move at a right angle away from the direction of the cloud.
For more information, please see "Guideline for Technical Planning for Onsite Emergencies".
---