Mixer Simulations, Modeling Nonideal Reactors and Mixers
Originally delivered
Dec 4, 2019
Source:
COMSOL
|
This webinar is sponsored by COMSOL and reflects their views, opinions, and insights. Attendance is free.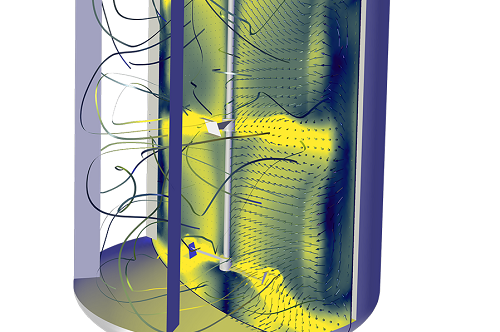 Type:

Archived Webinar

Level:

Duration:
Continuous stirred tank reactors, batch reactors, and mixers are frequently used in the consumer product, food, pharmaceutical and fine chemical industries. Processes using these devices usually require carefully controlled environments, where conditions such as temperature and composition are regulated to ensure quality and reproducibility.
The typical approach is to investigate the chemical kinetics in perfectly mixed lab-scale batch reactors as the first step. The models are validated by comparing them to experimental data, and parameter estimation may be used in order to obtain rate constants and activation energies for the relevant reaction mechanism.
Once the chemistry is understood, the effects of transport phenomena may be included, typically at the pilot scale. Models including multicomponent transport may then be coupled to full CFD models of reactors and mixers. The transport models are also validated by comparing the simulation results to the experimental data from the pilot-scale reactor.
The validated transport-reaction models can be used to scale up from pilot scale to full scale. These models can also be used to optimize the design and operation of the full-scale process.

This webinar discusses methods for defining and solving detailed models from detailed chemical kinetics to full transport-reaction problems, including full CFD simulations for turbulent flows. We will also discuss methods for validation and parameter estimation, which can be used for accurate and robust prediction of full-scale processes from lab- and pilot-scale experiments.

Detailed models for the purpose of validating the design and operation of stirred tank reactors and mixers are defined by the laws of momentum, mass, and energy conservation. These are usually expressed as equations that can be solved using numerical models.
You'll learn:
The important underlying principles behind detailed models of nonideal reactors and mixers, such as momentum, mass, material, and energy conservation
How to define and solve detailed mathematical and numerical models, and address considerations for optimizing the design and operation of nonideal reactors and mixers
How to solve and analyze mixers and reactors using COMSOL Multiphysics®
*Please see www.comsol.com/privacy for COMSOL's Privacy Policy. Contact COMSOL at www.comsol.com/contact for more information.
Note that COMSOL will follow up with all registrants about this event and any related questions.
Presenter(s):
Daniel Ahlman is the team leader for chemical engineering and reacting flow. He has been with COMSOL since 2008 and previously worked as a product developer contributing to the development of the chemical engineering, fluid flow, and heat transfer products. He received his PhD in fluid mechanics from the Royal Institute of Technology, Stockholm.Read more
Pricing
---
Individuals
| | |
| --- | --- |
| AIChE Members | Free |
| AIChE Graduate Student Members | Free |
| AIChE Undergraduate Student Members | Free |
| Non-Members | $0.00 |
Sponsored webinars bring technical information from reputable firms and suppliers to AIChE members. The content reflects the views, opinions, and recommendations of the sponsoring organization. AIChE does not warrant or represent, expressly or by implication, the correctness or accuracy of the content of the information presented. As between (1) the AIChE, the presenter and author(s) of this work, their employers, and their employers' officers and directors, and (2) the user/viewer of this work, the user/viewer accepts any legal liability or responsibility whatsoever for the consequence of its use or misuse. Contact information for attendees of this webinar, including email address, will be shared with the sponsoring firm. You will always have the opportunity to unsubscribe from email from that organization.