CHS Opportunity
There has never been a more exciting time to work in the hydrogen industry and to be part of building a legacy! CHS is currently seeking a Senior Hydrogen Program Associate to join our team. Learn more about this great opportunity.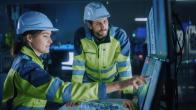 Hydrogen Safety Education
As the number of producers and end-users of hydrogen grows, the Center for Hydrogen Safety is committed to providing resources to educate them on the safe handling of this critical energy carrier. The Center has created eLearning courses specific to hydrogen safety, webinars on pertinent topics, and leveraged AIChE's deep portfolio of process safety resources to meet that commitment.
CHS First Responders Micro Training Learning Plan
Increasing availability and adoption of fuel cell electric vehicles (FCEVs) presents new safety challenges for First Responders (FR). The Center for Hydrogen Safety (CHS) in collaboration with AIChE has developed a microtraining learning plan as part of the Hydrogen Safety for First Responders training. This 4-part multimedia course aims to better inform incident responders and support the safe handling and use of hydrogen in a variety of fuel cell applications.
Giving Back.
Donations small and large and make a difference, and remember all gifts to the AIChE Foundation are tax-deductible. Learn more about AIChE's Doing a World of Good campaign.