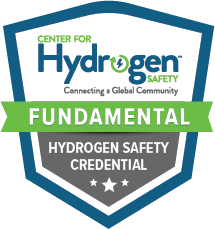 It's Elemental: Acquire a Fundamental Hydrogen Safety Credential from the Center for Hydrogen Safety.
Safety should be #1 when it comes to the 1st Element.
Reducing risk, liability and exposure is essential to the long-term growth and development of the hydrogen and fuel cell industries. CHS' Fundamental Hydrogen Safety Credential demonstrates an employee's understanding of hydrogen's properties and best practices for handling it safely. The credential also exemplifies an organization's preparedness to work safely and underpins stakeholder and public confidence.
CHS Opportunity
There has never been a more exciting time to work in the hydrogen industry and to be part of building a legacy! CHS is currently seeking a Senior Hydrogen Program Associate to join our team. Learn more about this great opportunity.
FAQs: Hydrogen Safety Credential
Who should apply?

CHS' Fundamental Hydrogen Safety Credential is designed for employees whose work exposes them to hydrogen equipment or systems. To earn the credential, the employee completes focused courses and an exam.
Why encourage employees to apply?

CHS' Fundamental Hydrogen Safety Credential offers a way for companies to:

Validate that employees understand the hazards and work safely
Support the continued growth of employees and expand their opportunities
Elevate the status, prestige and reputation of credential holders
Identify qualified applicants in the hiring process
Justify investments in programs, processes, systems or infrastructure as well as professional development activities
How does CHS's Fundamental Hydrogen Safety Credential benefit your organization?

Build a staff that may require less on-the-job training, is accountable, has a better work ethic and may stay with the organization longer
Safeguard the public with credentialed employees who demonstrate a defined level of proficiency
Give your organization a competitive advantage as prospective customers decide on their best partner
How long is the credential good for?

The credential is good for 3 years, after which the test must be retaken in order to renew.
Topics
What topics are covered in the Hydrogen Safety Credential?
Hydrogen as an Energy Carrier
Properties and Hazards
Safety Planning
Facility Design
Equipment and Components
Liquid Systems
Material Compatibility
System Operation
Inspection & Maintenance
I want to get the Hydrogen Safety Credential. Now what?
The credential requires you to take 9 fundamental hydrogen safety courses, they are:
If you have already completed one or more of these courses and wish to get credit for those courses please email customerservice@aiche.org.
If you have not purchased any individual courses you can either:

Purchase the packaged program at the price listed below.
Purchase and complete the individual courses, then when you are ready email customerservice@aiche.org to receive credit and purchase the exam.

The credential lasts 3 years. After 3 years renewal is required.
You must achieve a passing grade of 80% on the final exam in order to be granted the credential.
You have one attempt at achieving a passing grade before you are required to pay the retake fee.
Start your Hydrogen Safety Credential today
| | | | |
| --- | --- | --- | --- |
| Credential Pricing | Exam Fee/Renewal Fee | Retake Fee | Packaged Program* |
| CHS Member | $180.00 | $80.00 | $490.50 |
| CHS Executive Member | $120.00 | $80.00 | $430.50* |
| CHS University Member | $240.00 | $80.00 | $550.50 |
| All Others | $240.00 | $80.00 | $861.00 |
Acquire a Fundamental Hydrogen Safety Credential from the Center for Hydrogen Safety (CHS)
Explore More Areas of ILI

Practice+ provides learners with opportunities to work on real-world challenges through industry internships and competitions.

AIChE Academy is the definitive resource for engineers to acquire or sharpen their skills with courses and webinars in chemical engineering and related fields.
With AIChE Career DiscoveryTM, we'll help you to identify aptitudes and skills you'll need in order to achieve your full potential at various career stages.