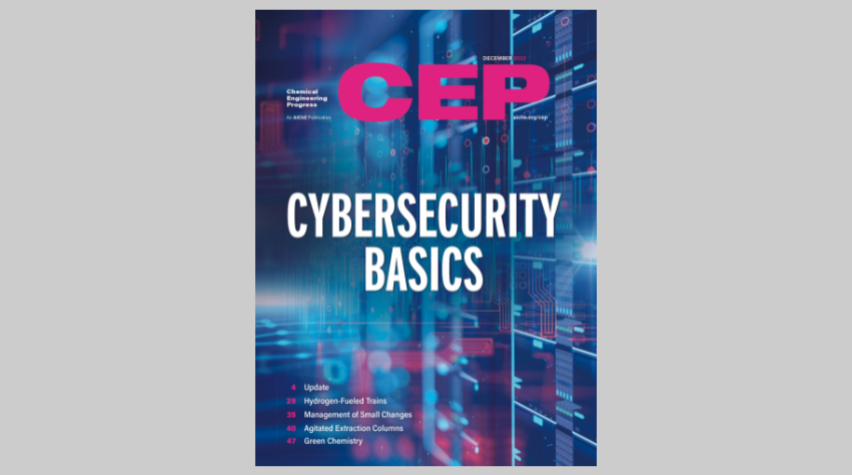 Back to Basics
Five Things to Know About Cybersecurity in Process Safety
Process safety professionals have an especially important part to play in protecting the chemical process industries (CPI) from cybersecurity threats.
Energy
A Look at Hydrogen-Fueled Passenger Trains
Hydrogen is taking its place as an alternative fuel for automobiles, buses, and now passenger rail.
Safety
Management of Change Reviews for Small Modifications
Management of change (MOC) reviews should not be do-it-yourself, even for small changes. Seek skilled specialists for all aspects of your MOC reviews.
Reactions and Separations
Optimal Mixing for Agitated Extraction Columns
The performance of a liquid-liquid (LLE) extraction column can be impacted by the mixing technology. This article provides case studies that help demonstrate the optimal choice between rotational and reciprocating mixing.
Environmental Management
Green Chemistry Is the Key to Sustainable Growth
The chemical industry has a responsibility to adopt the tenets of green chemistry — a framework designed to reduce the quantities of chemicals that have a negative impact on human health and the environment.
Update
Real-Time Air Quality Monitoring Linked to Drop in Pollution
Scientists Discover Two-Step Process to Recycle Mixed Plastic Waste
Researchers Warn of Climate Emergency
Innovating a New Method of Producing Ammonia with Light
Business Update
Plus
Editorial: Engaged Students Make for a Bright Future
Catalyzing Commercialization:Bamboo-Based Affordable Roofing Promises Safer Dwellings
AIChE Journal Highlight: Assessing the Extensional Flow of Protein-Excipient Formulations
Process Safety Beacon: Take Safety Home for the Holidays
New products: Fluids and Solids Handling; Laboratory Equipment; Software; Environmental, Health, and Safety; Operations and Maintenance
Advanced Manufacturing Progress: Intensification of Biomass-to-Chemical Processes
Spotlight on Safety: Even Astronauts Make Mistakes
Books
Institute News

Introducing Some of AIChE's New Fellows
President's Message: Reflections on 2022 and our "NEXT"
AIChE Announces New Officers, Board for 2023
Future of STEM Scholars Initiative Reaches Fundraising Milestone
FOSSI Brings Its Magic to the Magic Kingdom
The December issue of CEP is now available on the AIChE website, on the CEP app, and as a digital flipbook.