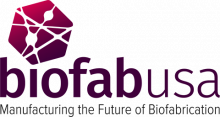 ---
About BIOFABUSA
ARMI's BioFabUSA, sponsored by the Department of Defense, focuses on biomanufacturing and looks to bridge the gap between early scientific research and later-stage product development by advancing critical technologies to enable large-scale biological manufacturing efforts.
The technical scope for BioFabUSA work includes innovations across five focus areas:
(1) Cell Selection, Culture and Scale-up
(2) Biomaterial Selection and Scale-up
(3) Tissue Process Automation and Monitoring
(4) Tissue Maturing Technologies
(5) Tissue Preservation and Transport
BioFabUSA's Fall 2019 Project Calls are divided into three areas: Education and Workforce Development, Technology, and Tissue Foundry with the full proposal deadline of March 20, 2020. The Technology Project Call is intended to fund key projects in (1) Cell Isolation and Primary Culture (2) Measurement Technologies (3) Manufacturing Process Development Through Big Data Analytics (4) Other Manufacturing Needs that align with BioFabUSA's mission.
For more information on membership, please visit here
Staying Current with BioFabUSA / ARMI:
October 16th - Asymmetrex's a BioFabUSA/ARMI member company focused on quantifying therapeutic tissue stem cells, received a Notice of Award of its first Phase I Small Business Innovation Research (SBIR) grant from the U.S. National Institutes of Health. Sponsored by the National Heart Lung and Blood Institute, the $0.42 million 1 year award recognizes the potential major impact of Asymmetrex's first-in-kind technology in the stem cell medicine and drug development industries.
Read more here
August 6th - Recently, the FDA Newsroom wrote an article touting the importance of advanced manufacturing and referenced BioFabUSA / ARMI in doing so. Read an excerpt below and the full article available via "read more," below.
The U.S. Food and Drug Administration has sought to encourage and facilitate the adoption of "advanced manufacturing," which refers to new and emerging approaches for the production of medical technologies.
Advanced manufacturing approaches are applicable to different medical product areas. For example, process intensification methods, such as continuous manufacturing, can simplify and centralize the production of many essential medicines. Likewise, techniques such as 3D printing can help produce patient-specific medical devices. Furthermore, digital and smart design and manufacturing processes also promise to increase efficiency and reduce uncertainty.
The potential public health value of advanced manufacturing is even greater in the context of the ongoing COVID-19 pandemic, which has highlighted the strain on supply chains and the need for adaptive manufacturing systems to accelerate the production of medical countermeasures.
Read more here
July 17th - The U.S. Department of Commerce's National Institute of Standards and Technology (NIST) has awarded $3.4 million in grants to support high-impact projects for COVID-19 pandemic response. ARMI|BioFabUSA is poised to receive $400,000 in funding to develop and disburse a road map for organizations to follow for pandemic response and recovery. The road map will identify and prioritize key needs, including those related to: supply chain issues to enable increased production of PPE, test kits and vaccines; manufacturing production to decrease times for vaccine manufacturing; and rapid delivery of test kits and vaccines to the right places. More than 2,000 manufacturing organizations are slated to benefit from this developed roadmap. To learn more read the press release in its entirety here
July 3rd - Two University of Virginia Engineers have developed an instrument to aid in the manufacturing of tissue for muscle repair. Their novel research has awarded them a $5000,000 grant from BioFab USA for their research, allowing lost skeletal muscle to be replaced with manufactured tissue derived from a patient's own muscle stem cells. Read more here