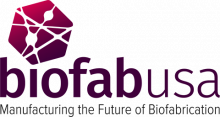 ---
About BIOFABUSA
ARMI's BioFabUSA, sponsored by the Department of Defense, focuses on biomanufacturing and looks to bridge the gap between early scientific research and later-stage product development by advancing critical technologies to enable large-scale biological manufacturing efforts.
The technical scope for BioFabUSA work includes innovations across five focus areas:
(1) Cell Selection, Culture and Scale-up
(2) Biomaterial Selection and Scale-up
(3) Tissue Process Automation and Monitoring
(4) Tissue Maturing Technologies
(5) Tissue Preservation and Transport
BioFabUSA's Fall 2019 Project Calls are divided into three areas: Education and Workforce Development, Technology, and Tissue Foundry with the full proposal deadline of March 20, 2020. The Technology Project Call is intended to fund key projects in (1) Cell Isolation and Primary Culture (2) Measurement Technologies (3) Manufacturing Process Development Through Big Data Analytics (4) Other Manufacturing Needs that align with BioFabUSA's mission.
For more information on membership, please visit here
Staying Current with BioFabUSA / ARMI:
July 3rd - Two University of Virginia Engineers have developed an instrument to aid in the manufacturing of tissue for muscle repair. Their novel research has awarded them a $5000,000 grant from BioFab USA for their research, allowing lost skeletal muscle to be replaced with manufactured tissue derived from a patient's own muscle stem cells. Read more here