The 2023 International Conference on CRISPR Technologies will focus on the latest advances in the genome editing field, bringing together key stakeholders with aligned interests across the spheres of academia and industry. The program will feature talks across many facets of this field, including the optimization of safe and effective DNA, RNA, and epigenetic editing technologies; the continued discovery and optimization of naturally-occurring CRISPR and non-CRISPR enzymes; the development of precision technologies capable of generating nucleotide- or kilobase-scale edits; and overcoming barriers to realizing the full potential of each of these tools.
Abstract Submission Deadline: August 22, 2023
Early Bird Deadline: September 5, 2023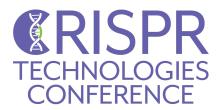 Our field is very fast-paced and dynamic, so I'm really looking forward to this conference. Talks will highlight the leading edge of CRISPR technologies and also key challenges that lie ahead.
Top Reasons to Present
Interactions amongst the diversity of attendees will accelerate progress in the field by expediting the translation of basic science discoveries into applications.
Share knowledge and connect with scientists working in the area of CRISPR technologies.
Benefit from creative input from colleagues working in allied fields.
Gain exposure to an attentive, well-informed audience at each talk.
Identify colleagues who might use your research in a collaboration.
Identify trends that might influence your current research.
Increase your international visibility.
Session Topics
CRISPR Biology, Tools, and Applications

Structural Biology and Synthetic Biology

Genome Editing Technologies for Small Sequence Edits

Genome Editing Technologies for Large Sequence Edits

Epigenetic and RNA Editing

High-Throughput Functional Genomics

Therapeutic Considerations

Progress Towards the Clinic

Advances in Delivery
This conference will bring together global experts in both the fundamental understanding of current and next generation CRISPR editing technologies and the translational tools necessary to apply these technologies to therapeutic opportunities. It's a "can't miss" conference if you're working in this space.
Top Reasons to Attend
Learn about the latest applications of technologies including functional genomics, scalable biological perturbations, and preclinical studies, with updates on clinical progress toward new classes of genetic treatments for diseases.
Look forward to updates on multiple CRISPR subfields, and learn about the challenges that remain for unlocking the full potential of CRISPR technologies.
Meet experts and leaders in the CRISPR field.
Obtain a broad view of the recent applications and developments in CRISPR technologies, and gain insight into where trends in the field are heading.
Develop new collaborations and build relationships for current and future projects.
Enjoy a slate of exceptional guest speakers presenting the state-of-the-art in CRISPR technologies and beyond .
This conference will bring together some of the most innovative scientists in genome engineering, and will present today's greatest triumphs — and challenges — in harnessing CRISPR for transformative technologies and medicines.
Who Should Attend
Scientists at all career stages
Cell biologists in academia and industry at all levels
Scientists in industry and academia
Students and senior researchers
Industry decision makers/ tech scouts looking to speed up research and foster new applications
Did you

know?

Sponsorship allows you to demonstrate your impact to this high-level audience and the larger CRISPR community. As a sponsor or exhibitor, you will share your technical expertise and educate attendees on how your products and services can help overcome challenges in this field, in addition to showing your commitment toward supporting a conference that will benefit advances in research.