Instrumentation
Temperature Transmitters Feature Dual Sensor Inputs
The THZ3 and TDZ3 two-wire (loop-powered) temperature transmitters provide an isolated and linear 4–20-mA output proportional to input. They can be configured quickly and easily to accept a direct signal from a wide variety of sensors and analog devices. The dual sensor inputs enable backup protection; one input can be designated as the primary measurement and the other can act as a backup sensor in case the primary sensor fails. Up to 15 of the transmitters can be multi-dropped on one digital highway addressable remote transducer (HART) loop to monitor 30 temperature points, helping to reduce wiring costs. The transmitters have an accuracy of ±0.014°C (±0.025°F).
Moore Industries-International, Inc. www.miinet.com
Harmonic Filter Offsets Nonlinear Electrical Loads
This line of integrated active harmonic filter systems provides harmonic compensation in real time. They are suitable for manufacturing environments with nonlinear loads, such as those produced by variable-frequency motor drives; uninterruptible power supplies (UPS); heating, ventilation, and air conditioning (HVAC) equipment; data centers; and heavy computing. Individually fused ECOsine automatic harmonic filters electronically supply non-fundamental harmonic current of magnitudes and phase relationships that satisfy the nonlinear load-current demand. Current ratings from 100 A to 400 A are available, but higher current loads can be accommodated to suit customer requirements.
Schaffner EMC www.schaffnerusa.com
Laboratory Equipment
Connectivity Kit Enables Unattended Sampling
This connectivity kit automatically transfers and reports data from the EasySampler sampling platform to the EasyMax reactor system, the OptiMax reactor system, and the RX-10 reactor control, enabling unattended sampling and chemical reaction synthesis. The complete system automates the entire sampling process, including sample capture, quench at reaction conditions, dilution, and dispensing. The Easy-Sampler probe immediately quenches upon capture to ensure that the sample is representative of the reaction at the time of sampling. This capability is particularly important for monitoring low-temperature and air-sensitive chemistry. Applications include sampling reactions for impurity profiling, product formation, byproduct formation, reaction progress, and yield.
Mettler Toledo www.mt.com
Heat Transfer
Circulation Heater Handles High Throughputs
The CAST-X 4000 is a high-capacity circulation heater that offers indirect heating of almost all types of liquids and gases. The heat-transfer medium contacts only the 1-in.-OD stainless steel flowpath tubes, which reduces the likelihood of contamination and allows the device to safely handle flammable and hazardous materials. The heater can be equipped with an explosion-resistant housing. It delivers up to 60 kW of power, and supports liquid flowrates up to 36 gpm and gas pressures up to 2,500 psi. Nickel-chromium alloy (Inconel) flowpath tubes for extremely high-pressure applications, electro-polished tubes, and passivated tubes are available.
Cast Aluminum Solutions www.castaluminumsolutions.com
Heater Achieves High Temperatures
The Duratherm MAX water temperature controller has been redesigned to incorporate a top air discharge to direct waste heat away from personnel, additional mechanical compartment ventilation, and more-convenient access to components for maintenance. The heater achieves temperatures up to 380°F (193°C) at pressures up to 300 psi (20.7 bar). It features a stainless steel heater vessel and a unique fan-cooled heat exchanger that safely and dependably cools process fluids and eliminates thermal shock, flashing to steam, mineral buildup, and expansion noise.
Mokon www.mokon.com
Revamped Heating Controls Are Now More Powerful
The Siplus HCS modular heating control systems for switching and controlling heat emitter arrays and elements now have considerably higher output power and power density. The HCS4200 for 230/277-V power supplies has more than twice as many outputs as the previous version (up to 384 outputs), enabling it to control very large heat emitter arrays in small spaces. Its output power has also more than doubled, from 1.47 kW to 3.68 kW per 230-V heating element. The HCS4300 heating control system for 400/480-V power supplies now boasts a maximum power output of 7.6 kW per output and up to 216 outputs, allowing it to control four times as many heating elements than before this update. These systems will help plant operators cut energy consumption by facilitating energy-efficient heating-element actuation and avoiding current spikes in the network.
Siemens AG www.siemens.com
Fluids and Solids Handling
Filter/Dryer Simplifies Validation
The Comber Pressofiltro PF-Series Nutsche filter/dryer is designed to simplify cleaning validation of the unit, and is suitable for multipurpose pharmaceutical and chemical production facilities. The filter/dryer includes clean-in-place systems to achieve good cleaning and optimal inspection. All of the product-contact wetted surfaces are designed without dead areas or bolted connections, and with smooth transitions and heating mechanisms to reduce drying times. The filters are equipped with a baseplate that can be opened for cleaning and inspection. The agitator arms employ a unique tooth design that minimizes friction during pressing or smoothing of the cake layer, and their S-shape improves product discharge. Simultaneous rotational and vertical agitator motions evenly mix the product during mixing and drying.
Heinkel www.heinkel.com
Rotary Mixer Blends Small Batches Quickly
The Model MX-1-SS miniature rotary batch mixer uniformly blends up to 1 ft3 of dry bulk ingredients (with or without liquid) in 2–3 min, regardless of disparities in the bulk densities, particle sizes, or flow characteristics of the ingredients. It maintains this efficiency for loads as small as 0.05 ft3, which makes it suitable for process scaleup. The unique mixing flights within the rotating drum gently tumble, turn, cut, and fold the batch materials, and evacuate the blended batches through a stationary plug gate valve with no segregation or residual heel of product. The mixer is constructed primarily of stainless steel, and parts made of other metals, such as the motor shaft, are shielded with stainless steel. Unrestricted access to the interior surfaces enables rapid cleaning and inspection.
Munson Machinery Co. www.munsonmachinery.com
Gas Regulators Control Systems under Vacuum
These gas regulators enable accurate control of processes operating under vacuum. The EXS Sub-Atmospheric Series regulator leverages a unique hybrid spring design that works in tandem with an oversized dual-surface diaphragm to achieve sensitive control. Unlike standard regulators, the EXS does not lose the ability to control pressure when subject to downstream vacuum. The EXZ Sub-Atmospheric Series back-pressure regulator relieves excess positive pressure caused by accumulation or upstream sample injection in systems operating under vacuum. A high-load adjusting spring maintains seat closure, while a negative bias spring enables precise relief as positive pressure is introduced. This enables users to throttle excess positive pressure to maintain optimal process conditions. The EXS is available for pressures ranging from 0 psia to 100 psig, and the EXZ is available for pressures of 0 psia to 15 psig.
AURA Controls www.auracontrols.com
Membrane Handles Difficult Feed Characteristics
The AquaR2RO membrane process is designed for use in facilities that require zero liquid discharge (ZLD) or very high recovery. It features a unique configuration of membranes that are engineered to cost-effectively process waters that are difficult to treat with conventional membrane processes, including feeds that are high in organics, dissolved oil, or turbidity. Because of its ability to handle high operating pressures, the membrane can process water with high concentrations of total dissolved solids (TDS). In some applications, AquaR2RO can achieve more than 98% recovery. Users that manage feedwater with a high scaling or fouling potential will find this membrane technology suitable.
Aquatech www.aquatech.com
Filter Performs in Demanding Environments
The DCF-3000 mechanically cleaned filter reduces product loss and provides a more-thorough contaminant purge for highly concentrated waste streams. It is designed with a dual-cleaning disc and a twin actuator that reduces or eliminates the need for disposable filter bags and cartridges, which minimizes operator handling, inventory costs, and landfill waste. The filter can be installed in demanding applications that require filtration of viscous liquids, such as paper coatings, ethanol, machining coolants, detergents, petroleum-based greases, and adhesives. It is suitable for highly viscous, abrasive, or sticky liquids at flowrates up to 500 gpm and water-like liquids at flowrates up to 1,500 gpm.
Eaton www.eaton.com
Leak Detectors Work in a Variety of Applications
This product line includes three leak detectors for use with double containment piping, such as those found in wastewater treatment plants or buried underground. The 918Q Alarm Box is suitable for users looking for a simple, low-cost leak-detection method. It handles up to four sensor signals, features audible and visual alarm indicators, and uses standard lithium batteries. The PAL-AT is a microprocessor-based system that offers sensing and remote monitoring of up to four separate sensing zones. It is capable of locating multiple leaks as well as growing leaks. The fully customizable Low Point leak detector uses 12 discrete inputs to identify leaks at a specific point in a pipe.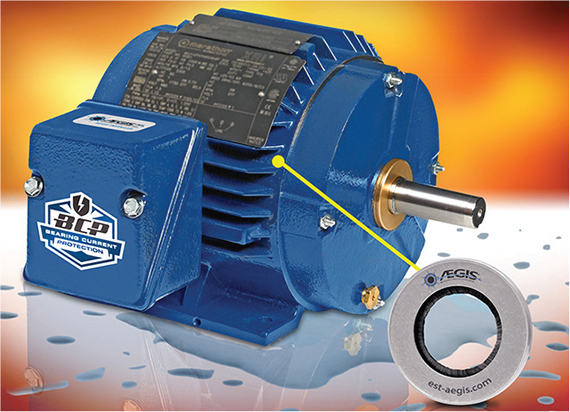 GF Piping Systems www.gfps.com
Motors Withstand Harsh Cooling Tower Conditions
These totally enclosed air-over (TEAO) cooling tower motors feature AEGIS shaft grounding rings for bearing current protection. The AEGIS rings channel variable-frequency drive (VFD)-induced shaft currents away from the motor bearings safely to ground to protect the bearings from electrical damage, including electrical discharge machining (EDM) pitting, frosting, and fluting. The cast iron construction ensures rigidity and reduces vibration. Features such as internal and external epoxy paint, sealed bearings, T-drains in both endshields for effective drainage, drive-end bearing isolators with shaft slingers, and fully gasketed conduit boxes make the motors suitable for harsh environments. Models ranging from 3 hp to 250 hp are available for use in cooling tower fans and blowers, pumps, compressors, condensers, and evaporators, as well as other severe-duty applications.
Marathon Motors www.marathonelectric.com
Controller Maintains Cooling Tower Functionality
Water treatment systems within cooling towers need to be carefully controlled to avoid scale buildup, corrosion, and microbiological contamination that can trigger unplanned downtime. The Type 8619 multiCELL transmitter/controller is a modular offering that is compatible with the company's complete range of sensors, control valves, and dosing pumps. It reduces processing costs in water treatment applications, serving as the singular central connection point for a wide range of sensors. The controller can also be configured as a multipoint data logger with data storage on secure digital (SD) cards. It features a large backlit display, user-friendly softkey controls, and two digital and frequency inputs, as well as two digital and analog outputs to drive solenoid valves, control valves, and actuators.
Bürkert Fluid Control Systems www.burkert.com
Titrator Determines Trace Levels of Contaminants
The AQUACOUNTER Karl Fischer (KF) coulometric titrator (AQ-2200S) can determine trace-level water content. Two titration stations can be run in parallel in a variety of coulometric/volumetric combinations. The efficient design reduces the need for expensive KF reagents, making the device an ecological and economical option. Three different cell sizes are available to meet user requirements. The 7.5-in. color touchscreen is easy to read and operate. A built-in thermal printer boasts easy paper loading and high-resolution printouts. Users who have many kinds of samples to analyze, exchange KF reagents frequently, or are eco-minded and budget-conscious will benefit from this titrator.
JM Science www.jmscience.com
Probe Provides Dynamic Conductivity Measurements
The Model 1021 Smart Flow-Through probe is suitable for realtime conductivity monitoring of liquid processes that are better or more-conveniently measured in a flowing rather than static environment. The probe is factory calibrated and sample independent, eliminating the need to recalibrate whenever the sample conductivity or dielectric constant changes significantly. It can also be disassembled and reassembled for cleaning without changes to the calibration or cell constant. This is important when measuring emulsion or particle dispersion, which often leave particles or droplets deposited on the electrode surface. The probe enables characterization of both nonpolar and polar fluids, including inks, paints, pharmaceuticals, personal care formulations, resins, and toners. The Model 1021 is compatible with the manufacturer's Model 2100 ultralow-, ultrawide-range conductivity meter.
ILIUM Technology, Inc. www.iliumtechnology.com
Water Quality Meters Monitor Water Resources
These compact water quality test meters measure and monitor factors essential to sustaining vibrant ecosystems, preserving public safety, and responsibly managing water resources. The suite includes the EC210 conductivity/TDS (total-dissolved-solids) meter, the PH210 pH/ORP/temperature (oxidation-reduction potential) meter, and the DO210 dissolved oxygen (DO) meter. The instruments feature a large dual-reading display that indicates the relevant reading and the water temperature. Because water temperature affects many water quality factors, automatic temperature compensation (ATC) adjusts the reading relative to the temperature. The EC210 helps to determine water purity using conductivity to identify the presence of dissolved solids, which can help predict changes in a water system. In addition to pH, the PH210 provides ORP measurements, which help to quantify the ability of water to break down contaminants. Because high DO levels can accelerate corrosion, the DO210 monitors DO to ensure the integrity of water pipes and boilers.
Extech Instruments www.extech.com
Magnetic Separator Removes Metal Contaminants
The T-trap magnetic separator boasts enhanced metal capture, durability, and easy cleaning. A single, large-tube magnet directly contacts the product flow, which is an improvement over traditional plate-style T-traps that rely on a diverter to angle the product flow toward the magnet. This design is also more reliable than multi-tube styles, which are susceptible to weld failures that release metal and magnet material into the liquid line. The separators should be installed in front of pumps, screens, and mills to ensure product purity and to protect vital plant equipment from costly metal damage and downtime. They are available in 1.5–6-in. line sizes, and can be installed horizontally, vertically, or sloped.
Industrial Magnetics, Inc. www.magnetics.com
Content Management System Eliminates Paper
Paper documentation is cumbersome, inefficient, and incongruous with today's business practices. This enterprise content management (ECM) software creates a paperless workflow to enhance efficiency, save time, and reduce costs. Documents can be incorporated in multiple workflows simultaneously, which creates a bridge between projects from multiple departments or project teams to improve communication and ensure accuracy. The system can automate document imaging, workflows, faxes, emails, and forms and serve as an end-to-end solution that is tailored to the user's unique departmental needs. The software can be implemented at companies of any size, typically in less than a year.
IntelliChief www.intellichief.com
Data Analysis Tool Is Updated for the New Year
Origin and OriginPro 2016 are data analysis tools that produce publication-quality graphs. OriginPro offers all of the features of Origin plus enhanced analysis tools. Notable new features in the 2016 version include apps to add specific graphing and analysis functionality; smart plotting with cloneable templates to create multilayer graphs and complex data plots; professional batch analysis reporting using Microsoft Word templates; and a dockable object window to manage layers and data plots. The introduction of apps allows users to customize the software, as well as make updates and fix bugs without waiting for the release of another version. Users can also develop and share apps via the OriginLab file-exchange website.
OriginLab www.originlab.com
Heat-Transfer Fluid App Includes Three Tools
The Therminol heat-transfer fluid calculator suite includes three tools in one application. The product comparison calculator enables side-by-side comparisons of the physical and performance properties and heat-transfer coefficients of up to six fluids. The property-by-temperature table function creates tables of physical properties in various units of measure and in user-selected temperature increments. The property-by-temperature plot tool creates graphs of key physical properties of heat-transfer fluids in user-selected units of measure. All three calculators can be open at the same time. The suite also includes an export function.
Eastman Chemical Co. www.eastman.com
Software Utility Reduces Brittle Fracture Risk
Rapid depressurizing and gas expansion can create very low temperatures that put equipment at risk of brittle fracture. Understanding depressurizing behavior in blowdown systems is critical to the functionality as well as the safety of a facility and its employees. The Design Blowdown Utility is an enhancement to the UniSim design and simulation software that assists in designing systems for safe depressurization of equipment. It offers companies a more-accurate method for selecting construction materials and blowdown system sizes to help manage capital costs. For new equipment, an accurate estimate of the minimum vessel wall temperature during blowdown is critical for selecting construction material and avoiding overdesign that unnecessarily increases project costs. For an existing facility, a blowdown study can guide changes to operating procedures, equipment materials, or capacities to reduce brittle fracture risk.
Honeywell www.honeywell.com
Simulation Platform Supports Computational Rheology
STAR-CCM+ v10.06 engineering simulation software includes computational rheology functionality to expand its multidisciplinary design exploration (MDX) capabilities. The addition is targeted to processes that are dominated by viscous or viscoelastic effects, such as flow in static mixers, flow into containers, slurry pumping with significant heat generation, extrusion, and material processing. The computational rheology capability is based on the same finite element (FE) framework that version 10.04 of the software uses to provide computational solid mechanics functionality. The new version also includes the ability to compute thermal stress and strains caused by thermal loads, a revamped interface for the manual surface repair tool, and a parts-based interface that enables scaling using parts-based workflows for faster simulation development.
CD-adapco www.cd-adapco.com
1
Copyright Permissions
Would you like to reuse content from CEP Magazine? It's easy to request permission to reuse content. Simply click here to connect instantly to licensing services, where you can choose from a list of options regarding how you would like to reuse the desired content and complete the transaction.