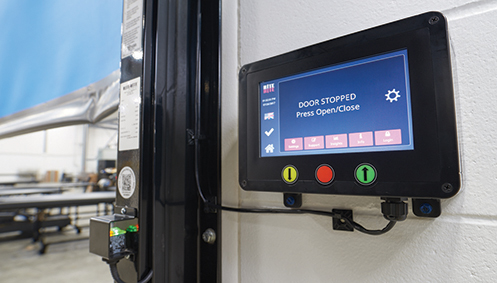 INTERPHEX is an annual event dedicated to showcasing pharmaceutical and biopharmaceutical innovation, technology, and knowledge. It brings together over 11,000 global pharmaceutical and biotechnology professionals for exhibitions, education, workshops, partnering opportunities, and networking events.
Touch Screen Operates Door and Tracks Usage
This door control box interface is durable and designed for use on any of the company's doors that have an i-COMM III digital encoder. Its icons and descriptions are easy to understand, and the 7-in. color LCD touch screen can be integrated into a building management system for remote control and monitoring. The plastic panel provides information and control settings for the door on which it is installed. The interface is designed for use in a wide variety of environments, including on interior and exterior doors, in wash-down areas, and on coolers and freezers. The low-voltage connection reduces the risk of arc flash and allows workers to adjust settings or troubleshoot remotely without wearing personal protective equipment.
RiteHite
Booth #1839
Anti-Drip Mechanism Improves Dispensing Precision
The Model 9010 programmable peristaltic pump is the latest addition to a line of pumping products. This model is capable of continuous dispensing from a reservoir or measured precise dispensing. It is compatible with a wide variety of fluids and tubings. An easy-to-use calibration function and an anti-drip mechanism aid in precise dispensing and prevent oozing after dispensing viscous fluids. It has several different interfaces that can be integrated into existing automation systems. The pump uses 5/6-in.-ID commercially available tubing with standard industrial, food-grade, or chemically resistant properties. The maximum flowrate for the 9010 programmable peristaltic pump is 1.8 L/min.
New Era Pump Systems, Inc.
Booth #3577
Digital Logbook Ensures Smooth Shift Transitions
The Shiftconnector digital logbook provides better oversight and tracking than paper-based logs and spreadsheets. It effectively combines operational data for each shift and has a well-organized system to pass information from one operator to the next at shift changes. The logbook ensures compliance with the U.S. Food and Drug Administration (FDA) regulations on electronic records (21 CFR 11), and can help monitor efficiency and aid in troubleshooting. Transparent recordkeeping ensures all operators have knowledge of process events, and the records are tamperproof for an accurate portrayal of the system. The logbook is web-browser-based and easy to use, and can be run on PC and common mobile device platforms. Shiftconnector is customizable and acts as an interface to evaluate process data, manufacturing execution system (MES) information, or maintenance activities.
eschbach
Booth #3471
Aseptic Filling and Closing Device Enables High Production Rates
The Dara SX-310-RDL uses RayDyLyo caps and is suitable for dispensing solutions, suspensions, diagnostics, vaccines, or cellular tissue into small vials at a high production rate. It is capable of filling liquid volumes of 0.1–250 mL and powder measurements of 2–1,500 mg. The SX-310-RDL/D model handles vials up to 3-in. tall with a 1.4-in. diameter at speeds up to 120 vials per minute. The SX-310-RDL/S model handles vials up to 8.3-in. tall with a 2.5-in. diameter at speeds up to 60 vials per minute. Both models can be used with a laminar air flow system, open or closed restricted-access barrier systems, and a high containment isolator system for sterile or clean room environments. Data recording software and U.S. Food and Drug Administration (FDA)-compliant parts make the SX-310-RDL compatible with pharmaceutical and biotech manufacturing standards.
NJM Packing
Booth #2353
Bulk Stopcock Options are Available for Low Pressures
The company's portfolio of bulk, nonsterile stopcock and stopcock manifolds includes several new connections. The parts are available as male luer locks, male luer slips, female luer locks, barb ports, and tubing ports and can be ordered in one-way, two-way, three-way, or four-way designs. They have low profiles and low pressure ratings, and come in a selection of materials and colors. All of the new stopcocks comply with Registration, Evaluation, Authorisation and Restriction of Chemicals (REACH) and the Restriction of Hazardous Substances Directive (RoHS) standards.
Qosina Corp.
Booth #3722
Software Update Eases Contamination Detection
The addition of the DataPro2 v 1.07 software makes the Sievers M9 total organic carbon (TOC) analyzer easier to use and improves measurement and data management. The new software allows the user to choose the calculation methods, manage data remotely, and obtain more accurate temperature-compensated conductivity measurements. The upgrade provides secure data, better reliability, and network compatibility for remote file access. The software works alongside the older DataPro2 software and DataGuard software to fully utilize the M9 TOC analyzer's autosampler and comply with regulatory standards.
Suez
Booth #4053
1
Copyright Permissions
Would you like to reuse content from CEP Magazine? It's easy to request permission to reuse content. Simply click here to connect instantly to licensing services, where you can choose from a list of options regarding how you would like to reuse the desired content and complete the transaction.