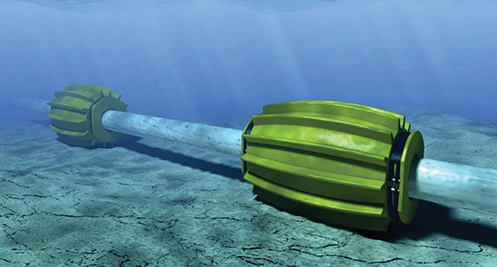 The Offshore Technology Conference (OTC) is an annual event where energy professionals meet to advance their scientific and technical knowledge related to offshore resources in the fields of drilling, exploration, production, and environmental protection.
Rotating Buoyancy Modules Control Buckling
The rotating buoyancy module system is designed for use in seabed pipelines and flowlines. As the modules rotate along sections of pipeline prone to buckling, they create a controlled bend. The rotating buoyance modules reduce lateral friction and berm creation, which generates a repeatable, predictable pipeline behavior. The use of this technology will eliminate rogue buckles and reduce axial walking in the pipeline. Fewer buoyancy modules are needed for safe buckling with this technology than with nonrotating modules, helping lower costs.
Trelleborg Offshore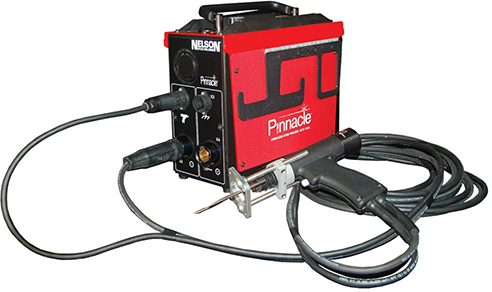 Booth #3227
Battery-Powered Stud Welder is Portable
The Pinnacle NCD+ 500b stud welder has a rechargeable lithium-ion battery that gives it a high degree of portability. The cordless technology can perform thousands of welds on a single battery charge without the use of a generator or power cord. The battery is removable and a spare battery can be used while the other is charging, virtually eliminating downtime and enabling continuous operation. The compact, lightweight unit has a padded shoulder strap and is easy to carry around a job site. It weighs only 18 lb, and with 31 ft of welding cable, it can service a large area. The Pinnacle stud welder incorporates microprocessor-controlled safety and diagnostic functions and a familiar gun display similar to other stud welders.
Nelson Fastener Systems
Booth #1220
Subsea Electrical Switches are Available for Surface or Diver Operation
These subsea electrical switches come in two configurations, flange-mounted and handheld. The switches are designed for either diver or surface operation and have a depth rating of up to 6,000 m. The standard switch can control four different functions, but models are available that can control up to 10 different settings. It is constructed of either aluminum or titanium and is built to operate between 6 VDC and 28 VDC at 5 amps, or 115 VAC at 1.5 amps.
Prevco Subsea Housing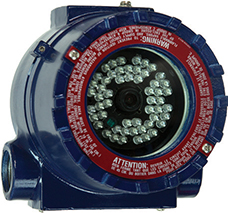 Booth #6220
Camera Offers Reliable Performance in High-Vibration Environments
The CC03-IP2MF36IR camera is fully compatible with Open Network Video Interface Forum (ONVIF) to allow seamless integration into most Vitrual Memory System (VMS) operating system platforms. A 2.43-megapixel image sensor provides high resolution and dual streaming video that meets the needs of most industrial applications. With a 39-piece built-in infrared LED array, the camera provides imaging in total darkness at distances of up to 70 ft. The CSA/FM-certified enclosure can be easily installed, and an optional multipositional mount is also available. The NEMA 4X waterproof and dustproof housing is finished with a protective marine-grade epoxy coating suitable for offshore applications and for high-vibration environments. The camera is designed to provide long-term, reliable performance at an economical price.
Opticom Technologies
Booth #5141
Selective Adsorbent is an Alternative to Activated Carbon
The Sulabead adsorbent can be used in place of activated carbon-based gas treatment. The Sulabead's pores, while similar in shape to those on carbon-based absorbents, are specific to hydrogen sulfide, allowing for cleaner and fully recyclable beads. The hydrogen sulfide collected on the bead is pure enough to be sold as a commercial product. The Sulabead and Sulaway system are less expensive than activated carbon systems and are a good option for small-scale gas-cleaning operations. The system is fully automated and consists of a gas compressor, a gas dryer, a water separator, and two towers filled with Sulabead. The Sulabead adsorbent is also sold individually and can replace carbon in an existing system.
Airpack/Gazpack
Booth #5219
Supply Chain Management Software Increases Cooperation
Verity 3.1 software helps to manage and reduce supply chain risk. The software improves collaboration between geographically separate locations and third-party partners. Design plans link maintenance, inspection, and quality-control vendors to form a cohesive team during supply-demand challenges. The precision and accuracy in the software increase the efficiency of the operation and create a safer supply chain that generates less waste. Data from different users are stored on-site though the Oracle MySQL Database 5.7 or on the Oracle 11G Cloud Database. The Verity 3.1 software server is compatible with Linux Redhat/CentOS EL; and Windows 7, 8, 10, or Tablet.
Nowell Development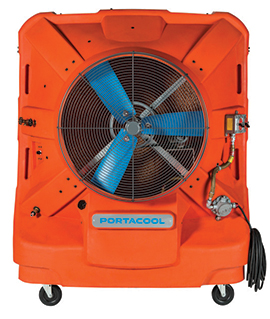 Booth #5619
Cooling Systems are Approved for Hazardous Locations
These evaporative coolers have received safety certification and are now acceptable for use in Class I, Division 2, and Groups C & D hazardous locations. They provide appropriate cooling comfort to relieve heat stress on employees working in hazardous conditions. The coolers can withstand high temperatures and are fully operational in the presence of combustibles. The systems are spark-resistant, and all electrical components are sealed. The coolers are both UL- and ETL-listed and are offered in two different sizes, 290 m2 and 523 m2.
Portacool
Booth #1314
Jet-Fire Protection is Reliable and Easy to Install
The Charcast 7 engineered jet-fire panel system is designed for easy application in areas where spray or trowel fire protections are not feasible. The paneled material is made from a cast epoxy intumescent and is lightweight, has high thermal performance, and is applied by a rapid dry-fit installation technique. The use of the ready-made panels eliminates the need for grit blasting, priming, and setting up restrictive work site conditions required to install other types of jet-fire protection. The Charcast 7 can be applied directly over existing bulkheads, underdecks, and structural members. The system has undergone thorough jet-fire testing and meets ISO 22899 standards. The material's durability and consistent long-term performance enable its use in harsh environments, including offshore locations.
Gardyon Pte Ltd.
Booth #4371
Manual Valve Features Zero-Leak Technology
This manual cartridge valve now incorporates zero-leak technology, making it suitable for use as an emergency stop valve on hydraulic systems, in industrial instrumentation systems, or on systems set up for measuring carbon dioxide and nitrogen at the ppb level. A latching feature can hold the valve in place in the activated position. The valve can be manufactured from corrosion-resistant Type 316 stainless steel and is available in poppet or spool models. Different seal options are offered for use with different fluids, and several knob configurations can be selected, including a red emergency stop knob.
Doering Co.
Booth #9072
Self-Cleaning Filter is Optimized for Operation Efficiency
The Aquaboll filter ensures water quality in even the most difficult conditions with extreme contamination or high salinity. The multi-part housing and interchangeable components are customizable to any location, function, purity level, or operation size. The water strainers are optimized for the treatment of river water, service water, industrial water, potable water, or cooling water. The filters account for the temperature, operating pressure, and flow volume to increase plant efficiency. The Aquaboll is self-cleaning with an integrated automatic backwash, virtually eliminating maintenance and reducing operation costs. The filter is available in seven sizes for throughputs ranging from 50 m3/hr to 1,250 m3/hr and the filtration can be carried out at the suction or pressure line.
Boll Filter Corp.
Booth #3615
Compact Jack is Designed for Small Areas
The Mega Jack 300 provides strategic heavy lifting services for modules weighing up to 300 ton and can lift up to 10 m. This model is much more compact and lightweight than the Mega Jack and Mega Jack 800 models and is said to be ideal for sites with limited space, such as congested ports or public areas. The Mega Jack 300 is fully compliant with international standards of safety and excellence, including quality standard International Standard for Organizations (ISO) 9001:2015, environmental standard ISO 14001:2015, and Occupational Health and Safety Assesment Series (OHSAS) standard 18001:2007.
ALE
Booth #1339
Remote Controls for Hazardous Areas Improve Safety
Three new handheld transmitter series, Flex EX, Flex EM, and Flex Pro, expand this family of wireless devices that enable remote control of hazardous areas and improve safety conditions. The instruments are fully sealed to withstand harsh environments. The Flex EX Series of remote controls is designed for material handling applications in facilities such as chemical plants, and petrochemical and refining operations. The Flex EM Series is designed for petrochemical processing and refining and mobile hydraulic operations, such as oil and gas drilling. The Flex Pro 8-button and 12-button remote control is designed for both materials handling, and mobile hydraulics purposes. All three series meet ATEX (Atmosphère Explosibles) and IECEx (International Electrotechnical Commission Explosive) standards for Zone 2 environments and are rated to IP66 levels for dust and water protection. The wireless controls are ergonomic and lightweight.
Columbus McKinnon Corp./Magnetek
Booth #4205
1
Copyright Permissions
Would you like to reuse content from CEP Magazine? It's easy to request permission to reuse content. Simply click here to connect instantly to licensing services, where you can choose from a list of options regarding how you would like to reuse the desired content and complete the transaction.