Fluids and Solids Handling
Pump Head Maintains the Integrity of Live Cells and Shear-Sensitive Fluids
The Masterflex L/S Cytoflow pump head gently pumps live cells and shear-sensitive fluids in biopharmaceutical and microbiological applications. Its large-diameter rotor supplies high flowrates at low motor speeds. Two configurations are available: a two-roller head version for high flowrates and a three-roller head model designed for reduced pulsation. The head is compatible with all Masterflex L/S drives that accept two or more pump heads. A convex roller design minimizes impact on live cells and maintains the consistency of shear-sensitive fluids.
Cole-Parmer
Electronic Platform Supports Multiple Solenoid Valves
Two expanded Numatics electronic valve platforms support up to 128 solenoid valves in a single manifold assembly. The G3 and 580 platforms can support 128 Series 501 solenoid valves and 80 Series 502 and 503 valves. Flexible process control architecture helps to optimize control cabinets for the number of valves required for a specific application. Midsection blocks with valve drivers and auxiliary connectors allow users to select only the capacity and functionality required for a particular design. The electronic platforms support a range of electronic protocols including ethernet/industrial protocol (IP) device level ring (DLR), PROFIBUS decentralized peripherals (DP), and valve subbus for distribution.
Emerson
Bulk Bag Discharger Contains Trace Amounts of Dust
The BFC bulk bag discharger features an enclosure to contain errant dust and prevent it from escaping through the seams or fabric of unlined bulk bags. Polymer panels enclose the sides, rear, and top of the frame, while a port on the rear panel allows venting of the enclosure to a centralized dust-collection system. The enclosure works with the discharger's dust-tight bag spout interface and expands the ability of the discharger to contain dust from all areas of the bag. A manual clamp ring atop a pneumatically actuated telescoping tube enables quick, dust-tight connection between the bag spout and hopper. The bag automatically elongates as it empties to promote flow and evacuation. A dust-tight seal between the bag spout and clamp ring allows discharge from the bag without dusting. A pneumatically actuated flow-control valve cinches the bag spout concentrically with no leakage of material, allowing the bag spout to be gradually opened, and partially empty bags to be retied.
Flexicon
Hydronic Ball-Valve Hose Threads Offer Quick-Connect Technology for Copper Systems
The ProPress hydronic ball-valve hose threads ensure the integrity of connections using copper fittings. ProPress technology enables copper tubing to be joined without flame or heavy equipment. The ball valves are full-port, designed for nonpotable water applications, and are available in 1/2-in. and 3-in. press sizes and 3/4-in. hose sizes. They feature national hose (NH) thread and ethylene propylene diene monomer (EPDM) rubber sealing elements.
Viega
Solenoid-Driven Liquid Diaphragm Pump Requires Minimal Maintenance
The solenoid-driven FL 10 diaphragm pump delivers a nominal liquid flowrate of 100 mL/min. It features bidirectional flow-tightness without additional check valves, ingress protection (IP) 65, simple linear flowrate adjustment, and a maintenance-free expected lifetime of 10,000 hr. Sealing between the pump housing and the linear drive ensures fail-safe operation, and laser-welded head parts keep the pump leakfree.
KNF Neuberger
Piston Valves Isolate Fluid Systems
Two piston valves for isolation applications meet American Petroleum Institute (API) Class 800 requirements, and are suitable for tight shutoff in steam, condensate, and other fluid systems. The Model PV4 has a carbon-steel body and bonnet and operates at a maximum allowable pressure of 1,973 psig at 100°F and a maximum allowable temperature of 797°F at 1,102 psig. The Model PV6 has a stainless steel body and bonnet and offers a maximum allowable pressure of 1,915 psig at 32°F and a maximum allowable temperature of 1,000°F at 972 psig. Both have a minimum allowable temperature of –20°F and stainless steel internals.
Spirax Sarco
Pumps Minimize Hazards During Transfers of Flammable or Combustible Chemicals
The SCP series pumps for Class 1 and Class 2 flammable liquids minimize hazards when transferring flammable or combustible chemicals, such as alcohols, solvents, and volatile hydrocarbons. The equipment meets updated National Fire Protection Association (NFPA) 30-2015.18.4.4 standards that outline safeguards to reduce the hazards associated with storage, handling, and use of flammable and combustible liquids. The pumps are sealed to provide spill-free, environmentally safe transfer with no chance for vapors of volatile organic compounds (VOCs) to escape the container. The pumps meet the requirements of NFPA 77, which requires that the path to ground prevent the accumulation of static electricity in conductive equipment.
GoatThroat Pumps
Pressure-Regulating Valves Withstand Harsh Chemicals
Polyvinyl chloride (PVC) and chlorinated polyvinyl chloride (CPVC) pressure-regulating valves are compact, modular, resist chemicals, and have no exposed metal parts. Two models are available: pressure-reducing Type 582 maintains constant outlet pressure and pressure-retaining Type 586 maintains constant inlet pressure. A central housing nut eliminates retorquing, and injection-molded arrows indicate flow direction, helping to ensure easier and safer operation. The valves resist temperature cycling and vibration, while their modular design simplifies maintenance tasks. Available in sizes of 3/8–2 in., the valves meet the International Organization for Standardization (ISO) 9393 tightness standards for thermoplastic valves for industrial applications, as well as the EN 12266 standard for leak rating. In addition to PVC and CPVC materials, the valves are offered in polypropylene (PP), polyvinylidene fluoride (PVDF), and high-purity PVDF.
GF Piping Systems
Wireless Flow Totalizer Measures, Displays, and Archives Flowrates
This intrinsically safe wireless flow totalizer connects to standard inductive turbine flowmeters to measure, locally display, transmit, and archive flow measurements. It makes data and diagnostics accessible locally through the display, as well as remotely from a gateway using the Modbus protocol. The unit allows an operator to check flowrates or flow totals, as well as to track data in a supervisory control and data acquisition (SCADA) system. It includes an internal user-configurable real-time clock and a 30-day log of daily flow totals. Enclosed in a weathertight polycarbonate housing, the device is classified for Class 1, Div. 1 safe operation in hazardous areas, and is powered by a battery rated for operation of five years or longer.
SignalFire Wireless Telemetry
Bulk Bag Dischargers Provide Dust-Free and Efficient Performance
These bulk bag dischargers release dust-free product, are expandable, and are flexible to meet capacity requirements. The MTD-2.5K unloads bulk bags that hold up to 2,500 lb. Its upper frame allows users to adjust for different bag heights. The MTD-4K accommodates bulk bags that hold up to 4,000 lb. The BBD-4K discharger is equipped with heavy isolation mounts and a 1,800-rpm vibratory motor agitator to assist in unloading hard-to-remove products. All of the models include bag-lifting frames, untie hoppers with 3-in. dust exhaust ports, and stationary paddles for bag support. The lifting frame includes spring-loaded bag strap retainers for bag replacement. The untie hopper allows operators to untie bags through the access door, which also provides safe dust control during operation.
Best Process Solutions
Pump Withstands High Temperatures
The AutoPump AP4 high-temperature pump for remediation applications withstands temperatures up to 250°F (121°C). Proprietary nonstick finishes and electropolished surfaces reduce solids buildup, increasing runtime intervals and making the unit easier to clean. Operators often need only to spray the pump with water and lightly wipe it clean. All nonmagnetic metallic parts are Type 316 stainless steel or engineered polymers that resist corrosion and attacks by harsh leachates, free-phase and dissolved fuels, benzene, toluene, ethylbenzene and xylene (BTEX), and methyl tert-butyl ether (MTBE).
Q.E.D. Environmental Systems
Instrumentation
Intrinsically Safe Bench Scales Enhance Performance in Hazardous Areas
ICS4_6x combi bench scales operate safely in Zone 1 and Zone 21 hazardous areas, while offering a range of weighing and mounting options. The scales have an intrinsically safe design that is easier to maintain than flameproof units, while providing identical operation in both safe and hazardous areas. It includes colorWeight functionality that speeds weighing tasks and improves control by immediately changing screen color when the weights are within tolerance. The scales meet standards of the International Electrotechnical Commission System for Certification to Standards Relating to Equipment for Use in Explosive Atmospheres (IECEx) and Atmosphere Explosibles (ATEX).
Mettler Toledo
PLC Earns Cybersecurity Certification
The ControlEdge programmable logic controller (PLC) has received ISASecure Embedded Device Security Assurance (EDSA) Level 2 certification by exida, an International Organization for Standardization (ISO)-accredited organization. The EDSA Level 2 certification builds on Level 1 capabilities by providing confidentiality and integrity of data at rest and in motion, detection of unauthorized changes, and additional protection against denial-of-service attacks. The PLC offers secure-boot capability to prevent unauthorized software from being uploaded, as well as a firewall. Its communication can be secured using internet protocol security, which prevents man-in-the-middle attacks and unauthorized access.
Honeywell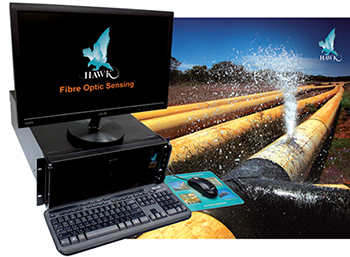 Environmental, Health, and Safety
Fiber-Optic System Detects and Locates Leaks in Pipelines
Leaks in pipelines pose safety risks, as well as potential environmental and infrastructure damage. This pipeline leak-detection system determines the location of leaks. It measures multiple variables, including sound, temperature, and vibration, which allows it to automatically cross-reference and remove false signals. It detects changes in temperature caused by liquid or gas movement, senses sound or vibration from pipe leaks or third-party intrusions, and identifies changes in stress or strain due to pipe bending or loss of support. The system includes predictive monitoring capabilities, and it can be integrated into a digital control system or supervisory control and data acquisition (SCADA) system through digital protocols.
Hawk Measurement
Warning Systems Safeguard Personnel Near Loading Docks
Two motion-light warning systems mitigate the various dangers faced by personnel working on loading docks. Inside the dock area, Pedestrian-Vu uses motion-sensing technology to trigger a bright blue light that projects onto a dock leveler. The blue light flickers as an audible alarm alerts unsuspecting dock workers that they have entered an unsecured trailer, while an external light system simultaneously changes to red, warning truck drivers that there is activity inside the trailer. Outside the dock area, from a fixed location above the dock door, the Approach-Vu sensor detects motion of trucks backing into a dock position. A visual and audible alarm located on the vehicle restraint system, which helps prevent vertical and horizontal trailer movement, alerts dock workers and nearby pedestrians of impending danger.
Rite-Hite
Gas Detector Eases Calibration Tasks
The CGS-FlexVu UD10 gas detector for hazardous areas includes a gas sensor, multifunctional display, gas transmitter, and controller. The explosionproof system, which senses the presence of both hydrocarbon and hydrogen gases, is safety integrity level (SIL) 2 capable. The detector calibrates and displays information from the manufacturer's gas sensors and transmitters. It can couple directly to a single sensor/transmitter, or operate remotely using a sensor termination box. Personnel equipped with a hand-held magnetic tool or highway addressable remote transducer (HART) communicator can carry out nonintrusive calibration.
Det-Tronics
Protective Coverall Guards Against Thermal and Chemical Hazards
Workers may have to wear more than one garment to protect against thermal and chemical hazards, which can be uncomfortable, inconvenient, and unnecessarily complex. The flame-resistant/chemical-splash-protection (FR/CP) coverall resists flame and protects against chemical splashes, providing safety and comfort in a single item of clothing. The line of attire, which combines the FR protection of Nomex IIIA fabric with Westex ShieldCXP chemical protective material, also includes lab coats.
Workrite Uniform
Alarm Upgrades Improve Visual and Audible Signals
Two alarms join the E2x warning system product line for status indication and warning applications. The E2xBLD2 light-emitting diode (LED) beacon allows the module to be set to steady or flash modes, and contains a custom array of wide-angle, high-output LED lights that maximize the visibility of the signal in all directions. The signal requires 110 mA of power to provide a light output of 160 candelas. The beacons are fitted with polycarbonate impact-resistant ultraviolet (UV)-stable lenses in amber, blue, clear, green, magenta, red, and yellow. The E2xC1LD2 unit combines an alarm horn and beacon, is available as either a flare or radial sounder horn, and can be paired with LED or xenon beacons.
E2S Warning Signals
Operations and Maintenance
Compressed-Air Vacuum for Combustible Dusts Offers High Efficiency
The MDL15 compressed-air vacuum for fine powders and combustible dust features a venturi power unit that requires low levels of compressed air. The 15-gal collection drum has no electrical components or moving parts. Its reverse-air filter cleaning system and static-conductive polytetra-fluoroethylene (PTFE) prefilter and secondary cartridge filter separate dust, debris, and fine powders, which are collected in static-conducive polybags. Standard construction of Type 304 or Type 316 stainless steel is suitable for food and beverage processes. A static-conducive compressed-air hose, Atmosphere Explosibles (ATEX)-certified vacuum hose, and cleaning tool kit complete the package. The unit offers 16-inHg suction power, with maximum air flow of 100 scfm. Noise levels are below 79 dBA at 8 inHg. Bonding and grounding requirements meet the National Fire Protection Association (NFPA) 77-2007 standard for recommended practice on static electricity.
Vac-U-Max
Steel Cable Lanyards Help Ensure Adherence to Maintenance Procedures
Tag-Tite tamper-evident stainless steel cable lanyards securely fasten safety or leak-detection-and-repair (LDAR) tags and ensure adherence to management-of-change procedures. Each includes a unique serial number that can be associated to the device tag number within an organization's computerized maintenance management system to detect unauthorized replacement of safety-critical devices. The 12×1/16-in. lanyards are manufactured of Type 304 stainless steel and are coated with chemically resistant fluorinated ethylene propylene that prevents the formation of sharp edges and unraveling. They are suited to harsh conditions including extreme heat and humidity, as well as long-term exposure to ultraviolet light, abrasion, and industrial solvents.
Process Systems Engineering
Software
Analytics Software Update Introduces Publishing Features and Cloud Platform Support
The R18 release of Seeq visual analytics software adds ease-of-use features and flexibility to the advanced trending interface. The Organizer module builds on the investigation and analytics in the software's workbench application, providing visualizations from any worksheet, generated for any time range or operating condition, to be dynamically inserted into a document. The resulting documents can be used for weekly or monthly reports, operating period comparisons, batch summaries, incident analyses, and other scenarios. These documents can communicate insights from process engineers to plant employees. The software also supports the Microsoft Azure platform.
Seeq
1

Copyright Permissions
Would you like to reuse content from CEP Magazine? It's easy to request permission to reuse content. Simply click here to connect instantly to licensing services, where you can choose from a list of options regarding how you would like to reuse the desired content and complete the transaction.