The key to good parting box performance is to effectively break the momentum of the entering liquid streams.
Good liquid distribution is crucial to achieving the desired separation in packed towers and multipass trayed towers. The detrimental effects of poor liquid distribution have been described by numerous literature references (1–3), including Kister's survey (4), which attributed 80% of packed tower performance failures to maldistribution. Practical guidelines for distributor design are available in many texts and articles (5–7).
Despite the importance of liquid distribution, parting boxes have received little attention in the literature. A parting box is a rectangular box that meters the incoming liquid to the troughs of a trough distributor. Poor metering causes some troughs to receive excess liquid and others to receive too little, which over- or under-irrigates the packed regions below. While good-practice guidelines for parting boxes are available, the literature is devoid of work on the hydraulics of parting boxes and tested guidelines for their design and troubleshooting.
To gain insight into parting box performance, we built a scaled-down model, geometrically similar to the parting box in a hydrocarbon tower that we were troubleshooting, and tested it with water. Our tests, which were initially focused on the tower we were troubleshooting, evolved into an extensive generic study that provided insight into hydraulics in a realistic parting box design. We evaluated many common configurations of feeding parting boxes, provided visualization of the hydraulic mechanisms active in parting boxes, and challenged many of the previous good-practice guidelines. (Refs. 8–10 document the full details of the tests.)
This two-part article aggregates our key findings to provide an understanding of parting box hydraulics and to develop guidelines for introducing liquid into parting boxes. Such guidelines are valuable for designing and troubleshooting parting boxes. The two parts of this article reflect the two common feed pipe configurations that transport liquid into parting boxes: perforated sparger pipes and sparger pipes with dip tubes (Figure 1).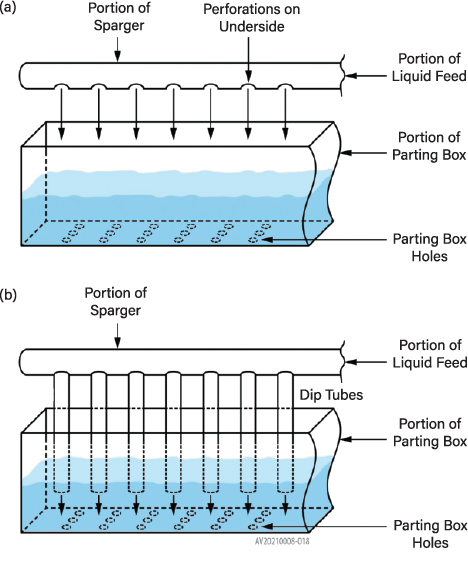 ---
In general, we found that the key to good parting box performance is to effectively break the momentum of the liquid streams entering the parting box before splitting the liquid to the troughs underneath. Part I describes practices that successfully achieve this objective and others that fall short for parting boxes fed by a perforated sparger pipe.
Would you like to access the complete CEP Article?
No problem. You just have to complete the following steps.
You have completed 0 of 2 steps.
Log in

You must be logged in to view this content. Log in now.

AIChE Membership

You must be an AIChE member to view this article. Join now.
Copyright Permissions
Would you like to reuse content from CEP Magazine? It's easy to request permission to reuse content. Simply click here to connect instantly to licensing services, where you can choose from a list of options regarding how you would like to reuse the desired content and complete the transaction.