Instrumentation
Single-Gas Monitors Boast Long Lifespan
These robust single-gas monitors provide reliable readings under harsh operating conditions. The Pac 6000 and Pac 6500 monitors detect common gases such as carbon monoxide, hydrogen sulfide, sulfur dioxide, and oxygen. The Pac 8000 can also detect less common gases such as ozone, phosgene, and nitrogen dioxide. The Pac 8500 is available with dual sensors for H2S/CO or O2/CO. A hydrogen-compensated carbon monoxide sensor significantly reduces the background noise from hydrogen gas on all models. Users can choose between 18 sensors for the detection of up to 32 different gases. Alarms are issued acoustically, visually, and with a clearly noticeable vibration, and the acknowledged alarms can be accessed later for evaluation. The integrated "D-Light" indicates whether the monitor is functional and ready for operation. In addition to the current gas concentration, the large display provides important information such as remaining battery capacity, target gas, or remaining service life. The industrial battery used in the monitors provides a service life of two years without a battery change. The sensors have an operating temperature range from –40°F to 131°F. An easy-to-replace membrane filter protects the sensor against foreign dust or liquid, and the impact- and chemical-resistant housing meets Ingress Protection (IP) 68 requirements. Each sensor type is identified by a color code to minimize the potential for mix-ups.
Dräger
Portable Spectrometer's Software Upgrades Enhance Oil Analysis
The upgraded FluidScan portable mid-infrared (IR) spectrometer can register and produce an absorbance spectrum from light transmitted through one drop of a fluid sample. The handheld analyzer compares the IR spectrum data to a built-in fluid reference library and provides rapid, on-site analysis of in-service lubricants. Analysis takes less than one minute, users need no special training, and the process requires no solvents or complicated cleanup. Recent upgrades have improved the digital electronics and the spectrometer now has faster embedded processors and new software. The device now has a larger memory to store reference library data. The oil library includes almost 800 oils and greases of a variety of chemistries and brands. The grease library has been significantly expanded, and a new water index parameter helps users track dissolved water trends in used grease. The software now includes a fluid integrity parameter that permits users to determine if a substance with a different chemistry is mixed with the lubricant. In addition, a new biodiesel detection algorithm measures the percentage of biodiesel fluid in engine oil. Ergonomic improvements include a 50% larger and brighter LCD screen. A new LED in the sampling head enables users to quickly check for air bubbles in an oil sample for better measurement quality.
Spectro Scientific
Backpressure Regulator Is Self-Operating
The BelGAS CP P5300 backpressure regulator is built in accordance with NACE-MRO175 requirements. Operating between pressures of 15 psi and 300 psi, the regulator has an intermittent-acting pilot and soft-seat material for a bubble-tight shutoff. The regulator is interchangeable with components from other manufacturers. Upstream gas is used to operate the unit, except where liquid or very-low-pressure gas is present. The feed gas enters the pilot via tubing attached to the body. The gas then goes through a filter assembly to remove any particulates that could clog the integrated pilot plug assembly. If the supply pressure is below the setpoint, the pilot spring keeps the plug in the closed position. If supply pressure goes above the setpoint, the diaphragm assembly lifts to vent the loading pressure and opens the main seat. The regulator can be used as a part of separators, heater-treaters, and gas gathering systems.
Marsh Bellofram
Versatile Surface Analyzer Detects Transparent Materials
This surface roughness analyzer (SRA) precisely maps the topographic condition of a surface, which can provide insight into the wettability of the sample or its adhesion properties. The analyzer uses confocal microscopy to create a spatial representation of the surface. It stacks layers of 2D images, each one with a very small depth of focus, while lowering the optics in small increments to produce a height resolution representation down to 10 nm. The disk inside the analyzer has microlenses instead of holes (as in typical confocal microscopes) to increase the light yield and enable analysis of low-reflectivity or even transparent surfaces. The vertical transport of the measuring head uses an ultrasonic drive instead of a common piezoelectric drive for a greater height range. Lenses with magnifications from 2.5X to 100X can be exchanged quickly and easily to carry out a variety of tasks, from surface roughness analysis to imaging the exact shape of whole products. Because of its small size and light weight, the analyzer can be set up as a laboratory instrument or as a measuring head to be used for automatic processes in production lines, enabling real-time sample evaluations for quality control checks. The associated software can be linked to programs such as Matlab for integration into information systems.
KRÜSS
Differential-Pressure Flowmeter Simplifies Process Construction Requirements
The Rosemount 9295 integrated differential-pressure flowmeter streamlines installation, operation, and maintenance. Its installation is simple and fast because all components arrive fully assembled and leak-checked, so field-welding, cutting, fabrication, and other initial tasks are not required. Although the flowmeter comes as a single assembly, it is designed to allow replacement of its individual components while in service to reduce downtime. It incorporates a conditioning orifice that eliminates the common requirements for straight runs upstream and downstream of a differential-pressure flowmeter. An all-welded design meets piping requirements for hydrocarbon applications and reduces potential leak points. Optional integrated resistance temperature detectors (RTDs) provide temperature readings to assist mass flowrate calculations. The isolation valves meet American Petroleum Institute (API) 602 requirements and are designed to operate through years of continuous service. The flowmeter uses the Rosemount 3051S differential-pressure transmitter to provide accurate readings and device diagnostic information via HART communication systems. The instrument is designed to withstand the challenging environments and piping requirements found in refineries, chemical processing, or other industrial settings.
Emerson
Position Sensor Can Withstand Conditions for Downhole Drilling Operations
NewTek's linear variable differential transformer (LVDT) position sensors are robust, rugged, and friction-free to ensure accurate position feedback and avoid costly downtime. These linear position sensors are suitable for use in a variety of downhole applications in the oil and gas industry, including cutter orientation to ensure accurate drilling direction, wellbore case profiling for active predictive maintenance, and wire and cable line-tension measurements. They are constructed of materials that can withstand temperatures up to 400°F (204°C) and pressures up to 20,000 psi (1,380 bar), and they can operate at infinite resolution in high-pressure and high-temperature environments. Each sensor has an outer diameter of 3/8 in. so that it can fit into areas and devices with limited space that are subject to shock and vibration. The sensors are hermetically sealed to withstand exposure to a variety of fluids, including sulfides, acids, drilling mud, and other corrosive chemicals.
NewTek Sensor Solutions
Angle Measurement Device Is Suitable for Outdoor Use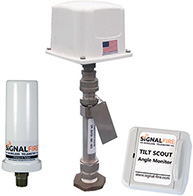 The Tilt Scout angle measurement device is now Class I, Div. 1 approved for operation in hazardous environments. It combines an intrinsically safe wireless inclinometer, a 900-mHz radio and antenna, and an internal battery pack within a NEMA 4X-rated enclosure. The three-axis sensor detects movement and changes in the angle of an object. Designed for use in outdoor industrial applications, the instrument is also suitable for monitoring pump jack motion and tank hatch position. Integrated sensor nodes combine the sensor and radio to optimize battery life. These intrinsically safe Scout Sensor Nodes operate wirelessly and do not require cabling to external power sources.
SignalFire Wireless Telemetry
Fluids and Solids Handling
Particle Separator Enables Continuous Operation
The gravitational classifier (GC) automatically separates soft, dry materials without the breakage, fragmentation, or fines generated by typical screens and rotary classifiers. This separator has no moving parts and prevents particle attrition by passing a current of air through a continuous stream of falling material, directing the particulates toward a series of vanes. Coarse particles (larger than 2 mm in diameter) drop into the discharge for collection while particles finer than the cutpoint (150 μm) exit the classifier via the airstream to a cyclone, baghouse dust collector, or cartridge filter. This pneumatic air classifier system separates dry particles without using any water and requires little power. Custom-designed and manufactured for each installation, the separator operates continuously in unattended setups with virtually no required maintenance. It efficiently separates salt, potash, limestone, fertilizer, manufactured sand, and other materials.
Van Tongeren America, LLC
Screen-Changing System Enhances Operator Safety
The Electro-Lift ergonomic screen-changing system is electrically powered to make separator screen changes easier, faster, and safer. A sealed gear-driven system ensures the frames will not drift down when the screens are being changed, even if the power fails. The lift system can be plugged into any convenient 120-V outlet, which eliminates the need for compressed air. The system is adaptable to fit a variety of different frame-deck configurations. Most models of round separators can be adapted to fit this system. It eliminates the need for two people to remove each frame, making screen changes by a single operator possible. The setup allows personnel to access the interior of the unit for cleaning or inspection. Additionally, there are no cumbersome hoses to deal with, and the sealed system eliminates the need for greasing, which makes operation more environmentally friendly. The screen-changing system is suitable for use in operations involving pharmaceuticals, food and beverages, chemicals, wastewater, shot peening, plastics, roofing granules, ceramics, and powdered metals, among other materials.
Midwestern Industries, Inc.
1
Copyright Permissions
Would you like to reuse content from CEP Magazine? It's easy to request permission to reuse content. Simply click here to connect instantly to licensing services, where you can choose from a list of options regarding how you would like to reuse the desired content and complete the transaction.