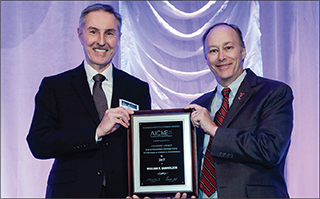 The innovative endeavors of chemical engineers across specializations were on tap at the 2017 AIChE Annual Meeting, Oct. 29–Nov. 3, in Minneapolis, MN. More than 5,600 delegates from 54 countries attended the conference, which offered more than 780 sessions across 23 program tracks. New topical conferences explored next-gen manufacturing, microbiomes and microbial communities, thermal destruction of biomass, and NH3's role in sustainable energy and agriculture. The meeting expanded its coverage of topics including 3D manufacturing, process intensification, the food-water-energy nexus, and chemical engineers in medicine. The meeting also explored developments in bioengineering, fuels, sustainable energy, education, nanotechnology, particle technology, environmental engineering, and more. The Institute's work to advance the diversity and inclusiveness of the profession highlighted a new plenary, a reception for LGBTQ engineers and allies, and sessions organized by AIChE's ChEs with Disabilities Forum, Minority Affairs Committee, and Women's Initiatives Committee. News, photos, and videos from the meeting are available on AIChE's ChEnected blog (www.aiche.org/chenected).
The Annual Student Conference (Oct. 27–30) attracted nearly 1,500 undergraduate ChEs from 48 U.S. states and 27 countries. The Student Conference offered dozens of events, including sessions on professional development, scholarly and intercollegiate competitions, career skills workshops, a recruitment fair, and opportunities to network with young professionals and future colleagues.
On Oct. 29, 40 teams — finalists in regional and international competitions — participated in AIChE's 19th Annual Chem-E-Car Competition®. In the competition, students design and calibrate chemically powered miniature vehicles to carry a variable load over a variable distance. Students receive safety training, and cars and their student operators must pass onsite safety inspections.
Would you like to access the complete CEP Article?
No problem. You just have to complete the following steps.
You have completed 0 of 2 steps.
Log in

You must be logged in to view this content. Log in now.

AIChE Membership

You must be an AIChE member to view this article. Join now.
Copyright Permissions
Would you like to reuse content from CEP Magazine? It's easy to request permission to reuse content. Simply click here to connect instantly to licensing services, where you can choose from a list of options regarding how you would like to reuse the desired content and complete the transaction.