The Offshore Technology Conference (OTC) is an annual event where more than 90,000 energy professionals meet to advance their scientific and technical knowledge related to offshore resources in the fields of drilling, exploration, production, and environmental protection.
Transfer System Moves Personnel Between Structures
The OPTS transporting system can transfer personnel from one position to another, including to and from fixed or mobile offshore and onshore facilities. Instead of using a bridge, walk-to-work (W2W), or gangway, personnel are transported by a platform basket that is fully compensated and controlled by an operator. The transfer system can move freely 360 deg., as well as extend 24 m horizontally, 20 m vertically above deck, and 6 m below deck for rescue operations. The basket can support 2.5 ton with or without heave and motion compensation.
OFFCO Offshore Corp.
Booth #1629
Compound Improves Reliability of Seals
Original equipment manufacturers (OEMs) require materials with high temperature and high extrusion resistance, as well as reliable mechanical properties. LUVOCOM EOG is a polyether ether ketone (PEEK) compound formulated for the energy industry that is suitable for downhole environmental conditions up to 240°C (464°F). This material is easier to process than traditional PEEK compounds, with annealing times up to 50% less. Additional benefits include lower internal stress and warpage (up to 150% better shrinkage ratio) and better wear resistance. High creep resistance translates to better extrusion resistance and more-reliable seals. Applications include bearings, bushings, thrust washers and gears, seals, backup rings, packers and plugs, and compressor components.
LEHVOSS
Booth #3933
Watermaker Ensures Potable Water Is Available Offshore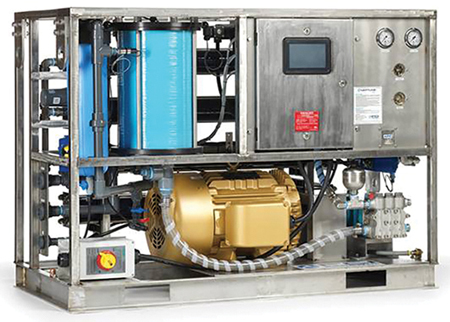 The extreme and often formidable environment of offshore oil and gas operations demands equipment that is up to the challenge. The Neptune+ OG watermaker withstands these severe conditions, whether it is located on a platform, tanker, or carrier. The unit can produce 3,400–10,000 gal of pure, fresh water per day — enough for drinking, bathing, cooking, laboratory use, equipment wash down, and production operations. The new model features a prefiltration system that includes a 25-µm bag followed by 120 ft2 of 5-µm pleated cartridges. The stainless steel electrical enclosure is suitable for hazardous locations, and an explosionproof version is also available. The continuous-duty, direct-drive motor is totally enclosed, fan-cooled, and maintenance-free.
FCI Watermakers
Booth #5219
Modular Blast- and Fire-Resistant Panels Reduce Capital Expenditures
The Generation V is a prefabricated fire- and blast-resistant panel that builds on the success of the Generation IV fire-resistant sandwich wall system. The layers of fibers have been realigned and the panel support structure optimized to absorb more energy than the previous model. Blast tests have proven that the panels remain gas-tight after a blast pressure of 0.8 bar. Finite element modeling (FEM) enables customized panel designs to meet project-specific requirements. Modularization and standardization make these systems cost-effective.
InterDam
Booth #1615
Motor Enables Deeper Drilling for Oil Exploration
As oil extraction projects reach greater depths, drilling equipment must continue to operate reliably at high temperatures and pressures, while also enduring extreme shock and vibration. The 1.5-in.-dia. DII15-60-201A high-pressure, high-temperature (HPHT) DC motor handles these harsh conditions, helping to avoid downtime for motor replacement that can take ten hours or more and cost hundreds of thousands of dollars. This rugged brushless motor is suitable for applications such as mud pulser valve actuation, caliper deployment, and sensor positioning. It withstands temperatures up to 205°C and pressures up to 30,000 psi.
BEI Kimco
Booth #4519
Stainless Steel Enclosure Carries an IP66 Rating
These stainless steel enclosures feature a continuous, one-piece silicon gasket that ensures a dust-tight and water-tight seal. The enclosure is available in Type 304 and Type 316L stainless steel, and the VC4X and VH4X models include standard lift-off door hinges that enable easy removal of the cover. Mounting feet can be oriented either horizontally or vertically. The enclosures can be supplied predrilled according to customer specifications, and they can be equipped with mounting rails and terminal block assemblies.
Adalet
Booth #2473
Media Converter Features a Compact Design
The IMC-C1000-SFP is a compact IP-30-rated gigabit Ethernet-to-fiber media converter that features simple plug-and-play connectivity to quickly convert between Ethernet media and fiber optics. Alerts signal users when a fiber link or connection is lost and the media converter cuts off all Ethernet connections. A compact design makes it suitable for industrial applications in tight spaces that need high bandwidth capabilities, such as factory automation, security, intelligent transportation, power/utility applications, and wastewater treatment. The device can be DIN-rail or wall-mounted indoors or outdoors.
Antaira Technologies
Booth #7209
Engineering Team Provides Simulation and Modeling Services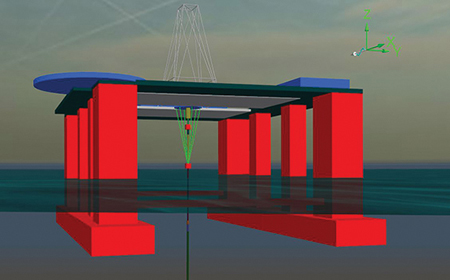 The new Global Riser Analysis team offers mathematical simulation capabilities in addition to existing product design and manufacturing services. The team consists of experts in finite element and computational fluid dynamics (CFD) analysis. Specialized software helps the team to deliver complete engineering services, including modeling equipment and system responses to environmental forces, providing opportunities for design optimization. The team can assist clients in defining operational methods and structural system limitations for offshore drilling and production operations around the globe to help save time and money.
Trelleborg
Booth #1928
Material Handler Pushes and Pulls Heavy Items
The hazardous-duty Super Power Pusher pushes or pulls carts, dollies, vats, and other items that weigh up to 75,000 ton. Attachments are available to suit a variety of applications, even for challenging environments. The material handler is approved for Class 1, Div. 1, Group B, C, and D hazardous areas and has a temperature classification rating of T4. Emergency reverse belly switches and ergonomic handles help to ensure safe material handling.
Nu-Star, Inc.
Booth #6464
1

Copyright Permissions
Would you like to reuse content from CEP Magazine? It's easy to request permission to reuse content. Simply click here to connect instantly to licensing services, where you can choose from a list of options regarding how you would like to reuse the desired content and complete the transaction.