Product Focus: Flowmeters
Flowmeters Measure Three Variables
SwirlMaster standard (FSS430) and extended (FSS450) boast volume, mass, and energy flow measurement in one device. They leverage a unique swirl-flow measurement technology that permits very short upstream and downstream piping lengths, which reduces installation costs and enhances the accuracy of flow measurements in tight spaces. The extended version features functions that are normally found in flow computers, such as steam-power calculation and the ability to receive signals from other transmitters for density, temperature, and pressure. The standard version omits the flow computer algorithms, but provides an analog output with highway addressable remote transducer (HART) communication. Both models offer universal graphical display, digital outputs, and an integrated temperature sensor. The sensors respond to changes in flowrate in as little as one second.
ABB, Inc.
Meter Provides Mass Flow and Density Measurements
The Foxboro mass flow and density meter consists of the CFS25 mass flowtube working in conjunction with the CFT51 Coriolis mass transmitter. Direct measurement of both mass flow and density enhances accuracy and eliminates the problems associated with multiple process measurements. The device uses digital signal processing (DSP) to deliver reliable performance, even during two-phase flow and partially empty tube conditions. It is not sensitive to variable process conditions, and can be used in applications with entrained air, non-Newtonian fluids, viscous and abrasive fluids, slurries, and gases.
Schneider Electric
Flow Metering System Dispenses Precise Volumes
This precision continuous flow (PCF) metering system dispenses single-component sealants and adhesives, producing repeatable, consistent material patterns with reduced waste and rework. Ultra-high resolution, high resolution, and Coriolis flowmeters are available to serve applications that require repeatable, quality-assured dispensing. It is capable of handling ambient, warm-melt, and hot-melt materials up to 400°F. Intuitive user interface controls and self-diagnostic features enable predictive and preventive maintenance strategies that improve process uptime. Closed-loop real-time control of material flow helps to reduce material waste, thereby reducing costs.
Graco, Inc.
Inline Gas Flowmeter Eliminates a Leak Pathway
The ST100L inline gas flowmeter now features an all-welded, no-thread flow element connection for enhanced reliability, even in demanding high-pressure industrial operating environments (up to 3,000 psig). The elimination of the threaded connection improves on the design of standard threaded meter compression fittings, which can present a path for hazardous leaks. Direct gas flow measurement means there is no need for additional sensors or flow calculating devices. The design has no moving parts, which virtually eliminates wear, breakage, and maintenance. The meter measures a wide range of gases, including air, natural gas, hydrogen, helium, methane, ethane, propane, ethylene, nitrogen, carbon dioxide, and some specialty gases.
Fluid Components International
Transmitter Wirelessly Delivers Average and Totalized Flow Volume
The Rosemount 705 wireless totalizing transmitter can be installed on new or existing turbine meters or pulse devices to measure average flow and totalized flow volume. It provides predictive diagnostics data to indicate instrument health, initiate maintenance activities, and prevent unplanned downtime. The meter sends data wirelessly to eliminate cabling costs, expedite installation, and offer complete process data to enhance decision-making. Updates are completed in just one second to ensure information is up-to-date, and remote mounting enables installations in a variety of locations without extensive wiring requirements.
Emerson Process Management
Flow Monitors Include a HART Protocol Option
All of the manufacturer's variable-area and piston-style flowmeters are now offered with a highway addressable remote transducer (HART) protocol option. HART is a popular industrial digital communication signal that is superimposed on top of the standard 4–20-mA analog signal, which functions as a mechanical backup. The flowmeters are suitable for chemically aggressive environments, as well as for use with corrosive liquids, acids, caustics, seawater, brines, and deionized water. Each meter is individually calibrated for the operating fluid . These simple and low-maintenance meters come in 12 sizes, and operate at pressures up to 2,000 psi. They can be mounted inline and in any orientation, with no straight-pipe-run requirements.
Universal Flow Monitors, Inc.
Vortex Flowmeter Provides a Profile of Steam
Prowirl 200 vortex flowmeter measures mass and energy flow of wet, saturated, and superheated steam, as well as of gases, liquids, and cryogenic fluids at temperatures from –328°F to 752°F and pressures up to 3,625 psi. It outputs multiple properties, including volume flow, mass flow, flow velocity, corrected volume flow, energy flow, heat flow differences, calculated saturated steam pressure, steam quality, condensate mass flow, Reynolds number, and temperature. A wet steam detection function monitors condensate, which can cause safety issues, and sounds an alarm when steam quality drops below 80%.
Endress+Hauser
Interphex • April 26–28, 2016 • Jacob Javits Convention Center • New York, NY www.interphex.com
INTERPHEX is an annual event dedicated to showcasing pharmaceutical and biopharmaceutical innovation, technology, and knowledge. It brings together over 12,000 global pharmaceutical and biotechnology professionals for exhibitions, education, workshops, partnering opportunities, and networking events.
Connection Outperforms Conventional Solutions
The expectations for tube connections are high, requiring leakproofness, temperature resistance, and cleanability. ZeroCon is a metal-only connection that combines the advantages of a detachable connection with those of a weld seam to meet these demands. It is virtually leakproof (less than 1×10–13 mbar-L/sec), and exceeds the performance of typical leak detection equipment, such as helium leak detectors. With no measureable dead-space volume, bacteria and cultures have no room to spread, enabling much shorter flushing times. The connection remains stable at temperatures from –196°C to 450°C (–321°F to 842°F). A self-centering mechanism, a metal end stop that indicates when installation is complete, and good weldability make installation easy.
Dockweiler
Booth #3849
Flowmeter Features a Noninvasive Clamp-Style Design
The SONOFLOW CO.55 ultrasonic sensor is suitable for measuring the flow velocity of water-like liquids, such as infusion solutions, dialysate, and blood. The sensor is noninvasive, and can be simply clamped around the tubing that contains the liquid to be measured. The colors of the medium and tubing, as well as the electromagnetic properties of the fluid, do not affect the measurement. Flow measurements are accurate within the fluid temperature range of 0–60°C (32–140°F). The compact design integrates the electronics into the body of the sensor. The flowmeter can be installed into a range of medical devices as well as used in applications in the biotech, pharmaceutical, and chemical sectors.
SONOTEC US, Inc.
Booth #3744
CO2 Incubator Increases Cell Culture Yields
CellIQ is a large-capacity (230-L) carbon dioxide incubator that enhances the yield of cell culture experiments. It is suitable for high-throughput culturing or protocols. A liquid crystal display (LCD) touchpanel provides full control over operation. A hydrogen peroxide decontamination system kills 100% of contaminants in as little as three hours, and integrated shelf channels enable easy cleaning. The manufacturer's InCu-saFE and SafeCell ultraviolet (UV) technologies establish active background control to prevent contamination. Direct heat and air-jacket conditioning help to regulate temperature and carbon dioxide levels.
Panasonic Healthcare Corp.
Booth #3670
Fittings Are Offered in Various Sizes and Configurations
Ninety new compression fittings include options in 1/8-, 1/4-, 3/8-, 1/2-, 3/4-, and 1-inch OD tubing sizes and straight, elbow, and tee configurations. Accessories such as ferrules, nuts, and plugs are also available. The connections are made of high-purity materials, including perfluoroalkoxy (PFA), polyvinylidene fluoride (PVDF), polytetrafluoroethylene (PTFE), and ethylene tetrafluoroethylene (ETFE), and are compatible with ethylene oxide (ETO), steam, E-beam, and gamma sterilization methods. Once the tubing has been cut to the desired length, installation can be finished without any tools. The fittings withstand temperatures up to 100°C (212°F), and are suitable for gas, pneumatic, and fluid connection applications.
Qosina
Booth #3634
Monoblock Can Handle Vials where Space Is Tight
The FSV50 Mini Monoblock can process vials in locations short on space, such as laboratories and clinical production facilities. It is intended for use in a polycarbonate enclosure, with or without a laminar flow hood. The small unit can fill liquids and stopper containers at speeds of up to 50 vials per minute, and is compatible with vial sizes of 1–100 mL. It features programmable logic controller (PLC) controls for ease of operation and validation, a sanitary current good manufacturing process (cGMP) design for easy cleaning, and overload protection for safe operation.
Cozzoli Machine Co.
Booth #2805
Consulting Service Assists Process Development and Scaleup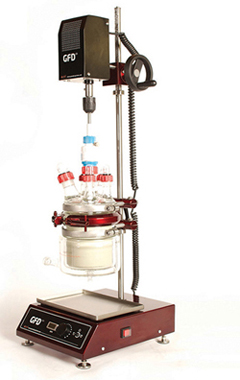 The Center of Process Excellence (C.O.P.E.) provides process consulting and process development expertise in the areas of filtration, drying, and high-containment technologies. C.O.P.E. can assist pharmaceutical, biopharmaceutical, and specialty chemical organizations with process development and scaleup activities, as well as with component customization, development of complex sterile injectables for extended release, process/facility troubleshooting, automation, clean-in-place (CIP), and startup. A facility planned for 2016 will be equipped to provide onsite feasibility trials and studies, powder property testing, particle size reduction, and process optimization. The Center will feature high-spec technology, including the laboratory glass filter dryer (GFD) for easy lab-scale filtration and drying.
Powder Systems Limited
Booth #2232
Valves Regulate Tank Outlet Streams
These radial diaphragm valves help to control and automate tank outlet process lines. They comply with sanitary-service regulations, and have clean-in-place (CIP) capability. A smooth, sloping design ensures complete drainage, with no pooling. Valves are available in sizes of 0.5–3 in. and with clamp or weld connections. Customers can select from Type 316L stainless steel, Hastelloy C-276, Hastelloy C-22, or AL6XN valve body materials, and silicon, ethylene propylene diene monomer (EPDM), fluoroelastomer (Viton), or polytetrafluoroethylene (PTFE) diaphragm materials to meet various requirements
PBM, Inc.
Booth #2824
Filling and Stoppering Unit Comes with Options
This modular unit for filling and stoppering containers combines three different filling mechanisms — rotary piston pump, peristaltic pump, and time pressure — into one platform. Operators can switch between the three filling systems with a quick exchange of parts. Containers are filled in nests located on top of an automatic positioning table. A universal pick-and-place system uses traditional mechanical insertion and vacuum to stopper the containers. The unit is suitable for use with vials, syringes, and cartridges. Pre- and post-gassing and a check-weigh system verify filling accuracy.
Bausch Advanced Technologies
Booth #3037
1
Copyright Permissions
Would you like to reuse content from CEP Magazine? It's easy to request permission to reuse content. Simply click here to connect instantly to licensing services, where you can choose from a list of options regarding how you would like to reuse the desired content and complete the transaction.