Bioprocessing
System Allows for Parallel Sample Extraction
The EXTREVA Accelerated Solvent Extractor (ASE) is an all-in-one automated sample-to-vial preparation system that combines sample extraction, in-cell cleanup, and evaporation. It features faster extraction with four samples in parallel, increasing laboratory throughput and efficiency. The gas-assisted extraction system minimizes solvent usage. It can be used for sample preparation of polycyclic aromatic hydrocarbons (PAHs), pesticides, and extractables and leachables (E&Ls) in biotherapeutics, among others.
Thermo Fisher Scientific
Thawing Station Provides Temperature Uniformity
The SPL Guard Arizona is a single-rack ambient air thawing station for samples. It can uniformly thaw a complete rack from –80°C to 5°C in six minutes. It provides real-time temperature data on the display. The unit automatically stops heating and emits a beeping sound when the calibrated temperature has been reached, speeding up downstream process use. The thawing station is compatible with standard Society for Biomolecular Screening (SBS)-format racks.
SPL Guard
Automated Bioreactors Can Handle High-Grade Aseptic Conditions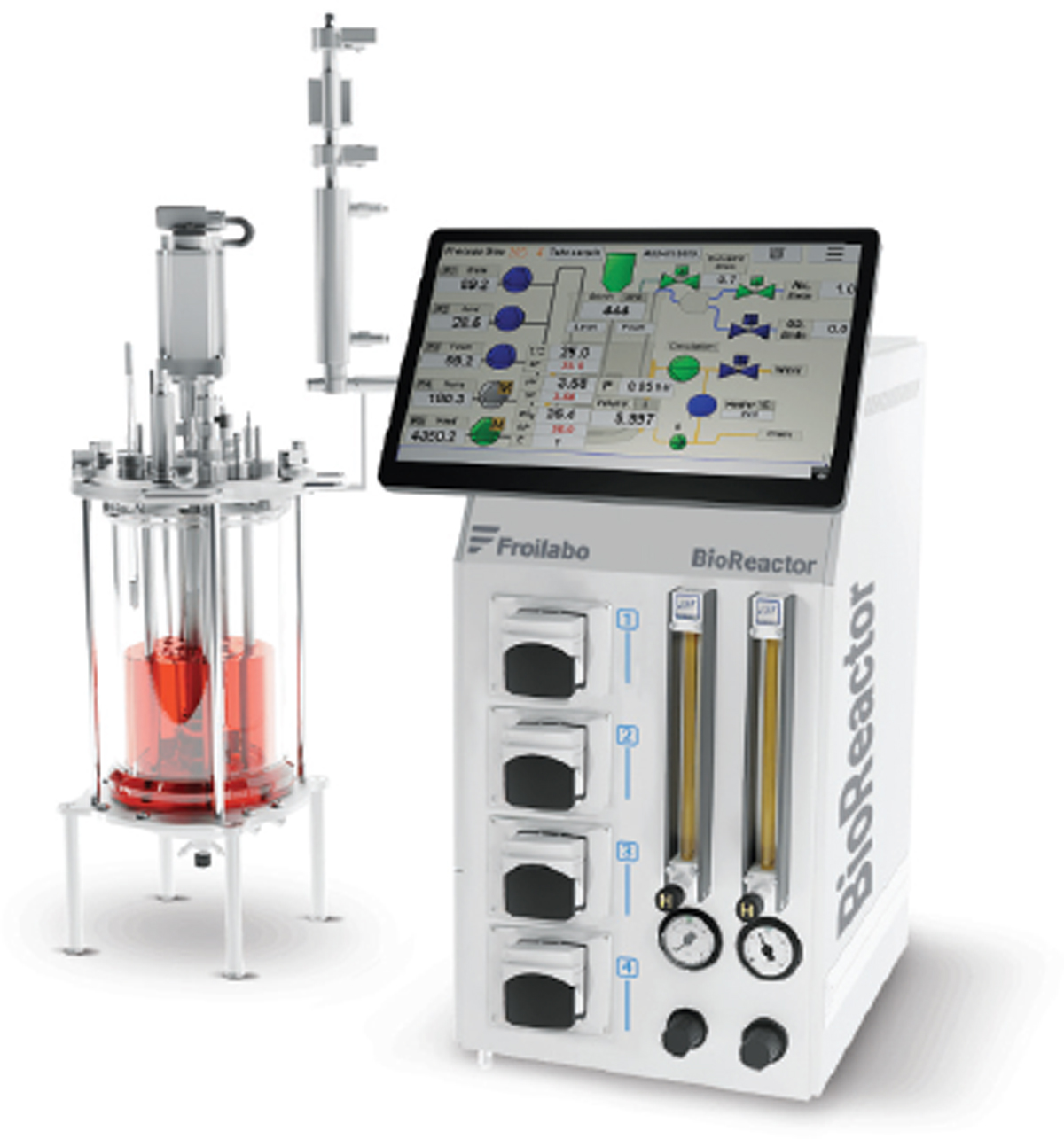 These automated lab-scale bioreactors are suitable for applications in academia, research, process development and optimization, scale-up, and production. The bioreactors have a magnetic mixer and non-welded lid, making them suitable for bioprocesses that require high-grade aseptic conditions. The controller includes a 15-in. touchscreen display and has three levels of access that are password protected. The bioreactors are available in three sizes: 1 L, 5 L, and 15 L.
Froilabo
Microplate Allows for High-Throughput Screening
The BIOFLOAT 384-well microplate streamlines spheroid cell culturing in large cell culture screening applications. The microplate's clear, round U-bottom wells with ultra-low attachment (ULA) surface coating enable uniform spheroid formation. Each well also offers readout via microscopes and scanners. The high-density well plate allows for the cultivation of round spheroid cell cultures without needing an additional centrifugation or transfer step, saving time and preventing potential damage to the cells.
faCellitate
Instrumentation
Pressure Transducer Operates in Corrosive Environments
The ZL95 fluoropolymer pressure transducer is suitable for pressure measurements in corrosive liquid and gas environments. It has a four-digit LED display with negative-positive-negative (NPN) switch outputs and a capacitance sensor for thermal stability. It consists of polytetrafluoroethylene (PTFE)/perfluoroalkoxy (PFA) wetted parts with a vented design that extends the operating life and improves corrosion resistance. The pressure transducer is suitable for piping with an outer diameter of 0.25–0.50 in.
Ashcroft
Pressure Transmitter Features a New User Interface
The Rosemount 3051 pressure transmitter features a redesigned user interface. It now showcases a simple, task-based menu structure. It also features a high-contrast, backlit graphical display that supports eight different languages. The pressure transmitter offers Bluetooth wireless connectivity for easy configuration and service tasks from afar. Its built-in diagnostics help to identify issues and monitor the device status from the tracked diagnostic log.
Emerson
Sensors Monitor Rotating Equipment Conditions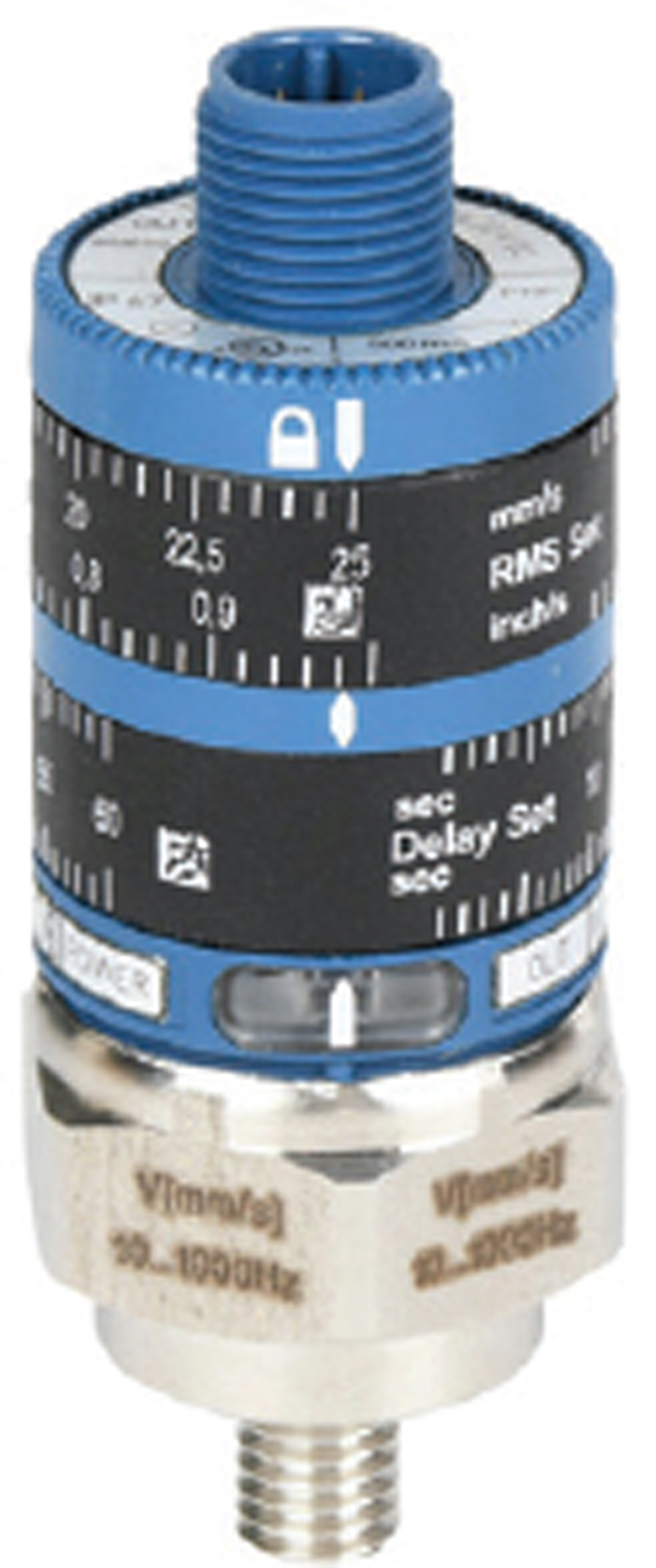 The ProSense VCST series features new vibration sensors. These sensors detect vibrations of industrial equipment, specifically rotating equipment such as turbines, pumps, motors, compressors, and rolling mills. These sensors detect potential malfunctions early on to improve maintenance and reduce downtime. The sensors are available with a sensing range of 0 mm/sec to 25 mm/sec or 0 mm/sec to 50 mm/sec. They feature a digital positive-negative-positive (PNP) output switch and an analog 4–20 mA output.
AutomationDirect
Gas Transmitters Feature Wireless and Wired Versions
These hydrogen sulfide (H2S) gas detection transmitters are now available in a wireless sensor network model (WTF-H2S) and a hardwired process instrumentation model (HW-H2S). The wireless transmitter is powered by a replaceable battery pack while the hardwired transmitter is powered by a 9–30 VDC supply. Both transmitters offer a H2S measurement range of 0 ppm to 100 ppm at a resolution of 0.1 ppm. The design features a 316 stainless-steel housing with a dust/splash guard.
OleumTech
Fluids and Solids Handling
Fluid Bed Processor Offers Fast Drying Times
The VIBRO-BED fluid bed processor has new features that improve pressure and temperature regulation, enabling faster material drying and increased throughput. The controls have been updated and simplified to allow operators to run batch or continuous material processing with little training. The circular design utilizes the entire surface area for optimal airflow to provide faster, uniform drying and minimize waste.
Kason
Rotary Vane Pump Is Suitable for Laboratory Settings
SmartVane is a rotary vane pump designed to serve as a backing pump for mass spectrometry. It has a hermetically sealed pump housing design to ensure that no oil leakage occurs. The integrated motor helps to extend maintenance intervals. The pump operates at a pressure less than 10 hPa, making it quieter than other pumps used for similar applications. In addition, the pump is energy-efficient and has a low operating cost and carbon footprint.
Pfeiffer Vacuum
Software
Updated Modeling Software Expands Capabilities
The latest release of version 6.1 of COMSOL Multiphysics modeling and simulation software expands its capabilities in a variety of areas. These upgrades include additions to fluid flow and mechanical simulations. The Computational Fluid Dynamics (CFD) Module now includes high-fidelity turbulent flow with detached eddy simulation. The Structural Mechanics Module and Microelectromechanical Systems (MEMS) Module introduce new functionality for solids, shells, and membranes with support for self-contacting surfaces. It also employs a new method for applying materials to thin structures, allowing analysis of gaskets, adhesive layers, and claddings.
COMSOL
Protein Sample Preparation Software Adds Compliance Support
The AssayMAP Bravo Protein Sample Prep Workbench 4.0 software extends usage to regulated environments. The software now adds 21 Code of Federal Regulation (CFR) Part 11 compliance-enabling features that allow automated sample preparation in various workflows across drug development processes while adhering to regulatory guidelines. The software also provides the option to generate reports that capture sample prep workflow data, simplifying documentation that may be required in certain laboratory settings.
Agilent Technologies
Laboratory Equipment
Hotplate Offers High-Speed Stirring
The Guardian 2000 series of analog hotplates and stirrers is available in nine different models. The series is suitable for general lab purposes, featuring stirring speeds up to 1,600 rpm for volumes up to 15 L. The hotplates can provide heating up to 500°C. The design consists of two knobs: one for the stirring speed control and one for temperature control, as well as an indicator light that will turn on when the hotplate is at a temperature above 40°C. The chemical-resistant ceramic top plate ensures durability and simplifies cleanup.
OHAUS
Operations and Maintenance
Pipe Support System Reinforces Plastic Pipes
The Stress Less Pipe Support System guides for plastic pipe systems are now available in metric sizes from 20 mm to 315 mm. The full range of iron pipe sizes (IPS) is also supported from 0.5 in. to 12 in. The pipe supports have gaps that eliminate stress to plastic piping by accounting for thermal expansion and any seismic conditions. The system also includes clevis hangers and valve supports, enabling it to be vertically or horizontally mounted on flat surfaces and pipe support rails.
GF Piping Systems
End Piping System Alleviates Pipe Stress
The AlfaRapid line of grooved-end piping systems includes pipe clamps, fittings, and valves for plastic pipes. The flexible pipe couplings are made of glass-reinforced polyamides and stainless-steel bolts ranging in sizes from 1.5 in. to 6 in. The couplings also allow for expansion, shrinkage, and bending, reducing the need for additional piping accessories to remedy these issues. The polypropylene grooved-end pipe fittings are available in 1.5 in. to 4 in.
Chemline Plastics

Copyright Permissions
Would you like to reuse content from CEP Magazine? It's easy to request permission to reuse content. Simply click here to connect instantly to licensing services, where you can choose from a list of options regarding how you would like to reuse the desired content and complete the transaction.