Fluids and Solids Handling
Vacuum Pump Is Suitable for Industrial and Analytical Applications
The N 952 oil-free diaphragm vacuum pump can generate a vacuum up to 1.5 mbar (absolute pressure) at a flowrate of up to 36 L/min. Users can connect the four pump heads in series or parallel to ensure optimal performance for each process. The pump can be used on its own in analytical chemistry systems or as a pre-vacuum pump for turbopumps. The pump uses a brushless DC motor that offers analog and digital control.
KNF
Mobile Lump Breaker Unit Moves Easily
The Nibble GNB lump breaker is now available with an integrated sack tip station. Set on casters, the unit can be moved from one production line to the next, eliminating the need for additional units. Its compact, vertical design saves space and fits in tight areas without requiring any conveyors or ductwork to connect the unit to other equipment. When transferring bulk materials into the unit, the sack tip station draws out all the material and then feeds it to the lump breaker for removal of agglomerates down to 1 mm.
Gericke USA
Mobile Conveyor Simplifies Material Transfer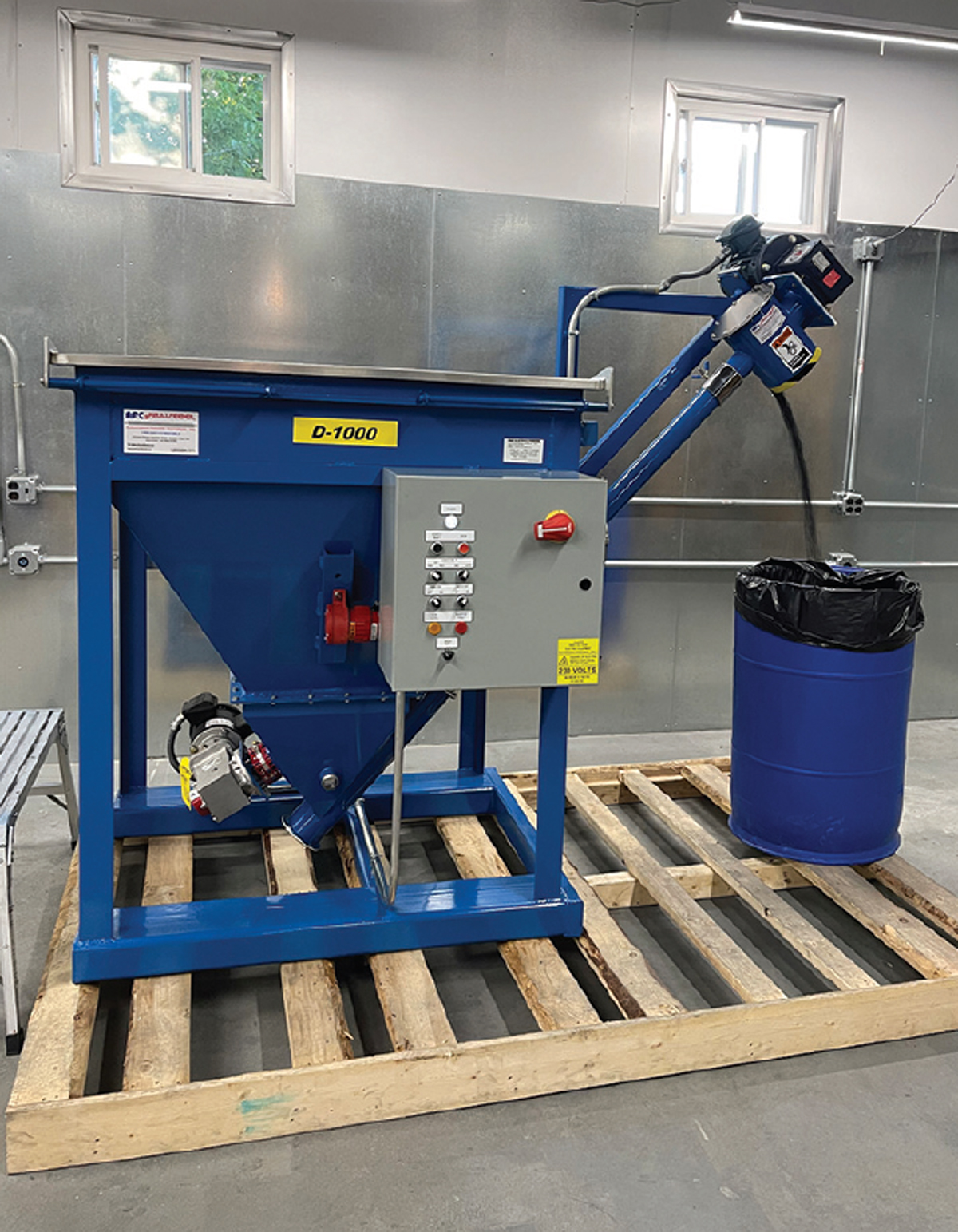 The Fork Truck Hopper (FTH) 25 SPIRALFEEDER is a mobile flexible screw conveyor with fork pockets that allow safe, easy transport by forklift. The hopper can be filled via a bulk bag unloader, sack tip station, or manual bag emptying and transported to the next stage of the process for discharge. The conveying system includes a split-hinged aluminum hopper cover that keeps the material inside during transport and prevents any fine particles from escaping into the environment. The screw conveyor is suitable for companies that aim to minimize manual powder handling in the food, chemical, and pharmaceutical industries.
Automated Flexible Conveyor
Rotary Lobe Pump Reduces Maintenance Time
The redesigned TORNADO T1 rotary lobe pump is up to 25% more energy-efficient than the original. The redesign has 33% fewer replacement screws in the pump chamber, speeding up the removal process and service time. The pump can now deliver flows of up to 10 bar in pressure with less pulsation and vibration. It has more stable bearings and drive shafts that extend service life regardless of the high-pressure pumping.
NETZSCH
Dumping-Conveying System Promotes Sanitary Conditions
The portable dumping-conveying system with integral conveyor and separate dust collector can handle dairy powders, pharmaceutical products, and bulk foods that are sensitive to contamination. The unit consists of a manual dumping station with surge hopper, flexible screw conveyor, and support boom on a caster-mounted frame. It also features a dust hood and hinged lid that is mounted to the floor hopper with quick-release clamps. The unit adheres to 3-A sanitary standards and has 316 stainless steel on all contact surfaces.
Flexicon
Twin-Screw Pump Reduces Inflow Losses
Houttuin 249.TT is a non-contacting twin-screw pump compliant with the American Petroleum Institute (API) 676 standard. It can pump fluids and fluid mixtures from light condensate over water to highly viscous chemicals or emulsions. The pump offers high flow capability and low net positive suction head (NPSH). The optimized integral liner reduces hydraulic inflow losses, enabling a compact design with high overall pump efficiency. The pump is suitable for oil and gas, chemical, non-hygienic food and beverage, and marine applications.
CIRCOR International
Pneumatic Vacuum Self-Cleans Filter
The PulseAir vacuum/dust extractor line consists of industrial pneumatic vacuums. Powered by compressed air, a button-activated system cleans the vacuum filter without having to open the unit. The compressed air is injected into the interior of the filter mounted underneath the vacuum lid, dislodging dust particles into the closed container. This will extend the filter lifespan and allow uninterrupted vacuum operation. The vacuums are available in 55-gal, 30-gal, and 20-gal containers. The dust extractors are available in 30-gal and 20-gal containers. All models feature high-efficiency particulate air (HEPA) cartridge filters and static conductive components.
Guardair
Laboratory Equipment
Mass Spectrometer Features Auto-Tuning Capability
The LCMS-9050 is a quadrupole time-of-flight (Q-TOF) mass spectrometer system with a slim, floor-standing design, saving space in the laboratory. It offers precise temperature control to minimize temperature variation and its effects on mass accuracy. The mass spectrometer includes an auto-tuning function that uses a standard sample to automatically correct mass accuracy, resolution, sensitivity, and other parameters. The system is versatile and capable of adding optional ionization units or front-end configurations and extensions.
Shimadzu Scientific Instruments
Electron Microscope Has a Space-Saving Design
The low voltage electron microscope (LVEM 25E) offers energy dispersive spectroscopy (EDS) for elemental analysis. The system offers four other imaging modes: transmission electron microscope (TEM), scanning transmission electron microscope (STEM), scanning electron microscope (SEM), and electron diffraction (ED). It has a compact and portable design and requires only a single-plug installation, making it suitable for most laboratory environments. The automated software adjusts and controls column alignments and aperture positions, eliminating the need for manual correction. Its turbomolecular pump and ion getter pumps enable a contamination-free vacuum imaging environment.
Delong Instruments
Mini Cutting Mill Handles Small Samples
PULVERISETTE 29 (P-29) is a mini cutting mill suitable for laboratories that frequently require grinded materials. It has four cutting edges with different rotors and fixed knives which enable up to 48,000 cutting processes per minute at variable rotational speeds from 500 rpm to 6,000 rpm. The feed allows sample sizes up to 13 mm in diameter and a maximum volume of 100 mL. The final fineness can be chosen with variable sieve inserts from 1–6 mm. The grinding chamber is made of 316L stainless steel. It can be cleaned to keep the mill contaminant-free.
Fritsch
Chemical Imaging System Improves Microplastics Analysis
The 8700 Laser Direct Infrared (LDIR) chemical imaging system now features the Clarity 1.5 software package. The software decreases analysis times and improves spectral acquisition, transformation, and library matching. It also provides automated workflows for direct analysis of microplastics in environmental samples. The redesigned sample holder allows users to quickly load and replace the on-filter sample. The on-filter analysis allows for increased testing volumes.
Agilent Technologies
Software
Platform Preserves Batch Production Quality
The Manufacturing Excellence Platform provides real-time production visualization and dashboards for multiple different users, from operators to managers. It displays process unit timelines, detailed equipment status, and trends of critical process parameters in one interface. The platform digitizes batch records, work instructions, and logbooks and provides batch progress and alerts on critical parameters to allow users to respond quickly and improve batch quality. It is designed specifically for life science applications such as pharmaceutical manufacturing and cell and gene therapy.
Honeywell
Control System Update Simplifies Automations Setup
Version 15 of the DeltaV distributed control system (DCS) is now available. It expands access to critical data and features a new human machine interface (HMI) with real-time analytics to provide operators with decision support. The new infrastructure makes automations easier to set up while the redesigned software helps to streamline information technology (IT) support. The software supports a hyperconverged infrastructure (HCI) virtualization option to reduce the hardware and energy footprint. The HCI platform can be deployed in half the time of a traditional virtualization setup and is expandable and scalable.
Emerson
Augmented Reality App Improves Pump Maintenance
The Bredel hose pump augmented reality (AR) customer app supports pump maintenance. The app provides step-by-step visual guidance to help reduce maintenance time. Developed for post-sales support, users can identify tools required for their pump maintenance tasks or spare pumps. Users can access key information and view maintenance procedure animations in the app much faster than a printed product manual. To access the app, users can install the free Vuforia View app from the App Store or Google Play Store.
Watson-Marlow Fluid Technology Solutions
Environmental, Health, and Safety
Neck Light Has Long-Lasting Battery
The REDLITHIUM USB neck light is suitable for use on the jobsite. It provides 45% brighter light and longer run-time than other USB neck lights. With a press-and-hold power button, it delivers three output modes from 250 lumens to 400 lumens and two and a half hours of run-time when on high output. The neck light is capable of 90 deg. of vertical rotation and has a sweat-resistant band, providing comfort and complete lighting head adjustment. The light is IP54-rated and impact resistant for drops up to 6 ft.
Milwaukee Tool
Gloves Protect Hands from Liquid Exposure
SmartFlex full-coat liquid-resistant (BK350) gloves have a soft polyester seamless knit liner and durable natural latex coating that keeps hands dry and seals out liquids. The soft liner prevents rubbing and chafing of the skin. The gloves' palms have an additional layer of latex to provide extra grip support, abrasion resistance, and tear resistance. The fingers are tapered and curved with flex points that conform to the wearer's knuckles.
Brass Knuckle Safety Products
www.brassknuckleprotection.com
Operations and Maintenance
Antimicrobial Technology Reinforces Water-Based Coatings
LapisShield is a non-heavy-metal antimicrobial coating that can be integrated into any water-based coating formulation. It inhibits bacterial growth up to 99.99% and prevents the growth of mold and mildew. The coating allows batches to be stored for future use, minimizing unnecessary waste. It is compatible with thin coating systems and offers ultraviolet (UV) stability, making the water-based coatings suitable for transparent glass or plastic applications.
Microban International
Cleaning Solution Removes Burned-On Oil
The ULTRA-CLEAN US-159 alkaline cleaning detergent removes aged, oxidized, and burned-on oil and grease. The formula produces low to moderate foam and is safe to use on ferrous alloys when used as directed. Dilutions from 2–10% by volume in warm water (120–160°F) are typically effective. Heavier soils and ultrasonic applications may benefit from higher temperatures of up to 190°F. The cleaning detergent is suitable for machinery rebuilding and component cleaning during maintenance procedures.
Madison Chemical
Spray Adhesive Speeds Up Application
The STA'PUT SP36 Air Assist (AA) is a multi-purpose, industrial-grade spray adhesive that is compatible with standard high-volume, low-pressure (HVLP) spray equipment. It can be used for most permanent or temporary adhesive applications that require speed and efficiency. The spray coverage is up to 30% greater than traditional canister adhesive systems and has a quick dry time. It is suitable for a variety of materials, including composites, aluminum, glass, rubber, plywood, and medium-density fiberboard.
ITW Polymers Sealants
Copyright Permissions
Would you like to reuse content from CEP Magazine? It's easy to request permission to reuse content. Simply click here to connect instantly to licensing services, where you can choose from a list of options regarding how you would like to reuse the desired content and complete the transaction.