Securing the Future through Chemical Engineering and Process Safety Innovation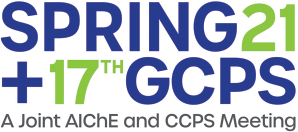 Practicing chemical engineers, safety professionals, and industry leaders worldwide will gather online to advance the vital work of the profession when AIChE and its Center for Chemical Process Safety (CCPS) host the 2021 AIChE Virtual Spring Meeting and 17th Global Congress on Process Safety as an online event, Apr. 18–23. For the second consecutive year, the conference will be delivered using an online platform as a measure against the continuing pandemic.
Highlights of the Spring Meeting include a new topical conference that covers a breadth of topics related to industrial wastewater management and water reuse. The Spring Meeting program amplifies recent emphasis on chemical engineering's role in modern manufacturing, incorporating process intensification techniques and approaches related to Industry 4.0. Also on tap are the biennial Kister Distillation Symposium and the 33rd Ethylene Producers' Conference. Other topical conferences examine refinery processing, gas utilization, clean energy, hydrogen safety, waste plastics, upstream engineering and flow assurance, and leadership-skills development, among other topics.
Additional highlights include keynote talks, featured panel discussions, poster sessions, and exhibits. The programmers have also dedicated unopposed blocks of time exclusively for networking, based on a variety of technical interests and other fun activities.
Among the benefits afforded by the virtual meeting platform, the technical program will be recorded and can be revisited for one month after the meeting.
An enhancement of this latest online conference experience is a new feature that allows attendees to maintain a personal calendar on the meeting platform, and to integrate it with their Outlook calendars.
Meeting registration is open, with a reduced fee structure that reflects the virtual format. Details about the Spring Meeting's featured events, keynote speakers, and special sessions will appear online and in the April issue of CEP.
Focus: 17th Global Congress on Process Safety
Organized by AIChE's Center for Chemical Process Safety (CCPS) and the Safety and Health Div., the Global Congress on Process Safety (GCPS) unites safety engineers, plant managers, and process designers from organizations around the globe to assess technologies and present strategies to avoid incidents, manage risk, ensure plant safety, and improve process safety management (PSM) programs across the chemical process industries (CPI).
Setting the stage for this year's Global Congress is a Welcome Plenary Session and Keynote on Monday, Apr. 19. Core programming at the Global Congress begins with the 55th Annual Loss Prevention Symposium, where speakers share lessons learned from incident investigations and discuss topics related to risk assessment, explosion prevention, fire protection, facility siting, and more.
The 36th CCPS International Conference promotes systematic process safety management. With CCPS extending its process safety Vision 20/20 goals beyond the year 2020, sessions highlight a range of effective PSM programs and new technologies, as well as sessions that decribe ways to identify safety hazards and address process safety in unusual situations.
CCPS's vision for universal process safety excellence is underscored at sessions offering Perspectives on Process Safety from Around the Globe. With contributions from a breadth of organizations, the program features sessions presented in Spanish and Portuguese (as well as English), with additional perspectives from China and Japan.
The 23rd Process Plant Safety Symposium offers an array of best-practices, perspectives, and methods that can contribute to stronger safety cultures within plants and among personnel.
Now in its tenth year, the Process Safety Management Mentoring Forum offers tutorial-based sessions that allow experienced safety professionals to share their know-how with early-career practitioners and others who may be new to the field of process safety.
The Global Congress concludes with one of the conference's most anticipated sessions: Case Histories and Lessons Learned (Apr. 23). The session showcases real-world incident investigations — including the 2020 explosion at the port of Beirut, the Midland County (Michigan) dam failure, and others — and offers takeaways to benefit any chemical engineer or CPI stakeholder.
Rounding out the Spring Meeting and Global Congress program will be daily keynote talks and panels. The speakers, along with other featured events of the Spring Meeting and Global Congress on Process Safety, will be announced online and in next month's issue of CEP.
For the latest program information, or to register, visit www.aiche.org/spring.
Copyright Permissions
Would you like to reuse content from CEP Magazine? It's easy to request permission to reuse content. Simply click here to connect instantly to licensing services, where you can choose from a list of options regarding how you would like to reuse the desired content and complete the transaction.