Fluids and Solids Handling
Roots Pumps Reduce Maintenance and Operating Costs
The HiLobe intelligent roots pumps use a powerful drive design that offers 20% shorter pump downtimes than conventional roots pumps, along with a 50% reduction in maintenance and energy costs. With a high nominal pumping speed (up to 6,200 m3/hr), the pumps are suitable for industrial vacuum applications, including electron beam welding, vacuum furnace operation, and freeze-drying. In particular, the pumps are suitable for rapid evacuations (e.g., in lock chambers or leak detection systems), as well as general coating applications. The pumps have an intelligent interface that optimizes pump adjustments and provides condition monitoring. The integrated condition monitoring provides information on the state of the vacuum system at all times. In addition, the pumps feature individual speed control to easily adapt to customer-specific requirements.
Pfeiffer Vacuum
Screw Conveyor Is Available in Carbon Steel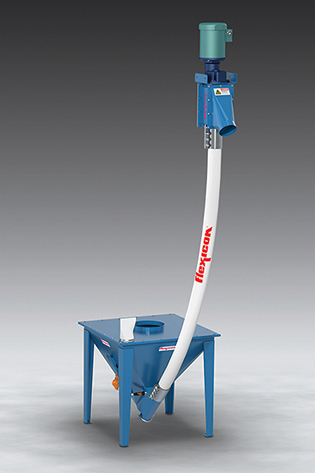 The Model 1450 flexible screw conveyor has a 4.5-in.-outer-diameter polymer conveyor tube and low-cost carbon steel floor hopper and discharge housing. It is available with round, square, flat, or beveled flexible screws in any length from 10 ft to 40 ft. The conveyor handles most free- and non-free-flowing bulk materials, including products that pack, cake, seize, smear, or break apart. The only moving part that contacts the material is the inner screw, which self-centers as it rotates, providing ample space between the screw and tube wall to minimize or eliminate grinding. The lower end of the screw requires no bearing, while the upper end is driven beyond the point of discharge, which prevents material contact with bearings or seals. The fully enclosed conveyor tube mitigates product and plant contamination, and the screw generates a gentle rolling action to prevent the separation of blends. The screw conveyor is available with an optional start-stop control panel and a range of flow-promotion devices.
Flexicon
Replacement Filters Increase Filter Efficiency
The HemiPleat replacement filter cartridges for oval industrial dust collectors can safely collect virtually any type of dust or fume, including fine, fibrous, combustible, sticky, and toxic dusts. They feature a patented pleating design that improves filter performance and captures most air pollutants. The filters feature synthetic beads that hold the pleats open to expose more media to the airstream, which increases filter efficiency, reduces pressure drop, and improves dust release during pulse cleaning. These filters require less compressed air and energy for the fan motor than standard pleated filters, reducing the cost to operate dust collectors. A wide variety of filter materials and options are available, including nanofiber, flame retardant, synthetic, carbon, and polytetrafluoroethylene (PTFE).
Camfil APC Co.
Materials and Chemicals
Flame-Resistant Material Is Suitable for Face Masks
Nomex is a flame-resistant fiber material that is available for face, nose, and mouth coverings, as well as balaclavas, gaiters, and hoods. The material is suitable for use in a variety of industries, including manufacturing, oil and gas, and chemical industries. It is particularly useful for industrial workers who wear facial protection that must also protect against flames. It does not melt, drip, or burn in the event of a fire. Unlike chemically treated fabrics that can lose flame resistance, this material offers flame-resistant protection that is inherent to the fiber and cannot be washed out or worn away. It is also lightweight and comfortable to wear for extended periods.
DuPont
Color-Changing Material Indicates Phase-Separated Water in Fuels
Sar-Gel Blue is a phenolphthalein-free, nontoxic water-finding paste. It quickly and reliably detects phase-separated water in fuel or equipment tanks containing gasoline, gasoline/ethanol blends, diesel, jet fuel, fuel oil, biodiesel, and other water-incompatible solvents. Users simply place a small amount of the paste on the end of a gauge stick and insert the stick into the tank for the recommended amount of time (based on the fuel type). The paste changes from orange to dark blue if it detects water. The high-contrast color change is visible in poor lighting situations. The formula will not run or fade, so it is easy to see the water line. It works especially well in blended gasoline systems containing up to 15% alcohol.
Arkema
Antimicrobial Film Resists Scratching
The Dun-Shield is a durable, multifunctional film that protects surfaces against microbes. It is polymer-based, long-lasting, and scratch-resistant. It retains its antimicrobial properties even after repeated exposure to common cleaners and disinfectants. The protective film employs silver ion technology, which inhibits the growth of various bacteria, mold, and mildew on the surface. It has a low haze level so that it can coat and protect surfaces without visually distorting the underlying surface, which makes it particularly suitable for touchscreen applications. The antimicrobial technology can be integrated with a variety of different types of films, such as polyethylene terephthalate (PET) film and biaxially oriented polypropylene (BOPP) film. It can also combine with other functional coating technologies to meet customer-specific requirements.
Dunmore Corp.
Operations and Maintenance
Flow Reactor Streamlines Process Scaleup
The G5 reactor simplifies the conversion of traditional batch processes to continuous-flow processing. It features advanced flow reactor (AFR) technology that enables rapid and seamless scaleup and offers excellent heat and mass transfer. The G5 reactor has fluidic modules with small internal channels that reduce reaction volume, limiting the potential risks associated with large volumes. It improves the safety of large-scale chemical production and reduces the risk of explosion. Continuous-flow processing is often more energy efficient than batch processing and offers increased chemical efficiency, low production costs, and low waste generation. It can also reduce manufacturing footprints and on-site operational workload.
Corning, Inc.
Software
Sensor Platform Detects Black Mold
This platform uses artificial intelligence (AI) to detect the early onset of black mold (Stachybotrys chartarum) growth in buildings. The platform collects data from humidity, temperature, and leakage sensors in locations that are prone to water damage. It uses an anomaly detection algorithm to continuously analyze and detect variations that indicate fungus growth, which damages construction materials such as fiberboard and drywall. A user-friendly interface displays the analysis and triggers a notification when the risk level rises. The platform pairs with wireless, battery-powered sensors that connect to public or private long-range wide-area networks (LoRaWANs) built for the internet of things (IoT).
Viking Analytics
Platform Improves the Control of Heat-Tracing Systems
The Genesis Network provides site-wide operational awareness and supervisory control of heat-tracing systems. The platform connects heat-tracing controllers with the control room using wireless communications so that users can easily monitor, maintain, and troubleshoot large heat-tracing systems with more than 10,000 heat-tracing circuits. It presents alarms, history, and operational data via a user-friendly, browser-based interface that is accessible from any network-connected computer or mobile tablet. The platform consists of an on-premise or cloud-deployable server, a communications device between the server and wireless mesh, and a communications device between the mesh and the heat-tracing controllers.
Thermon
Instrumentation
Process Gas Chromatograph Analyzes Gas Composition
In the natural gas industry, it is critical to measure hydrogen sulfide (H2S) and other mercaptans to meet quality specifications, protect pipelines from corrosion, and meet contractual agreements. The Rosemount 700XA gas chromatograph measures the sulfur and energy content of natural gas. The analyzer can also calculate the hydrocarbon dewpoint to accurately report energy content in two-phase gas flow streams. The device is equipped with a microflame photometric detector (FPD), which allows operators to replace up to four analyzers with one gas chromatograph and can reduce costs by 50%. The device features a field-mountable and transmitter-type configuration that enables close-to-tap mounting with shorter sample lines. In addition, it has no instrument air requirements for purging, which allows it to fit in space-constrained environments without costly infrastructure.
Emerson
Smart Sensor Monitors Equipment in Hazardous Areas
The Ability smart sensor converts traditional motors, pumps, and mounted bearings into smart, wirelessly connected devices. The sensor monitors key parameters to provide real-time equipment-health monitoring, which can improve analytics, functionality, and communications. It also allows operators to remotely monitor equipment installed in difficult-to-reach or hazardous locations. Combining connectivity and data analytics enables operators to plan maintenance activities in advance, reduce downtime, and extend equipment lifetime. The sensor is fully sealed and can be mounted directly to the equipment. It connects to smartphones, tablets, computers, and plant gateways using Bluetooth Low Energy or WirelessHART for reliable communication over a few hundred meters. In addition, the sensor's battery lasts up to three times longer than most competing designs.
ABB Group
Solar Panels Power Remote Monitoring and Control Systems
The QSolarBattery system uses sunlight to power remote monitoring and control panels anywhere there is sunshine. The system includes a solar panel, lithium-ion battery, charge controller, and pole-mount or ground-mount options. It is available in several configurations, with four different solar panel wattage sizes and battery capacities ranging from 30 Wh to 480 Wh. The system can support up to 4 hr of runtime, depending on the load. It delivers regulated power output using a battery management system with eight layers of safety and optimization that are built in. The battery and solar components carry UL certifications and can operate in temperatures ranging from –20°C to 65°C.
Quantum Automation
On-Stream Analyzer Measures Metal Concentrations
The Courier 6G SL on-stream analyzer measures gold, platinum, and other valuable metal concentrations from ore feed, concentrate, and tailings streams. It is particularly suitable for applications where gold is recovered with other metals, such as silver or copper. The analyzer accurately performs elemental analysis in real time to improve process control. It combines wavelength dispersive X-ray fluorescence (WDXRF) and energy dispersive X-ray fluorescence (EDXRF) technologies with a high-power X-ray tube for excellent measurement performance. It also features an automatic internal reference measurement for stability under changing environmental conditions. The system can measure up to 24 individual process streams — each with an adjustable measurement time — to ensure optimal measurement accuracy and sampling frequency in complex polymetallic flotation circuits.
Metso Outotec Corp.
Conductivity Analyzer Improves Boiler Performance
The CSX2 conductivity analyzer can measure conductivities of 1.0 μS to 50 mS to optimize a boiler's performance and extend its operating life. The analyzer can be deployed in a wide range of critical industrial applications that require water heating and steam, including boiler control, blowdown control, condensate monitoring, leak detection in heat exchangers, and steam purity measurements. The analyzer can operate at temperatures and pressures up to 392°F (200°C) and 250 psig, or 212°F (100°C) and 400 psig. The analyzer is available with or without an integral signal conditioner, which amplifies the conductivity signal and allows noise-free transmission for hundreds of feet.
Electro-Chemical Devices
Hygienic Pressure Transmitters Provide Stable Measurement
The EJA564E and EJA565E pressure transmitters are suitable for pressure and level measurements in hygienic and sanitary applications. They have highly polished stainless steel housings with a comprehensive selection of hygienic pressure and level process connections. The pressure transmitters feature a unique active temperature compensation design that locates a temperature sensor directly behind the flush isolating diaphragm to quickly react to changing process conditions. This provides stable measurements to ensure quality and safety. In addition, the pressure transmitters meet the Sanitary Standards, Inc. (SSI) requirements for 3-A certification.
Yokogawa Corp.
Programmable Logic Controller Improves Compatibility
The MicroSmart FC86 programmable logic controller (PLC) is now available with three 12-V DC central processing units (CPUs). This added feature increases options for automating battery-powered equipment and mobile equipment. The PLC can operate at temperatures ranging from –25°C to 65°C. Users can configure and monitor the device with the Wind-Edit app for iOS and Android over Bluetooth and Ethernet. The device has a secure digital (SD) memory slot, a human-machine interface (HMI) module, and up to three I/O expansion modules with removable terminal blocks to easily integrate with many types of I/O systems and intelligent automation devices.
IDEC Corp.
Multifunction Timer Simplifies Boiler Systems and Burner Management
The ATC Model 328E multirange, multifunction timer is suitable for most industrial boilers. It is a versatile unit that has three modes of operation: on-delay, interval, and signal-off delay. It is based on a unique digital circuit that features cycle progress annunciation. The timer can be plugged into a blade-type base and is also compatible with panel mounting or DIN rail mounting. The dial-adjusted time delay relay can be set for any timing period between 50 ms and 10 hr. In addition, the unit features FM Approvals certification that it meets high loss-protection standards.
Marsh Bellofram Corp.

Copyright Permissions
Would you like to reuse content from CEP Magazine? It's easy to request permission to reuse content. Simply click here to connect instantly to licensing services, where you can choose from a list of options regarding how you would like to reuse the desired content and complete the transaction.