Fluids and Solids Handling
Laboratory-Scale Centrifuge Cools Samples Quickly
The C0226R Refrigerated Universal Microcentrifuge can be used on a tabletop for general laboratory procedures. This centrifuge can cool samples to 4°C within 6 min. It includes 99 user programs and 10 acceleration/deceleration settings to adjust speed and relative centrifugal force (RCF), all of which are easy to monitor on the large graphic LCD interface. The centrifuge measures 283 mm × 299 mm × 595 mm. It has a maximum sample volume of 90 mL, maximum run speeds between 90 RPM and 15,000 RPM (RCF up to 21,382 g-force), and run times between 1 sec and 100 hr, and it can control internal temperatures from –20°C to 40°C. In addition, it features automatic lid opening, an off-balance sensor, emergency lid-lock release, a maintenance-free induction motor, and motor thermal protection.
Labnet International
Fluidized Batch Mixers Are Approved for Food Contact
Hygienic Multiflux GMS batch mixers provide gentle, fast mixing. They feature a proprietary, horizontal double-rotor design that directs the product into two intermingling streams to form a fluidized zone. Creating a fast and intensive yet gentle exchange of materials, the batch mixers quickly combine multiple powders and liquids in a homogeneous mixture with minimal energy input while safeguarding particle integrity. The mixers commonly meet the targeted uniform distribution within 30 sec and can execute up to 12 mixing cycles per hour. Suitable for mixing fragile, high-value materials and ingredients in food, bakery, pharmaceutical, nutrition, and other sanitary processing environments, the batch mixers are constructed of stainless steel with continuously welded seams. A variety of surface finishes is available to prevent contamination and meet U.S. Food and Drug Administration (FDA) and good manufacturing practice (GMP) requirements. For easy cleaning and inspection, the mixers include full-size doors and a choice of cantilevered or optional extractable drives for complete access to the mixing rotors, the mixing chamber, and the entire interior. The mixer is available in five models ranging in capacity from 42 gal to 1,320 gal. Jacketed heating and cooling, high-speed cutters, load cells for weighing, and other accessories are also available. The mixers are suitable for ATEX and IECEx Categories 1, 2, or 3 and have FDA and Regulation (EC) 1935/2004 certificates for food contact.
Gericke USA, Inc.,
Level Detection for Dusty Environments Is Easy to Install
The DJ Level Switch provides either high or low level detection of bulk solids. The DJ Detector can handle chemical powders, minerals, and many other granulated materials and can be placed within baghouses and cyclone separators, and above airlocks, among other locations. In addition, it operates reliably in dusty environments where other types of controls may fail to operate. This level switch is approved for Class I, Groups C and D; Class II, Groups E, F, and G; and Class III operations. Installation is simple, as the level switch mounts through a 0.75-in. half-coupling at the point of desired level detection. It requires no adjustments and has no moving parts, so the switch is virtually wear-free. It boasts a long lifespan; many similar level switches from the company have been in service for more than 25 years.
Automation Products, Inc.
Abrasion-Resistant Ball Valve Boasts Long Lifespan
The QuadroSphere ball valve features a unique abrasion-resistant ball design with four recessed surfaces that provide additional flow paths through the valve to allow for self-flushing. This prevents clogging due to scale and solids buildup and also protects the seats from damage. A ground and polished hard chrome plated stainless steel ball substantially reduces ball-to-seat surface contact, creating less resistance during cycles and lowering the operating torque. The abrasion-resistant ball design improves the lifespan of the ball and seats. The valve is available in sizes 2 NPS to 24 NPS and in ASME Classes 150–2500. It can be supplied with a pneumatic, electric, gear, or lever actuation, and additional options include standard single-piston effect seating or double-piston effect seating. In the event of damage to the seat insert or stem seals, sealant can be injected to temporarily seal the valve until repairs can be made. The valve is manufactured under a certified ISO 9001 quality system and meets API, ASME/ANSI, BS, ISO, MSS, and NACE standards. It is suitable for a variety of industries, including chemical, refining, oil and gas, power, and pulp and paper.
Val-Matic
Software
Mobile Application Accesses Remote Server for Simulation
Engineers in the field can use COMSOL Multiphysics simulation software without the need to transport heavy and cumbersome computers, as the software can now be accessed on phones, tablets, and Chromebooks. The COMSOL Client for Android app is now available in the Google Play store and enables users to run COMSOL Multiphysics applications from mobile devices. Android users will have the latest version of the simulation software each time they open the app. Simulation specialists can use the Application Builder to create custom-made applications based on their multiphysics models, and then connect to the COMSOL Server (via the COMSOL Client) to deploy industry-specific analysis tools in a streamlined format that is easy to scale. Administrators will continue to have full control over who can access and run the apps via the COMSOL Server.
COMSOL
Process Models Improve Data Analytics
The SIMCA 16 software for multivariate data analytics saves time with its modeling and data preprocessing capabilities. The updated version focuses on complete data analysis, from data organization to data-driven decision-making, supported by multivariate models for single and multiblock analysis. The software makes model data easier to interpret for better process control, and mines data to help optimize product quality, resource use, and cost analysis. The improved graphical interface uses its context-based ribbons and panes so that users spend less time looking for functions. The new data analytics system includes a wizard that adapts to users' modeling objectives (rather than focusing on which algorithm to use) and makes the initial steps of creating each model easier as it guides them through the setup. The advanced data merging functionality saves time by eliminating the need to manually combine and align data in Excel. A Python plugin enables users to create a file-reader plugin that can read files as they are imported. This allows operators to translate data from instruments with a non-standard export format or where data is not configured correctly for the software, saving them time and effort with preprocessing and importing data.
Sartorius Stedim Biotech
Instrumentation
Low-Level Chlorine Analyzer Operates Autonomously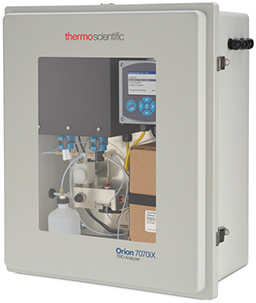 The Orion 7070iX TRO analyzer measures low chlorine concentrations in wastewater applications. It employs the U.S. Environmental Protection Agency (EPA)-approved iodometric electrode technology, which does not experience turbidity or color interferences. It offers high sensitivity for low-level chlorine measurements down to 1 ppb and up to 15 ppm, with a resolution of 1 ppb. The analyzer can operate autonomously for long periods of time with minimal instrument drift (<5% over more than 180 days without calibration), eliminating the need for routine maintenance. A self-cleaning feature prevents chemical and biological fouling of the measurement cell and sensor, minimizing downtime and enabling continuous testing. It can operate in an intermittent on-off mode based on sample flow — once the flow starts, the unit's pumps turn on, then they shut down as soon as the flow stops. The analyzer also provides real-time monitoring of total residual oxidant (TRO) fluctuations, alerting users within 120 sec of any change to prompt timely corrective actions.
Thermo Fisher Scientific
Switch Combines Liquid Level and Flow Sensing
The FLT93 Switch is a rugged, ultra-reliable liquid level and flow sensor that helps systems comply with the National Fire Protection Association (NFPA) Code 30 safety requirements in challenging hazardous environments. This switch is safety integrity level (SIL)-2 compliant and carries global HazEx agency approvals, including FM, FMc, ATEX, and IECEx. These level switches operate accurately in water, oils, and chemicals in industrial processes. For level and interface sensing, their accuracy is within ±0.25 in. (6.4 mm) and they can respond in as little as 3 sec. They are available with custom insertion lengths from 1.2 in. (30 mm) to 18 in. (457 mm). For flow sensing of air or gases, they have a setpoint range of 0.25–120 ft2/sec (0.08–37 m2/sec) at standard conditions of 70°F (21.1°C) and 14.7 psia (1.013 bar). In hydrocarbon-based liquids, the setpoint range is 0.01–5 ft/sec (0.003–1.5 m/sec), and in water-based liquids the setpoint range is 0.01–3 ft/sec (0.003–0.9 m/sec). Output selections include double-pole double-throw (DPDT) relays or hermetically sealed relays, open collector, and 4–20 mA. Alarms and trip points are field-configurable for flow, temperature, high or low hysteresis, and time delay, among others.
FCI
Environmental, Health, and Safety
Machine Assessment Services Mitigate Risk
Machine risk assessment services help factory owners, asset owners, and employers mitigate risk within an industrial workplace and provide a safer work environment. Industrial machines are evolving and becoming more automated. Many factories contain equipment purchased decades ago alongside more modern, fully automated robotic systems. Some older equipment can fail to meet today's safety requirements, creating a substantial risk to users. These failures occur due to gaps in general maintenance, failure to install or replace guards, easily exploitable manual overrides, and other contributing factors. Onsite risk assessments can be conducted across industries and a wide range of machine types, for a single machine or an entire factory. The services are based on Occupational Safety and Health Administration (OSHA), American National Standards Institute (ANSI) B11, International Organization for Standardization (ISO) 12100, National Fire Protection Association (NFPA), Robotic Industries Association (RIA), and other applicable standards.
UL
Industrial Cabinet Enhances Cleanroom Monitoring
The CAB100 industrial cabinet for cleanrooms integrates monitoring instruments, such as data loggers, analog signal data collection, and differential pressure transmitters, in a preconfigured enclosure with a high Ingress Protection (IP) rating that is easy to use. The interface helps users monitor temperature, humidity, differential pressure, and carbon dioxide, among other parameters. The cabinet is an option for the viewLinc Continuous Monitoring System (CMS), which integrates viewLinc 5.0 software to monitor several parameters and provides real-time and historical measurement data, customizable reporting, and reliable alarming to email, SMS, and local or PC display. The CMS collects data and is suitable for use in cleanrooms and in other demanding industrial environments. Designed for regulated and critical environments, the system can be customized for enterprise-wide environmental monitoring and is compliant with major regulatory standards. The cabinets are configurable according to the application requirements, with various options for measurement inputs and instrument safety barriers.
Vaisala
1
Copyright Permissions
Would you like to reuse content from CEP Magazine? It's easy to request permission to reuse content. Simply click here to connect instantly to licensing services, where you can choose from a list of options regarding how you would like to reuse the desired content and complete the transaction.