Heat Transfer
Condensing Boiler Has a Flexible Design for Easy Field Access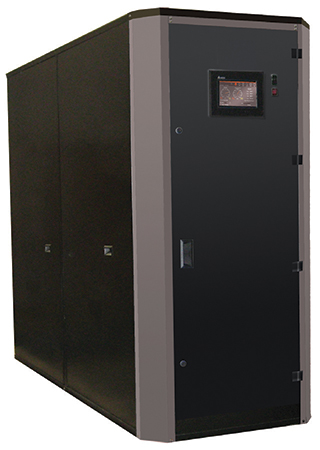 The Free Flex condensing boiler has a 95% thermal efficiency and a weld-free construction. The heat exchanger can be easily accessed in the field for cleaning. The boiler is available in knockdown configurations for confined spaces and can be operated in low-flow, variable primary, or primary/secondary modes. It is rated for a maximum input range of 1,000–3,000 btu/hr. Connections are located at the top of the unit, freeing the sides from piping that can get in the way of maintenance activities. The control system includes a 7-in. touchscreen display, 5:1 turndown ratio, two temperature demand inputs, built-in diagnostics, and time/date stamps on alarms and lockouts.
Bryan Steam
Single-Formulation Refractory Products Boast Consistent Properties
Conventional refractories are available in different formulations, each of which provides specific properties when installed with particular methods. Thermbond 7200 Series refractories provide consistent properties for all common application methods — casting, pumping, gunning, ramming, and shotcreting. The 7200 Series includes a mullite-based material (7206) and a mullite-based material with 20% SiC added (7229). Each formulation is also offered in a form that is nonwetting to molten aluminum (7206-N and 7229-N). The products are mixed with water for casting or pumping, with 7200 liquid for gunning or ramming, or with 7200 accelerator for shotcreting. In each case, the amount of liquid is roughly 5% by volume of the dry mix.
Thermbond Refractory Solutions
Flexible Heating Tapes Feature Built-in Thermostats
XtremeFlex RKP heating tapes are a more-flexible alternative to traditional heat-trace cables for freeze protection of heat pipes, elbows, flanges, valves, hoses, instrumentation, and vessels. The tapes resist moisture and chemicals and feature built-in thermostats that are preset to either 70°F or 120°F, with other temperature presets available upon request. Extruded of silicone rubber, the tapes can be used outdoors and in wash-down locations. Standard lengths of up to 200 ft with a minimum bend radius of 0.25 in. are available.
BriskHeat
Fluids and Solids Handling
Compact Separator Adapts to Various Food Processing Applications
The AC1200 separator features user-friendly handling and simple maintenance, individualized process integration, and parameterization for specific onsite requirements. The unit is specially configured for handling juice, beer, and olive oil, and is equipped with the company's Soft Shot discharge system, which can be adapted to the process and the consistency of the solid. The separator allows for any combination of partial and full emptying, with ejection times for the discharged solids adjustable to tenths of a second. The small separator requires only about 2 m2 of floor space.
Flottweg
Knife Gate Valve Operates in Corrosive Environments
Applications that expose equipment to corrosive environments are often limited to a choice of light-service valves that need to be replaced frequently or heavy-duty valves that are expensive and over-specified. The Clarkson SU10R polyurethane knife gate valve meets performance requirements for abrasion and corrosion resistance. The two-piece body and field-replaceable snap-in liner provide reliable sealing. An integral seat face seal eliminates the need for flange gaskets in many conventionally flanged installations. A polyurethane construction ensures tight shutoff to the Manufacturers Standardization Society's MSS-SP-81 standard for knife gate valves. The valves are bidirectional, available in sizes of 2–24 in., and operate at 150 psi cold working pressure up to 175°F.
Emerson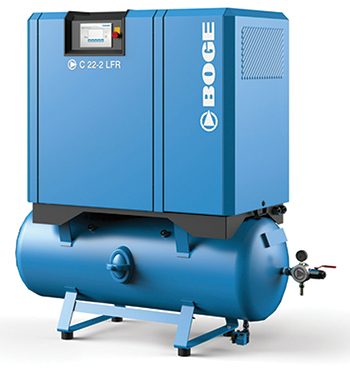 Screw Compressor Improves Performance and Versatility
The C-2 oil-lubricated screw compressor series is offered in power ranges up to 22 kW. The units can be assembled easily, even in tight spaces, and are offered with an optional dryer. The control system can be mounted at the top or at the front for floor or receiver installation, respectively. Frequency-controlled models in the series are direct-driven, which improves efficiency. Additional power-saving options include frequency-controlled fans for 11-kW models and larger units and efficient IE4 electric motors. A redesigned screw element in the compressor enhances free-air delivery. In addition, components inside the unit have been rearranged to improve accessibility for maintenance tasks.
Boge Compressed Air Systems
Valveless Dispensing Pump Offers Precision Fluid Control for Instrumentation
The STF1-9 valveless dispensing pump is compact and suited for use with medical, analytical, and biotech instrumentation. One moving part accomplishes both pumping and valveless functions. The pump is available in nine stepper drive combinations that offer a dispensing range of 200–400 µL, with continuous metering up to 400 mL/min. Each drive model provides an adjustable displacement of ±25 µL. An adjustment tool rotates an eccentric bushing to enable micro-volume adjustments. Ceramic internal components transfer fluids with a minimum 0.5% precision. Four pump head configurations accommodate low-volume dispensing and high-flow metering, as well as expand chemical compatibility.
Fluid Metering
Diverter Valve Handles Both Dilute and Dense-Phase Conveying
The Plug Single Tunnel (PST) 30 diverter valve provides internally shimmable positive stops and both external and internal tunnel position indication. It allows 145-deg. port-to-port rotation and two-way switching for either dilute-phase or dense-phase conveying. Ports are all inflatable pneumatic seals and flanged to mate 150# American National Standards Institute (ANSI) or 10N German Institute for Standardization (DIN) patterns. The unit is available with Type 316 stainless steel or aluminum housings. The aluminum housing, endplates, and plugs are anodized for wear and corrosion resistance. A pneumatic actuator provides a 4-sec actuation time, and the unit can handle line pressures up to 60 psi. The valve can also be designed without inflatable seals.
Schenck Process
Process Technology Converts Offgas into High-Value Refinery Products
Modus is a one-step process that enables petroleum refiners to upgrade low-value refinery offgases that are otherwise burned for heat into high-value fungible refinery products. Any lost heating value can be replaced with low-cost natural gas. The process is based on a commercial catalyst that converts light olefins, such as ethylene and propylene (often contained in offgas streams), into liquid propane gas or high-quality gasoline blend stock with a 90-plus octane rating and low sulfur content. It employs a simple oligomerization step that can process the dilute olefin offgas streams without extensive contaminant treatment or purification. The modular design enables the technology to be rapidly deployed into existing refinery operations during routine maintenance turnarounds or revamp projects.
Siluria Technologies
Vacuum Pump Produces Low Levels of Vibration and Noise
The oil-free, air-cooled Scrollvac Plus fore vacuum pump is suited for a variety of applications, including in turbomolecular and cryopump systems and in vacuum ovens. The pump combines low power consumption with high suction capacity, and has a compact design that simplifies integration into existing vacuum systems. It produces low levels of vibration and less than 55 dBA of noise. Rotating parts are hermetically sealed from the pump chamber, reducing the risk of contamination. The product family is available with pump-speed stages of 7 m3/hr, 10 m3/hr, 15 m3/hr, and 18 m3/hr. The single-phase version has a universal voltage drive, while the three-phase version is designed for installation in areas exposed to radiation. An integrated gas ballast valve enables pumping of condensable vapors. In addition, a Scrollvac C Plus version is suited to pumping aggressive media and chemicals. An integrated timer documents the operating time.
Leybold
Bioprocessing
Sanitary Clamp Meets Requirements of Pharmaceutical Applications
The BioPure Q-Clamp is designed for single-use fluid-path applications. It provides a secure connection in less than 12 sec and is qualified for use in the pharmaceutical and biotechnology industries. It does not require tools for installation or removal, and the closing mechanism can be operated with one hand. A double-sided ratchet ensures that the clamp remains closed, even if one side fails. The clamp incorporates tamper-evident identification technology, which can be referenced in operating procedures to identify the clamp by color. The lightweight sanitary clamp is supported by a validation pack for nonwetted components, and meets the requirements of the International Organization for Standardization's (ISO) 10933 standards for biological evaluation of medical devices, Parts 5, 6, 10, and 11; and United States Pharmacopeia (USP) <87> and USP <88> biological reactivity testing requirements.
Watson-Marlow Fluid Technology Group
Single-Use Filling Assemblies Reduce Contamination
AdvantaPure single-use filling assemblies are designed to save time, reduce the risk of cross-contamination, and increase productivity between batches of biopharmaceutical and pharmaceutical products. The assemblies, which are supplied sterilized and ready for installation, include bags, filters, connectors, filling needles, and other optional accessories. Smooth molded junctions provide seamless flow and reduce the chances of leaking or entrapment that are associated with barbed fittings. A multiport design further reduces potential leak points and minimizes hold-up volume. Two tubing materials, a silicone and a sealable thermoplastic elastomer that can be welded, are available.
NewAge Industries
Instrumentation
Level Switches Enable Simple Sensor Configuration
CleverLevel LBFH and LBFI level switches are equipped with IO-Link and have Atmospheres Explosives (ATEX) approval. The IO-Link communication interface enables applications to be configured quickly and easily using standard network components. This ensures error-free duplication of the system and device replacement without the need for additional programming. Diagnostic data can be called up and evaluated at any time. The devices meet ATEX categories 1 and 2 for gas and dust. Two switching outputs allow independent trigger thresholds to be set, so two different process steps, such as production and cleaning, or two media groups, such as oil and water, can be monitored with one sensor. Both sensors are suitable for use at temperatures up to 135°C. The LBFI switch is designed for industrial applications, while the LBFH switch is intended for hygienic applications. Both are based on frequency sweep technology and function regardless of media type, foaming, or viscosity.
Baumer
Pressure Transmitter Operates in Remote Installations
A 1-VDC to 5-VDC low-power option for the PMP71 pressure transmitter draws only 17 mW of power at 9 V, consuming minimal power during operation. The low power draw makes the transmitter suitable for battery- and solar-power applications, such as oil and gas wellheads, offshore platforms, and pumping stations, where low power consumption is critical. The transmitter measures absolute and gage pressure of gas, steam, and liquid and has built-in algorithms to calculate level, volume, and mass of liquids. Measuring spans are available in ranges of –6 psi to 6 psi and –15 psi to 10,500 psi. The device has a piezo-resistive measuring cell and a metallic welded process-isolating diaphragm for safe operation at process temperatures up to 752°F. It is suitable for use in up to safety integrity level (SIL) 3 hazardous applications.
Endress+Hauser
Laser Particle Analyzer Monitors Ferrous Contaminants in Engine Fluids
Version 7 of LaserNet 200 particle analyzer monitors lubrication and hydraulic fluids. It has a particle counting range up to 10 million particles/mL without dilution. The imaging technology and dual magnetometers characterize ferrous particles larger than 25 μm as well as total ferrous particles. The analyzer software reports total ferrous content in parts per million for particles larger than 25 μm in diameter, the percentage of ferrous particles, and the ferrous wear severity index. This insight provides a simplified view of machine wear from a single in-service oil test. The lasers can penetrate dark engine oil samples containing up to 2% soot. Users can process dirty engine and gearbox oils from heavy equipment such as mining excavators.
Spectro Scientific
Radar Level Transmitters Measure Liquids and Solids in Difficult Environments
Six frequency-modulated continuous-wave (FMCW) Optiwave radar level transmitters accurately measure liquids and solids in chemical, petrochemical, mining, mineral, and metal processing applications. Transmitters are available with frequency ranges of 24 GHz and 80 GHz to suit various requirements. In the 24-GHz range, the Optiwave 5400 measures liquids in basic process applications; the 6400 measures solids from granules to rock; and the 7400 handles agitated and corrosive liquids. In the 80-GHz range, the Optiwave 3500 measures liquids with hygienic requirements; the 6500 handles powders and operates in dusty atmospheres; and the 7500 measures liquids in narrow tanks with internal obstructions. The transmitters are accurate to ±0.08 in. and repeatable to ±0.04 in.
Krohne
Chemical Injection Control Module Reduces Waste and Lowers Production Costs
An automated chemical injection control system allows shale producers to better manage operating expenses related to production chemicals. The Mirador chemical injection control and diagnostic module operates with a Modbus remote terminal unit (RTU) communication protocol that seamlessly integrates with existing supervisory control and data acquisition (SCADA) systems to provide operational visibility, tracking, control, and analysis of chemical injection processes from a remote control station. The module can be retrofitted to existing tank-and-pump systems and addresses 95% of the chemical injection systems that work by on/off capacity to deliver chemicals to the point of injection. The unit can remotely change process configuration settings for dosage, calibration, temperature units, and other parameters. It monitors injection volumes to ensure more accurate chemical dosage, which reduces waste and improves product quality.
DCiii
Materials and Chemicals
Fluoroelastomer Remains Flexible at Low Temperatures
Vi 840 is an FKM fluoroelastomer compound that meets low-temperature flexibility requirements for applications involving gases. The material conforms to German Institute for Standardization European Standard (DIN EN) 14141, which covers valves used for gas transportation via pipelines. The compound has been successfully tested according to the German Technical and Scientific Association for Gas and Water (DVGW) DIN EN 682 for gas supplies, fittings, and pipelines. It remains flexible at temperatures as low as –40°C, and meets American Petroleum Institute (API) 6A and 6D valve standards. In addition, its resistance has been demonstrated according to the DIN EN 13787 standard, which applies to elastomers for gas pressure.
C. Otto Gehrckens
Copolymer Enhances Performance of Pumps, Valves, and Seals under Harsh Conditions
Aflas 100 Series tetrafluoroethylene and propylene (FEPM) copolymer can be used to produce components that resist acids, bases, solvents, hydrocarbons, sour oil, and amines, as well as high-pressure environments and extreme temperature ranges. It does not deteriorate under prolonged exposure to temperatures above 200°C. It can be easily compounded using open-mill and internal mixers; the compounds can then be fabricated into finished parts and shapes by press molding, injection molding, extrusion, and calendering. The parts are suited to oil and gas, chemical processing, food handling, and pharmaceutical applications.
AGC Chemicals Americas
Operations and Maintenance
Ball-Valve Labels Provide Clear Communication on the Plant Floor
Customizable labels for 5 Series ball valves identify function, media, flow direction, hazards, and other information to improve safety and efficiency in the workplace. Users can use preprinted labels available online that include common flow-arrow and hazard symbols, or customize labels with their own images. The durable labels resist chemicals, weather, and ultraviolet rays. They can be installed by replacing the valve handle clip with a transparent clip included in the kit. The labels are compatible with Type 546 ball valves in sizes of 0.375–2 in., Type 543 three-way ball valves, and Type 523 metering ball valves.
GF Piping Systems
1
Copyright Permissions
Would you like to reuse content from CEP Magazine? It's easy to request permission to reuse content. Simply click here to connect instantly to licensing services, where you can choose from a list of options regarding how you would like to reuse the desired content and complete the transaction.