Product Focus: Fluids Handling
Backpressure Regulators Resist Chemicals and Cracking
The Chem Proline Frank Series V86 backpressure regulators are constructed of polyethylene (PE) resin, which is resistant to chemicals and stress cracking. Isolation of the mechanical parts from the process media by an ethylene propylene diene monomer (EPDM) diaphragm allows these regulators to serve in demanding applications. The regulators are suited to water treatment and chemical process applications that employ chemicals such as sodium hydroxide, sodium hypochlorite, caustic soda, and acids at low concentration. Inline and angled configurations are available with either butt/IR or socket connections, and in sizes of 0.5–2 in. and 0.5–1 in., respectively.
Asahi/America, Inc.
Mobile Gas-Cleanup System Supplants Flaring
Natural gas typically contains trace amounts of carbon dioxide (CO2), but when a well is fractured with energized fluids containing CO2 to enhance natural gas recovery, the CO2 content of the gas may exceed specifications. This mobile gas-cleanup unit (MGCU) scrubs CO2 from natural gas as an economical and environmentally friendly alternative to flaring. It increases recovery of natural gas using a novel membrane technology that removes up to 98% of CO2, while helping users comply with environmental regulations. The unit is mounted on a skid and can be deployed via trailer to well sites and remote locations, and depending on location logistics, can be operational within half a day.
Linde
Corrugated Sleeves Protect Tubing from Abrasion and Wear
The ViegaPEX Ultra line of tubing, which is highly resistant to chlorine and ultraviolet (UV) radiation, now includes a corrugated sleeve option for potable and hot- and cold-water applications. The sleeves protect tubing installations, and if a repair should be required, the sleeves enable replacement without soil excavation or chiseling through concrete floors. Red and blue tubing inserts, both rated at 100 psi at 180°F and 160 psi at 73°F, are included with the sleeves.
Viega
Flow Switch/Monitor Detects Out-of-Spec Flowrates and No-Flow Conditions
The FS10i flow switch/monitor provides flow assurance and alarming in industrial processes, manufacturing operations, pumps, gas compressors, and heating, ventilation, and air conditioning (HVAC) systems. A safety integrity level (SIL) 2 rating ensures the reliability and capability of the instrument to provide repeatable flow trip point or alarm warning within seconds. Wetted parts manufactured of Type 316 L stainless steel and thermo-wells of Hastelloy C22 extend the service life and minimize the maintenance needs of this instrument. It withstands temperatures from –40°F to 250°F (–40°C to 212°C) and pressures up to 2,000 psi (138 bar). It is suitable for applications such as leak detection, lubricant flow assurance, ventilation verification, chemical injection assurance, nitrogen purge verification, and compressor leak detection.
Fluid Components International
Filters Manage Contamination in Hydraulic Systems
The EasyFit exchange filter elements provide trouble-free operation in applications that require filtering of abrasive fluids, cooling lubricants, or water-based fluids in the power generation, oil and gas, steel and metal, and mining industries. The elements are versatile and come in a wide range of sizes, ratings, and materials, enabling them to easily fit into many filter systems and in a variety of applications. The filters have a high capacity for contaminants, which ensures consistent filter efficiency and long service life, even at high pressures. The manufacturer offers on-site or laboratory fluid analysis to help customers determine the best filter element for their hydraulic or lubrication system.
Eaton
Online Process Meters Monitor and Control Processes
The TX10 pH/oxidation reduction potential (ORP) and CX10 conductivity meters and transmitters are suitable for simple monitoring applications, while the TX20 pH/ORP and CX20 conductivity controllers can be programmed for process control. The TX10 measures pH or ORP and temperature, and the CX10 transmitter measures conductivity, resistivity, and temperature. The TX20 monitors pH or ORP, and has temperature compensation for accurate measurement and control. The CX20 monitors conductivity or resistivity, and also has temperature compensation. All four models conveniently display values locally and have a small footprint. They are suitable for water quality, chemical, electronics, food production, environmental, and wastewater treatment applications.
Sensorex
Mixer Eliminates the Need for Vessel Penetration
The Magitator magnetic-drive mixer can be mounted on the side or bottom of a vessel. It does not require a shaft, eliminating the need for vessel penetration and a mechanical shaft seal. (Maintaining a seal can be expensive, and improper maintenance can create an opportunity for leaks, which can compromise the sterility of vessel contents.) Contact-free transmission of torque consumes energy efficiently, and ceramic materials of construction and a lubrication-free design make this a low-maintenance and sanitary option.
Jongia
Compressed-Air Monitor Provides Two Types of Alarms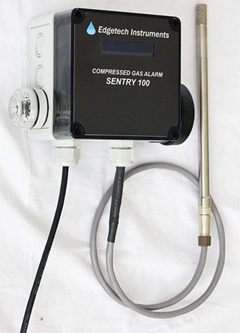 The SENTRY compressed-air monitor and alarm senses both the dew point and pressure in compressed air systems using the SMART multi-sense probe. The probe is inserted directly into the pressurized compressed air stream to detect a system leak or failure of an air dryer or compressor. The monitor includes two alarm functions that provide visible (strobe light) and audible (pulsing sound) indications if the compressed air dew point increases or pressure decreases beyond user-specified setpoints.
Edgetech Instruments, Inc.
Sensor Detects Debris in Oiling Systems
Solid particle contamination is a major cause of hydraulic and lubrication oil system breakdown, which not only can be costly to fix, but when compounded with unscheduled downtime, can be very expensive and an operational hazard. This sensor offers continuous real-time monitoring of particle accumulation and contamination to provide an early warning of damaged bearings or gears that require maintenance. It has two channels for particle detection — one for fine metallic debris and the other for larger metallic debris. The sensor is an economical alternative to expensive desktop particle counters.
Gill Sensors and Controls
Deflection Elbows Moderate Material Impact and Frictional Heat
The Smart Elbow cast aluminum deflection elbows are now available in tube and pipe diameters of 1.5–12 in. The deflection elbows are suitable for dilute-phase and dense-phase pneumatic conveying of bulk chemicals. They prevent abrasive materials, such as soda ash, sulfur, and calcium carbonate, from impacting the elbow wall, and reduce frictional heat that causes heat-sensitive materials, such as talc, fumed silica, and titanium dioxide, to plug conventional elbows. A spherical chamber that protrudes partially beyond the desired 90-deg. or 45-deg. pathway serves as a deflection zone that gently redirects incoming material around the bend so it does not hit the elbow wall or generate heat.
HammerTek
Inline Pressure Regulator Builds on Previous Model
The Model PL1 inline pressure regulator is similar to the manufacturer's Model 5381 stainless steel pressure-reducing regulator for sanitary biotechnical process piping systems, but it handles higher flowrates and can withstand inlet pressures up to 400 psig and outlet pressures up to 135 psig. It features a self-draining body and trims that comply with ASME BPE 2012 SF-4. Steam-in-place and clean-in-place processes can be conducted after inserting a pin and lanyard into the regulator. This model has an inherently cleaner design than some other inline pressure-reducing regulators, because it does not include a lower spring below the piston/plug. It is suitable for sanitary and biopharmaceutical applications.
Cashco, Inc.
Pump Operates Quietly and Efficiently
Part of the LKH family of pumps, the Prime UltraPure is an efficient, versatile, and hygienic self-priming pump. It combines air-screw technology and an advanced design to meet the most stringent requirements in industries that require a high degree of cleanliness, including the food, pharmaceutical, and personal-care-products industries. An optimized impeller and casing geometry enable this front-loading pump to operate efficiently, with low energy consumption and small carbon footprint. The pump is compatible with both clean-in-place (CIP) and sterilize-in-place (SIP) manual cleaning. Quiet operation improves the work environment and aids plant safety efforts. Because this pump shares common parts with other LKH pumps, spare parts inventory can be minimized.
Alfa Laval
Inline Mixer Eliminates the Need for an Extra Pump
This ultra-sanitary, high-viscosity (HV) inline mixer processes products in food, pharmaceutical, cosmetic, and chemical applications. With a unique pumping rotor design, its flow capacity is substantially higher than that of other mixers in its series. This design also enables it to handle higher-viscosity mixtures. Because the HV inline can maintain product flowrate as viscosity increases, it does not require an additional feed pump when processing materials like gels and creams. Eliminating the feed pump reduces initial capital costs, as well as power and maintenance requirements, and simplifies operation.
Silverson Machines, Inc.
New Products
Instrumentation
Programmable Logic Controller Leverages the Power of the IIoT
The ControlEdge programmable logic controller (PLC) can be combined with the Experion process knowledge system (PKS) to provide secure connectivity and tight integration of devices from multiple vendors. The PLC uses open platform communication (OPC) unified architecture (UA) protocol and built-in cyber security measures for smooth integration of a variety of instruments, equipment, and software. Its Industrial Internet of Things (IIoT)-ready open platform enables users to better leverage data across assets. Process industry users that require discrete control of applications such as water treatment, automation, and materials handling will find this product suitable.
Honeywell
Environmental, Health, and Safety
Rupture Disc Saves Time and Money
Safety relief valves need to be protected from corrosive or harsh process environments and require periodic pressure tests that can be costly and time consuming. The KUB V rupture disc is installed between the safety relief valve and process equipment to help meet these needs. The disc is virtually leak tight, which reduces emissions and total capital cost. Because the rupture disc protects the safety relief valve from corrosive substances, the valve does not need to be constructed of an expensive alloy material. A high backpressure rating allows pressure tests to be conducted without removing the valve for testing. The operating ratio (i.e., pressure relative to its minimum burst pressure) of the disc is 98%, which minimizes the risk of premature burst and associated downtime.
REMBE
Fluids and Solids Handling
Hopper Features a Sanitary Design
The Powder-Saver dry hopper is rotationally molded of U.S. Food and Drug Association (FDA)/U.S. Dept. of Agriculture (USDA)-approved polyethylene and fitted with a stainless steel, dust-tight slide gate. Chemical, pharmaceutical, food and beverage, and other manufacturers can use the hopper to store, transport, mix, and dispense ingredients, excipients, additives, and other powders in measured amounts. A clean, durable alternative to bulk bags and boxes, it guards against contamination and eliminates product loss due to spillage. The smooth, conical hopper can be completely emptied through the slide gate on the removable base.
MODRoto
Materials and Chemicals
Nickel Coating Is a Chip-Free Alternative to Paint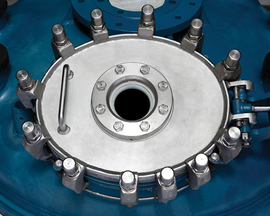 Good manufacturing practice (GMP) standards of the pharmaceutical industry prohibit contamination from paint flakes in final products. This nickel coating for the exterior of glass-lined parts and process peripherals, such as manhole covers, protection rings, reactor covers, and piping, is an alternative to paint coatings. Paint offers excellent corrosion resistance, but high mechanical stress can cause it to flake. This coating provides corrosion protection comparable to paint, while eliminating the risk of chipping. It easily bonds with base materials, is impact-resistant and cleanable, and can be used on components with complex geometries.
De Dietrich Process Systems, Inc.
Heat Transfer
Quick-Disconnect Couplings Prevent Leaks
Temperature control units are typically connected to process equipment via insulated hoses. If it is necessary to frequently move a unit to different equipment, quick-disconnect couplings can make the task easier. These couplings reliably prevent thermal fluid leaks, ensure low pressure drops, and have good heat-transfer characteristics. An optional adapter connects the coupling to a pressure relief device when pairing a temperature control unit with pressure-sensitive glass equipment.
Huber
Engineering Services
Authoring Services Ensure Safety and Compliance
Creating and maintaining hazard communication documentation that conforms to complex, frequently changing regulations in multiple jurisdictions throughout the world are challenging and resource-intensive. This company's expert authoring services can equip clients with the necessary tools to provide employees and downstream customers with unlimited access to critical safety information, while reducing risk and improving compliance. The services are expanding to include exposure scenario (ES) authoring, safety data sheet (SDS) monitoring, regulatory change notification, and SDS authoring training. These new offerings can help strengthen product stewardship and improve workplace safety.
3E Co.
Troubleshooting Service Supports Separator Operation Remotely
This wireless virtual private network (VPN) system enables remote troubleshooting of the Seital vertical disc stack centrifuges. The VPN router package can be quickly and easily connected via Ethernet cable to the centrifuge. A service technician can remotely rectify potential problems and adjust the setup of the separator to ensure it continues to operate efficiently and reliably, minimizing downtime or interruptions. The router is supplied with an initial choice of 20 or 40 hours of remote support by skilled service technicians.
SPX FLOW, Inc.
Bioprocessing
Media Filter Retains Viruses to Mitigate Risk
Biopharmaceutical manufacturers have been forced to use virus filters designed for downstream processing in upstream operations because a suitable alternative has not been available. Virosart Media is a media filter for virus retention in cell culture media that meets this need. It is a cost-effective way to reduce the risk of virus contamination from raw materials, such as chemically defined media, during fermentation. The single-use filter boasts greater than 4 log10 reduction of small, non-enveloped viruses, and functions as a mycoplasma and leptospira retentive filter. The product line includes lab-scale, mid-scale, and process filters with filtration areas of 5.0 cm2, 0.29 m2, and 1–3 m2, respectively.
Sartorius
Software & Information Technology
Simulation Software Minimizes Risk Before Commissioning
Version 9 of Simit virtual commissioning and plant operator training software uses real-time simulation and emulation to test and optimize automation functions prior to plant commissioning, making the commissioning process faster, easier, and more economical, with fewer risks. Users can perform virtual plant tests remotely — without tying up plant equipment — even if they do not have in-depth simulation experience. Plant operating scenarios can be simulated in a realistic training environment. Operators can become familiar with the plant using original operator panel screens and automation programs.
Siemens
Online Portal Securely Hosts Pump Information
PUMP-FLO Connect is a web-based collection of pump manufacturers' digitized pump performance curves — compiled in a convenient and securely hosted cloud environment. Version 1.7 includes enhancements to the online portal that allow users to easily sift through an alphabetical list of 112 pump manufacturers via search filters or the new search bar. This version also includes a multiple-operating-point functionality and a custom report generator. In addition, it enables pump manufacturers to answer custom inquiries quickly.
Engineered Software, Inc.
Modeling Software Advises Informed Decisions
STAR-CCM+ v11.04 simulation solution helps empower engineers to make critical design decisions quickly and with confidence through new modeling capabilities and faster and more-efficient simulation workflows. Version 11.04 incorporates users' requests for expanded multiphase simulation capabilities for pumps and compressors, better accuracy, faster computing, and more flexibility. The software is part of the Simcenter portfolio of simulation and test solutions for predictive engineering analytics. Simcenter's purpose is to help users develop "digital twins" that can predict real-world behavior of products and address complex engineering challenges.
CD-adapco
Free Online Resource Keeps Expertise within Reach
Covering topics from calibration issues to regulatory revisions, this collaborative online reference library helps users gain the competence necessary to achieve accuracy and efficiency in the lab. The Laboratory Expertise library is focused on the day-to-day concerns of lab operators and managers. It provides useful information to help streamline workflow, improve compliance, and enhance overall accuracy and productivity. Lab personnel from around the world are able to influence the topics the site addresses. The platform hosts discussions on subjects relevant to the scientific community to encourage collaboration.
Mettler Toledo
Process Manager Helps Control Batch Operations
The SequenceManager enables flexible sequencing of batch processes at the controller, improving the functionality of skids, off-network systems, and single-unit controls. Operators can configure, view, and obtain critical information about batch sequences stored in the controller, increasing visibility and accessibility to all stages of the production process. Users can reduce infrastructure costs for standalone units and complete skid-based systems without compromising fast and reliable sequence execution. The software is suitable for single or multiple independent unit operations, such as skids, clean-in-place systems, dryers, evaporators, ovens, and reactors.
Rockwell Automation, Inc.
1
Copyright Permissions
Would you like to reuse content from CEP Magazine? It's easy to request permission to reuse content. Simply click here to connect instantly to licensing services, where you can choose from a list of options regarding how you would like to reuse the desired content and complete the transaction.