Product Focus: Pumps
Multistage Pump Reduces Carbon Dioxide Emissions
The Xylem e-HM line of multistage pumps features modular construction and horizontal orientation that is suitable for industrial washing and refrigeration, food and beverage, water treatment, and pressure-boosting applications. Its small motor and various configuration options make it 15% more energy efficient than similar pumps, which helps reduce energy consumption, lower costs, and reduce carbon dioxide emissions. Its standard balance impeller produces 40% less axial thrust than comparable pumps. The body design enables the pumps to achieve high working pressures and flowrates of up to 27 gal/min.
Goulds Water Technology
Claw Pumps Balance Efficiency and Durability
These claw pumps resist corrosive environments for reliable operation. Two irregularly shaped rotors (i.e, claws) counter-rotate inside the casing to compress gas within the pump chamber. To create internal compression, the pump outlet seals temporarily until adequate pressure is attained, and then gases are expelled from the pump outlet. A valve in the inlet flange prevents gas backflow into the chamber. The rotors themselves are synchronized by gears, which are oil-lubricated to ensure maximum service life. The pumping and gear chambers are separated by durable labyrinth seals. When operated and maintained correctly, the pumps can run for years without having to be rebuilt.
DMA Europa
Metering Pump Provides Precise, Continuous Fluid Flow
The VP-Series metering pumps are suitable for applications requiring extremely precise, continuous, and pulse-free fluid flow at pressures up to 24,000 psi. They feature a small footprint, an electronic control system, and two software options. Both software systems give users complete control over pumping pressure and flowrate from various operating modes, including pulse-free continuous fluid delivery/receipt at user-defined rates or pressures. Four models are available with maximum pressures and flowrates of 24,000 psi and 15 mL/min; 12,000 psi and 30 mL/min; 6,000 psi and 60 mL/min; and 3,000 psi and 105 mL/min. Each pump is capable of pumping accurately to a minimum rate of 0.0001 mL/min. The pumps are suitable for oil and gas laboratory, catalyst and chemical injection, and pharmaceutical applications.
Vindum Engineering, Inc.
Centrifugal Pumps Can Take a Beating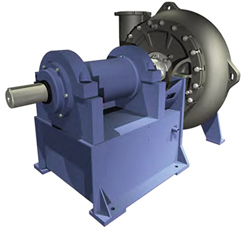 The WRX single-stage centrifugal pumps are designed to transport abrasive materials. They are highly resistant to both the wear stress caused by sliding of fine particulate matter and the impact stress caused by large particles. The wear plates on the suction and drive sides have oversized wall thicknesses, which enables the pumps to handle tough conditions. A two- or three-vaned impeller holds up to high-stress loads. The durable, oil- or grease-lubricated, heavy-duty bearings reduce vibration to extend the service life of the pump. Hydraulic components of various grades of cast iron are available to suit different needs.
Duechting
Gear Pumps Handle Sanitary Processes
The UNIBLOC-GP pulsation-free gear pumps feature a 3A sanitary design and helical cut gears for smooth, accurate, and quiet operation. The simple assembly process does not require tools and ensures cleaning is quick and easy. Multiple gear material and shaft seal options enable configurations to accommodate a wide variety of requirements. The pumps can handle flowrates of up to 36 gal/min (137 L/min), and are available in port sizes ranging from 0.5 in. to 2 in.
Unibloc-Pump, Inc.
Gear Pumps Are Simple and Reliable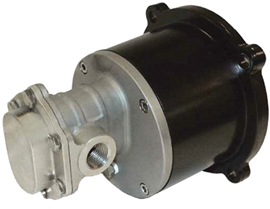 The Eclipse series of pumps now includes metallic options for processes in the water treatment and chemical process industries that involve high temperatures (up to 450°F) and/or viscous materials. The unique design allows users to pull the front of the pump out for fast and easy maintenance with few tools. The pumps have a small number of parts, and a Keep-on-Pumping (KOP) kit is supplied with the pump that includes any necessary spare parts, minimizing downtime and simplifying maintenance. A magnetic drive, with no seals to wear or replace, provides safe and leak-free handling of highly corrosive fluids over a wide temperature range.
Pulsafeeder
Syringe PumpSupports Process Scale Up
The Titan syringe pump is a chemical processing module that enables safe and reliable continuous process scale-up in laboratory-, pilot-, or production-scale applications. The single-channel pump is extremely chemically resistant and combines powerful drive motors, a unique valve design, and optional software control to deliver ultrasmooth flowrates of 1–250 mL/min. It operates effortlessly at pressures up to 20 bar and viscosities up to 1,000 cP. Removable cassettes simplify servicing of the syringes and enable seals to be rapidly changed with minimal tools. A built-in backwash prolongs seal lifetime and keeps pistons and cylinders clean, which helps to prevent degradation of air-sensitive chemicals and protect users. The pump can be controlled manually via the touchscreen or it can be fully automated.
Syrris
Pumps Maintain Uniform Fluid Temperatures
The air-cooled CombiTherm Plus pumps safely and efficiently transfer hot oil or hot water in chemical processing, injection molding, steam generator, fuel heater, and heat--recovery applications. The pumps maintain uniform fluid temperatures, while the design protects seal faces and bearings from the process fluid heat. Optimized cooling fans and large fins keep the temperature around the shaft sealings below 220°F, even at process temperatures up to 660°F. Centerline mounting of the pumps allow for thermal expansion without affecting shaft alignment. The hot oil pumps operate at pressures up to 360 psi and the hot water pumps operate at pressures up to 450 psi.
SPX FLOW, Inc.
New Products
Fluids and Solids Handling
Sanitary Vent Helps to Maintain Pressure
The Model 1100 sanitary vent is suitable for applications in the pharmaceutical, personal care, food and beverage, and specialty chemicals industries. The stainless steel vent can be operated at multiple setpoints as a breather valve to avoid vacuum or over-pressurization inside a tank or piping system. It is supplied with a sanitary blanketing connection and can be used with the manufacturer's Model 1088 sanitary blanketing valve. A stainless steel weather screen prevents debris from entering the tank or piping. The vent is available in sizes of 2–6 in. and in Type 316 or Type 304 stainless steel.
Cashco, Inc.
Monolithic Isolation Joint Eliminates the Need for Bolts, Sleeves, and Washers
Human error during the installation of bolted joints can cause failures over the lifecycle of a pipe. ElectroJoint is a maintenance-free alternative to flanged pipeline connections that reduces the potential for installation errors. It replaces bolts, sleeves, and washers with a coated, sealed cathodic protection system that is secured with two butt welds to eliminate corrosion. The joint is rigorously tested to ensure the integrity of the welds.
Garlock Pipeline Technologies
Vacuum Inlet Traps Are Mounted on Carts
These high-capacity, dual-vacuum inlet traps are mounted on carts for large-substrate vacuum deposition processes. The MV MultiTrap duplex carts feature two 16-in. high-capacity vacuum inlet traps and a broad selection of filter cartridges to meet various process requirements. They have up to 160 ft2 of filtration surface area, provide 60 g/ft2 of particle retention, and permit easy access to process components for maintenance. The carts can be equipped with internally cooled baffles with up to 30 ft2 of cooling surface area, and each trap can be mounted vertically or horizontally. The filter media is pleated high-temperature polyester with a 25-μ or 100-μ rating.
Mass-Vac, Inc.
High-Shear Mixer Is Portable
This mixing system is suitable for powder dispersion, emulsification, and homogenization applications. It features a closed, temperature-controlled vessel with Type 316L stainless steel wetted parts, sight/charge ports, a dimpled jacket rated for 85 psig, chloride-free insulation with stainless steel sheathing, a high-accuracy weighing scale, and NEMA 4X gas-purged controls. The 3-in. port includes a dip tube extending into the vessel for suctioning and transferring finished product, as well as for incorporating liquid ingredients. The dip tube can be removed and replaced with a sanitary cap on the cover. An 8-in. charge port enables the addition of solids into a batch. The high-shear mixer mounted on the cover includes a four-blade rotor powered by a 5-hp motor running at up to 3,600 rpm.
Charles Ross & Son Co.
Instrumentation
Switch Indicates Flow or No-Flow Conditions
The FSW-160 is a heavy-duty paddle flow switch that can be used to signal, start, or stop electronically operated equipment when flow or no-flow conditions occur. It features an elastomeric sealing system that, unlike metal bellows, is not subject to metal fatigue and corrosion. The Type 316 stainless steel paddles can be changed quickly, minimizing downtime. The switch can be used in pipes 1 in. and larger, with setpoints as low as 4 gal/min (15.2 L/min) to more than 500 gal/min (1,893 L/min) in larger pipes.
Omega Engineering, Inc.
Gas Analyzer Now Includes More Standard Features
The Lancom 4 portable gas analyzer has been enhanced to improve usability. The data acquisition software Insight is now available as a free download, equipping users with a tool to interface the analyzer with a PC for remote control and data logging. Wake and sleep functions enable measurement recording and data logging over an extended period. A rugged carrying case ensures the instrument is protected at all times. Hardware items, such as external printers, can be simply plugged into the unit, with no firmware configuration necessary. The gas analyzer can monitor up to nine gases, and can log up to 250,000 records.
AMETEK, Inc.
Pressure Transducers Measure in a Variety of Environments
The Cerabar PMP11, PMP21, and PMP23 pressure transducers can be customized to meet specific application requirements. They are available with threaded or welded hygienic process connections, meet many industry standards, and provide 4–20-mA or 0–10-Vdc output signals. PMP11 and PMP21 measure pressures from –15 psi to 6,000 psi at temperatures from –40°F to 212°F with accuracy of 0.5% and 0.3%, respectively. PMP23 measures pressures from –15 psi to 600 psi at temperatures from 14°F to 212°F with accuracy of 0.3%; it can be used in clean-in-place (CIP) and sterilize-in-place (SIP) applications at temperatures up to 275°F for as long as one hour. All of the models can be used to measure absolute or gauge pressure in gases, vapors, liquids, and powders.
Endress+Hauser
Environmental, Health, and Safety
Emergency Pendent Operates for 30 Days on a Single Charge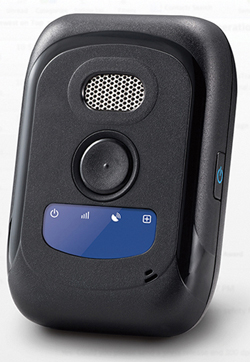 The MobileDefender Model S (MD-S) is a mobile emergency pendant suitable for employees who are dispatched into environments or situations that could be hazardous. The pendant relays information about the user's location, and provides an instant connection if an emergency situation were to occur. It can detect horizontal and vertical movement, so if the user were to fall, the pendant would signal for help. The battery lasts more than 30 days on a single charge. Mobile workers, such as operators, field engineers, and emergency responders, may find this item valuable.
SecuraTrac
Software & Information Technology
Online Tool Calculates Enclosure Heat Load
This online tool to determine the cooling requirements of industrial enclosures is available on the manufacturer's website. Users can enter enclosure dimensions, compressed air inlet and outlet temperature and pressure, current cabinet temperature, worst-case ambient temperature, and enclosure color, as well as whether the enclosure is exposed to direct sunlight. The heat load calculator then uses these data to determine the total heat load in the enclosure and suggests one of the manufacturer's enclosure coolers suitable for the application. Industrial and manufacturing facilities that depend on microprocessors, programmable logic controllers (PLCs), and variable-frequency drives (VFDs) will find this calculator useful.
Vortec
Software Service Detects Areas of Underperformance
Connected Performance Services (CPS) is a software-based service that helps gas-processing facilities improve performance. It leverages the Industrial Internet of Things (IIoT) to provide deep process knowledge, design expertise, and understanding of catalysis on a next-generation software platform. The cloud-enabled software service continuously monitors streaming plant data and applies advanced analytics to detect latent or emerging performance issues that can cause plants to be less efficient or less productive. Problems can be resolved quickly and proactively to avoid downtime and save money. The software includes applications to address critical issues related to asset utilization, unplanned downtime, energy efficiency, and gaps in expertise.
Honeywell
Cloud-Based Ecosystem Promises Security
The Plantweb digital ecosystem is a comprehensive and integrated Industrial Internet of Things (IIoT) platform that helps users leverage data, technologies, and best practices to improve reliability, safety, energy management, and overall operational performance. The digital plant architecture is powered by Microsoft Azure IoT Suite, which provides a scalable and secure cloud environment. The auto-mation and control environment is the technology and service framework for the manufacturer's new Operational Certainty program, which aims to connect users with experts to improve operational and financial performance.
Emerson
Chemical Management System Helps Reduce Operating Costs
The VERITRAX intelligent chemical management system is a fully transparent, automatic chemical control, monitoring, and ordering system suitable for oil and gas producers. The platform utilizes automation and cloud-based technologies to optimize chemical management tasks and labor-intensive processes to reduce total operating costs. It can be integrated into existing production setups, such as supervisory control and data acquisition (SCADA) systems and distributed control systems (DCSs). Users can view a continuous real-time data flow on a laptop or smartphone, enabling monitoring of multiple data streams, such as well production and chemical injection rates, from anywhere. Data can be used for trend analyses and troubleshooting of problematic wells.
Clariant
1
Copyright Permissions
Would you like to reuse content from CEP Magazine? It's easy to request permission to reuse content. Simply click here to connect instantly to licensing services, where you can choose from a list of options regarding how you would like to reuse the desired content and complete the transaction.