Product Focus: Safety Equipment
Absorbent Pads Clean Up Drips and Spills
Oil Eater Naturals is a line of ecofriendly absorbent pads, rolls, and socks designed to help users meet environmental, health, and safety requirements. The oil-only pads and rolls soak up oil and repel water; the universal pads and rolls soak up oil, water, and other liquids; and the absorbent socks control larger spills and protect drains. The products are made of woven plant byproducts, and are available in various weights, finishes, and sizes, as well as for light-, medium-, and heavy-duty applications. Typical applications include production lines, industrial and maintenance facility floors, loading docks, paint shop floors, and anywhere drops or spills cause slippery conditions.
Oil Eater
Safety Valve Prevents Costly and Devastating Accidents
This dedicated and reliable safety valve protects both equipment and people from potentially dangerous situations by opening at a predetermined pressure. The force of the compressed spring keeps the valve closed; when the pressure at the valve's inlet increases and reaches the spring's setpoint, the valve opens to relieve the pressure. As the valve discharges, the forces equilibrate and the pressure decreases, allowing the valve to reclose when the system returns to normal conditions. The valve is calibrated to the user's desired pressure setpoint, and is supplied with a pressure equipment directive (PED) certificate. A hygienic design eliminates unsanitary leaks and overflow during and after pressure peaks.
Alfa Laval
Warning Signals Are Suitable for Hazardous Environments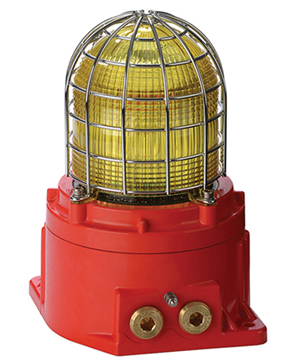 The GNEx GRP xenon strobe beacons and junction box are explosionproof and corrosion resistant, and are approved for use in all Zone 1, 2, 21, and 22 hazardous locations. The GNExB2 beacon is available in 10, 15, and 21J variants for high-ambient-light or long-distance signaling. The smaller 5-J GNExB1 is suitable for less-demanding applications. Both models boast three flash patterns that can be set by the user. The polycarbonate lens filters can be easily replaced onsite, and are available in a range of colors. The GNExJ2 Ex d junction box complements the GNEx range of beacons.
E2S
Noise Dosimeter Is Intrinsically Safe
The dBadge2 wireless noise dosimeter has earned intrinsic safety (IS) certification for use in industries that operate in highly explosive environments, including the oil and gas and chemical sectors. The IS certification indicates the dosimeter is incapable of igniting an explosion even in fault conditions. The dosimeter is certified for hazardous locations where high concentrations of flammable gases, vapors, or dust are present continuously for long periods of time under normal operating conditions. Bluetooth 4.0 connectivity lets users wirelessly control multiple units from distances of over 100 ft, including starting, pausing, or stopping noise sampling. Realtime noise exposure data can be transmitted via an IS-approved mobile device, which enables noise analyses without interrupting the employee or workflow.
Casella CEL, Inc.
System Isolates Combustible-Dust Explosions
Combustible-dust explosions can quickly spread through adjoining systems, such as tanks, silos, and equipment. The EXKOP isolation system, which consists of a control panel and one or more quench valves, prevents such incidents. A signal from the Explosion Panel, Q-Rohr-3, Q-Box II, or pressure/temperature sensor triggers the integrated elastomer seal in the quench valve to close within a few milliseconds of an explosion. The quench valve is easy to reset and can be safely put back into operation at the press of a button.
REMBE, Inc.
Infrared Cameras Quantify Gas Leaks
Infrared (IR) cameras are widely used for surveying process equipment to detect hydrocarbon leaks, but they were previously unable to measure or quantify the leak rate. The Model QL100 IR gas imaging system can measure the emission rate of gas leaks from industrial process equipment. When this technology is combined with existing IR cameras, such as the GF300 and GF320 handheld IR imagers, a single unit can both detect and measure gas leaks. This eliminates the need to construct temporary scaffolding to quantify leaks in hard-to-reach locations, reducing the number of potential safety hazards and saving time and money. The imaging system can be used to measure emission rates of most hydrocarbons.
Providence Photonics
Expo Preview: Offshore Technology Conference
May 2–5, 2016 • NRG Park • Houston, TX
The Offshore Technology Conference (OTC) is an annual event where more than 90,000 energy professionals meet to advance their scientific and technical knowledge related to offshore resources in the fields of drilling, exploration, production, and environmental protection.
Instrument Air Packages Handle the Heat and the Cold
Designed for harsh offshore, arctic, and desert environments, these instrument air packages meet worldwide regulatory code requirements. The customizable packages are available with rotary screw compressors of any size and a wide range of options, including dual redundant control systems, motor starter panels, and pulse-jet filters. The packages can be skid-mounted or containerized, and are shipped with completed piping and wiring. Systems with fully automatic operation are available.
Kaeser
Booth #7004
Plastic Piping Functions in Marine Environments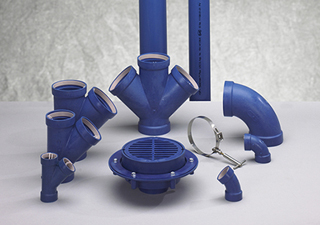 SeaCor and Sea Drain Plus are plastic piping options suitable for offshore applications. SeaCor marine plastic piping meets U.S. Coast Guard (USCG) requirements for flame spread, low smoke, and toxicity. It can be used in shipboard Category A machinery spaces, accommodation spaces, control spaces, cofferdams, void spaces, and pipe tunnels. It offers significant weight savings over copper piping, which enables faster installation and improves vessel fuel efficiency. The Sea Drain Plus black-and-gray water pipe drainage systems are suitable for conveying water from ship toilets, showers, and kitchens. They are fire-retardant and ultraviolet-resistant, and are joined using electrofusion.
GF Piping Systems
Booth #9035
Motor Endures Deep-Well Conditions
As oil extraction operations reach greater depths, drilling equipment must tolerate higher temperatures as well as extreme shock and vibration, while continuing to operate reliably. This 1.5-in.-dia. high-pressure, high-temperature (HPHT) brushless DC motor withstands harsh conditions to eliminate the complications and costly downtime associated with replacing broken motors. It is a suitable solution for severe downhole applications, such as caliper deployment and sensor positioning. Rigorous testing has established a continuous duty operating temperature of up to 205°C and pressure of up to 30,000 psi. The DII15-60-200A can be customized for gearbox or other feedback device options, and winding variations are offered to meet a range of controller voltages and currents.
BEI Kimco Magnetics
Booth #3209
Electronic Differential Pressure System Is Unaffected by Temperature Changes
Electronic differential-pressure (EDP) devices are more robust and provide more-reliable fluid measurements than traditional differential-pressure instruments. An EDP system consists of two independent pressure transmitters connected by an electrical line. One transmitter measures the density overpressure and the other measures the density of the fluid plus the overpressure to create a differential-pressure reading. The electrical connection is significant because capillaries and impulse lines used in traditional differential-pressure systems are vulnerable to temperature changes, which affects the accuracy of the reading. Users can pair any two sensors from the VEGABAR 80 Series of pressure transmitters to fit the characteristics of their process.
VEGA
Booth #12115
Vibration Suppression System Prevents Pipe Failures
Unsupported spans of piping, such as steel catenary risers and rigid steel flowlines, are susceptible to vortex-induced vibration (VIV) fatigue, which can cause pipe girth weld failure and premature pipe malfunctions. The Tri-Strake Combi is a VIV-suppression system that complements the high-performance Tri-Strake Stinger system and the cost-effective Tri-Strake Lite system. Lightweight construction enables simple and rapid assembly, while custom high-endurance materials provide resilience and load-bearing capacity. The modular system is composed of hinged sections that can be quickly and easily assembled onshore or offshore and stacked for efficient and cost-effective shipping.
Trelleborg
Booth #5541
Calibration Verifier Checks Flowmeters In Situ
Traditional verification of flowmeter calibration involves shutting down the line, removing the meter, installing a spare meter, and shipping the meter to be checked to a manufacturer or calibration lab for testing, which typically incurs lab fees. The VeriCal system verifies meter calibration in situ in minutes while the meter remains in the pipe and the process continues to operate, eliminating the hassle and cost of flowmeter calibration verifications. It is suitable for use with the ST100 series of thermal mass flowmeters. Users of flowmeters in flare gas applications aboard offshore platforms, at land-based oil/gas facilities, and in petrochemical plants will benefit from this technology.
Fluid Components International
Booth #4979
Software & Information Technology
Data Manager Aids Quality-Related Decisions in Continuous Operations
Simatic Sipat helps monitor and control product quality in real time. Version 5.0 features a new configuration concept that enhances user experience and reduces implementation time. Users have immediate graphical insight into the functionality of a method (e.g., data collection, update, calculation), and new methods can be configured in a few minutes. The new dynamic data alignment (DDA) function optimizes data management by aligning data collected at different locations along the production line at different time intervals. The ability to combine information to make decisions about quality is especially important for continuous manufacturing processes. Integrated data security ensures secure communication between components and protects customer data integrity.
Siemens
Software Helps Ensure Regulatory Compliance
Ariel WebInsight is an online reference tool for chemical regulatory compliance. It helps environmental, health, and safety (EH&S) professionals ensure that products can be sold in their intended markets, that safety data sheets (SDSs) and labels are compliant, and that proper reporting and notifications are in place. Version 9.0 features a completely redesigned user experience, with enhanced visualization, navigation, and customization functionalities. The customizable dashboard offers seamless access to configurable searches, regulatory change reports, news headlines, and content updates. New visualization capabilities streamline navigation and make data assets more actionable. The new version also offers access to additional content subscriptions, including industry-specific vertical content packages for the personal care, food, and pharmaceutical industries.
3E Co.
App Reveals Energy Savings Opportunities
The Energy Savings Advisor is a mobile app that quickly estimates and assesses potential energy savings gained from implementing the manufacturer's high-efficiency drive solutions. The app is suitable for analyzing the entirety of fixed- or variable-speed motorized applications, from the motor to the transmission and regulation system. A simulation of the user's existing equipment is compared to different custom scenarios to create an energy optimization plan. Potential savings are immediately calculated and displayed with a graphic overview, and a complete report showing a breakdown of the simulation and results can be sent by email. Results can also be transmitted to the manufacturer's energy optimization experts for more in-depth analysis. The app is free to download from the company's website.
Emerson Industrial Automation
Simulation Platform Delivers Insight into Plant Operations
Mimic simulation software provides the process industries with fast, easy, flexible, and dynamic simulations of plant operations. Version 3.6.2 includes a new function block toolkit for process control improvement, functionality to support Rockwell Automation RSTestStand users, and the next generation of the Mimic External Model Interface (MEMI). The new function blocks help process control engineers build effective dynamic simulations for selecting the best analyzers, control valves, transmitters, proportional-integral-derivative (PID) controllers, and tuning settings. A migration path between RSTestStand and Mimic improves integration of the two platforms. MEMI 2.0 helps integrate and synchronize third-party models with the software for enhanced flexibility.
MYNAH Technologies
1
Copyright Permissions
Would you like to reuse content from CEP Magazine? It's easy to request permission to reuse content. Simply click here to connect instantly to licensing services, where you can choose from a list of options regarding how you would like to reuse the desired content and complete the transaction.