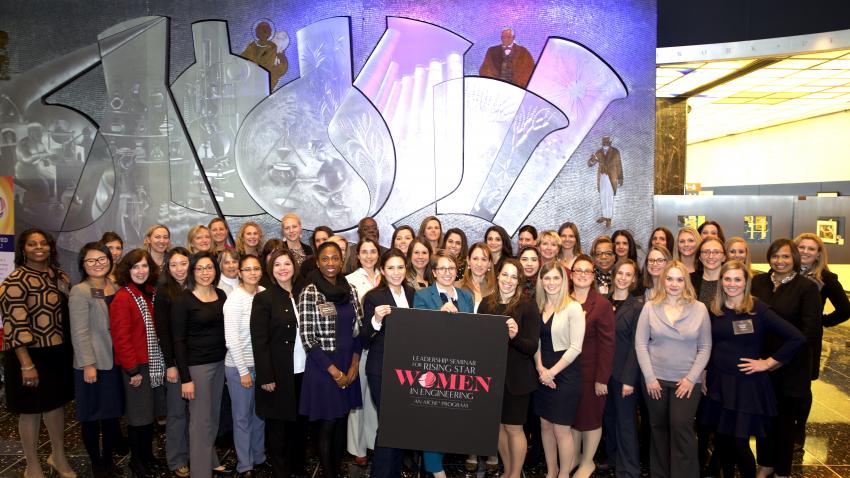 10:30am-1:00pm EDT
Rising Star, a leadership workshop for women engineers, is part of the AIChE® All for Good program to advance women in engineering. The program for early to mid-career women utilizes best practices and leading research on gender to advance professional goals.
Program
Welcome & Introduction
June Wispelwey, Executive Director and Chief

Executive Officer, AIChE
Presentation
Susan Dunlap, Susan Dunlap Associates
Understanding effective communication styles and the best practices for women to counteract perceptions and mitigate stereotypes. Participants will develop skills for communicating with a more authentic presence to effectively meet and network in the workplace and beyond. Participants will receive an introduction to a variety of common communication styles used by men and women in the workplace to:
Explore the dynamics of gender communication norms and stereotypes

Learn how the following skills can differ by gender and the potential impact to career progression

Confidence and Courage

Self-Advocacy

Presence
Empowering Women in Engineering - Panel Discussion
Panelists share perspectives on how women can find their voice, navigate the workplace and communicate for success.
Michelle Caveness, VP, Operations Excellence Eastman Chemical
Deb Langer, SVP, Corporate Ventures, The Lubrizol Corporation
Dr. Rosemarie Wesson, Ph.D. Professor of Chemical Engineering , The City College of NY
Question & Answer
Women in Chemical Engineering
Shannon Servoss, University of Arkansas and WIC Chair
AIChE Membership
Gina Gatto, Manager of Membership, AIChE
Program Conclusion


If you have any questions and to RSVP please contact Michele Forman-Keren at michk@aiche.org.