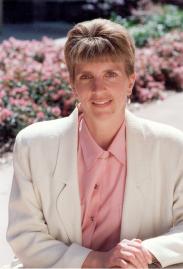 University of California, Irvine
Nancy Da Silva is a Professor in the Department of Chemical and Biomolecular Engineering and in the Department of Biomedical Engineering (affiliate) at the University of California, Irvine.
She is a member of the NSF Engineering Research Center CBiRC (Center for Biorenewable Chemicals), where she is Thrust Leader for the Microbial Metabolic Engineering group. The Da Silva laboratory engineers cellular and metabolic pathways in yeast to produce non-protein products, and to control regulation and transport. Applications have included the production of pharmaceuticals, biorenewable chemicals, and biofuels, and the removal of toxic compounds from water. Another major focus of her lab is the engineering of yeast for protein overexpression and secretion, including the synthesis and characterization of collagen-based biopolymers.
Da Silva received a B.S. in Chemical Engineering from the University of Massachusetts and an M.S. and Ph.D. in Chemical Engineering from the California Institute of Technology.