Fluids And Solids Handling
Agitation and Rotation Promote Uniform Mixing and Drying
The Comber Pressofiltro Nutsche Filter-Dryer meets stringent current good manufacturing practices (cGMP) and U.S. Food and Drug Administration (FDA) guidelines. It can be used for filtration, separation, and drying in pharmaceutical, fine chemical, cannabis, and chemical production facilities. Simultaneous rotational and vertical agitator motions provide efficient and even mixing. The vertical reciprocating agitator arms have a toothed design to achieve very low friction when pressing or smoothing the cake layer, and are S-shaped for even product discharge. All product-wetted surfaces and the agitator are heated to obtain the largest possible heat exchange area for short drying times. The material is discharged through a hydraulically operated side valve contoured to match the curvature of the vessel's internal wall. The solids discharge valve has a metal-to-metal seal with interchangeable seal rings, and the sealing surfaces are arranged outside the product flow path. Alternatively, the product can be discharged through an active or passive isolator (glove box). The bottom removable filter plate has either a bayonet or clamp design. On smaller filter units, the isolator permits contained sampling, product discharge, and heel removal all in one system. For larger filters, separate heel break-up and heel removal devices are available.
Heinkel Filtering Systems, Inc.
Stem-Position Indicator Assures Valve Alignment
Camseal metal-seated, forged ball valves feature a stem-position indicator disc for easy, precise, onsite identification and inspection of the open-closed status of the valve. The indicator is self-securing to the stem so no setscrews are required. These top-entry, inline-renewable ball valves provide significant reductions in labor, materials, and downtime. Inline renewability is typically accomplished within 30 min in the event of process damage. The cartridge can be removed for onsite parts replacement, reassembly, and reinstallation. These high-quality severe service valves are available in sizes from 0.5 in. to 4 in. with socket-weld, butt-weld, and flanged ends, in pressure classes from ASME 900 through ASME 4500. The body, seat, and stem feature a leakproof design on stand-alone and actuated valves. Standard materials include carbon steel SA-105; stainless steel SA-182-F316/F316L; and alloy SA-182.F22 CI.3 and SA-182-F91. Other materials are available upon request.
Conval
Industrial Mixer Contains Two Discharge Dispersers
The Planetary Dual-Disperser Mixer (PDDM) offers a combination of kneading and high-shear input for adhesives, composites, pharmaceuticals, coatings, and chemical processing applications, among others. Available in sizes up to 1,000 gal, the mixer has two advanced dual-post discharge systems that can withstand 100 psig. Each mixer is equipped with two rectangular stirrers and two dual-blade high-speed dispersers that rotate on their own axes while orbiting the mixing zone on a common axis. Operators can set up a semi-continuous mixing and discharge operation that utilizes ten interchangeable vessels. Operator controls feature a 20-step, 20-recipe program ensuring batch-to-batch consistency and complete traceability.
Charles Ross & Son Co.
Software
Software Simplifies Heat-Tracing Designs
TraceCalc Pro v2.11 is a heat-tracing system design software. It provides a user-friendly interface that guides engineers through a step-by-step process to obtain the best design for a particular project. The software provides heat-tracing system design data such as pipe heat loss, number of circuits, electrical loads, maximum sheath temperatures, etc., while providing automated heating cable and component selection. It also includes multisegment circuit designs, customized valve and insulation types, and advanced editing functions to meet specific needs. The software provides accurate material billing and allows for simple quotation requests for complete heat-tracing systems. Standardized reports summarize the design results and make product ordering and procurement simple and straightforward. Users should be experienced in heat-tracing system design before using this software.
nVent
Update Expands Model Libraries for Design of Formulated Products
gPROMS FormulatedProducts 1.4 model-based software integrates digital design of robust formulated products and their manufacturing processes into a related digital process operation. This updated version expands model libraries to include morphological crystallizer models to capture particle size and shape evolution, enhanced continuous direct compression models, and improved wet granulation models. gPROMS platform 6.0 now supports cluster computing — to accelerate execution of parameter estimation and other complex numerical solutions — and comprehensive analysis of dynamic systems. This version of the software also allows users to launch gPROMS FormulatedProducts Utilities from within the flowsheeting environment to quickly and easily configure material systems. The user interface for rapid configuration of models is suitable for use in digital operation applications.
gPROMS FormulatedProducts
Instrumentation
Hybrid Motor Starters Extend Motor Life
The Crydom DRMS series of hybrid motor starters have integrated solid-state and electromechanical relay technologies within a compact device that can control electrical power delivery to motors as large as 4 kW. Unlike many motor starters of similar size, this series offers a soft start, a soft stop, and an internal mains-disconnect relay in case of a fault. The starter's soft-start/soft-stop function allows gradual increase or decrease of power control, thereby extending motor life. Built-in overload protection eliminates extra space needed for an additional overload relay. Other performance features include forward/reverse operation options, adjustable settings for starting/deceleration torque, starting/deceleration ramp, nominal motor current, and a convenient reset button on the front of the unit for external manual reset. The compact 22-mm-wide DIN rail mount motor has an output rating of 9 A at 480 VAC, 24 VDC control voltage, and four easy-to-see LED status indicators. The motor starters are suitable for access control, packaging equipment, lifts, and escalators in industrial process control, machine tooling, and manufacturing and material handling systems
Sensata Technologies
Digital Devices Are Bluetooth and Cell Phone Compatible
The Digi-Sense family of smart meters now includes an infrared thermometer, particle counter, two digital multimeters, and a clamp meter. Each of the five new devices has a free downloadable app and Bluetooth connectivity so that workers can test equipment from a safe distance and then access real-time data for monitoring, reporting, and analysis. All data is transmitted directly from the meter to a mobile device and users can review, evaluate, modify, and share data with colleagues. The readings are automatically stored in the app and can be saved as a CSV file and emailed to a computer to determine equipment performance over long periods of time. The dual-laser infrared thermometer has a 50:1 distance-to-sight ratio and is suitable for a wide range of applications, including food, safety, preventive, and HVAC maintenance. The handheld mini particle counter provides particle mass concentration, air temperature, and relative humidity measurements. The multimeter with a thermal imager is powered by a microcamera thermal core. It features a built-in screen to show heat caused by electrical faults, allowing operators to take safe measurements from a distance. In addition, it has a dust-tight Ingress Protection (IP)-65 rating. The industrial digital multimeter is IP67-rated, provides AC/DC voltage, AC/DC current, resistance, frequency, capacitance, and continuity measurements. The AC/DC clamp meter has a 30-mm jaw opening and is suitable for use in small compartments or boxes with tightly arranged electrical wires. The two digital multimeters and clamp meter are precalibrated to National Institute of Standards and Technology (NIST) requirements.
Cole-Parmer
HMIs Are Suitable for High-Glare Locations
The upgraded high-performance series of human-machine interfaces (HMIs) have brighter screens, better resolutions, larger user memories, and faster processing speeds than previous models. The series consists of a 5.7-in. HG2G-V5 model, 8.4-in. HG3G-V8 model, 10.4-in. HG3G-VA model, and 12.1-in. HG4G-VC model. For retrofit applications, these HMIs are direct replacements for previous models, offering a seamless upgrade because they fit into the same panel cutouts. All HMI programming can be converted from existing formats to fit these models, so no new programming is required. All updated models use TFT-LCD screens that have a wide range of vivid colors. The 5.7-in. model has 640 × 480 pixels resolution, while the three larger-sized HMIs have an improved 1,024 × 768 pixels resolution. The brightness ranges from 600 cd/m2 to 800 cd/m2 for visibility, even in high-glare locations such as direct sunlight. The operating temperature range is –20°C to 60°C. Various approval ratings, including Ingress Protection (IP)-66F, IP-67F, Type 4X, 12, 13, and UL 61010, assure reliable operation in Class I Div. 2 hazardous locations and other extreme environments. The HMIs support common protocols such as Modbus TCP, Modbus RTU, and BACnet/IP — a widely used protocol in building automation and HVAC applications. Up to four protocols can be used simultaneously, allowing these HMIs to exchange data with many sources and systems. File transfer protocol (FTP) functionality allows users to configure these HMIs as an FTP client or server for transferring programs. The built-in web server can be used to create web pages for remote monitoring and control, and can be accessed through any web browser on a smartphone, tablet, or laptop.
IDEC Corp.
Environmental, Health, and Safety Equipment
Safety Barrier Reduces Falling Risks at Loading Docks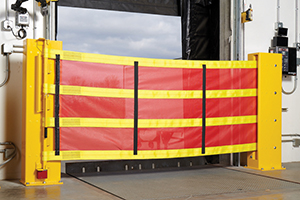 Forklift operators are at risk of driving off the dock at facilities without proper safeguards at the dock opening. The Dok-Guardian XL safety barrier can help facilities with loading docks comply with U.S. Occupational Safety and Health Administration (OSHA) regulations. The 58-in.-tall by 149-in.-wide system provides a physical barrier at a loading dock opening and can absorb up to 30,000 lb of force — strong enough to stop forklift trucks and other material-handling equipment. It consists of a bright red PVC-coated fiberglass mesh curtain and four yellow heavy-duty polyester restraint straps. The barrier is anchored on both sides of the dock opening with 62-in.-tall steel warden guards, which house the mesh curtain during loading and unloading and provide door-track protection. A light-duty model, capable of stopping up to 5,500 lb of force, is also available and is recommended for facilities that use pallet jacks or smaller material-handling equipment. Both manually operated barriers can be used with a Dok-Lok vehicle restraint to ensure full-time loading dock safety. A red light on the Dok-Lok control box indicates when the Dok-Guardian XL's curtain is safely locked across the opening; when the lock button is pressed, the light turns green and the curtain releases to allow a trailer to be loaded and unloaded.
Rite-Hite
Explosionproof Flow Sensor Offers Digital Output
The HUB-40EX flow sensor is available with either sinking or sourcing digital output. Equipment with active inputs benefits from the sinking digital I/O, which provides a ground connection to the load. The sourcing digital I/O version provides an active voltage source for programmable logic controllers (PLCs) used for source output. The NEMA-4X junction box is available in either standard painted aluminum or Type 316 stainless steel for added protection against corrosion. An integral swivel union enables 360-deg. rotation of the junction box for easy wiring. A more compact configuration without a junction box, consisting of just wire and flying leads, allows users to connect their conduit directly to the sensor. The sensor can operate at temperatures from –20°C to 60°C (–4°F to 140°F) and is available with a variety of hazardous area certifications, including CSA or ATEX/IECEx for use in Class I, Div. 1 locations. Compatible with any of the company's stainless steel flowmeters, the sensor is suitable for flow measurements requiring an explosionproof sensor, such as chemical injection, hydraulic fracturing, or industrial painting applications.
AW-Lake Co.
Adjustable Motion-Failure Alarm Promotes Site Awareness
The Sitrans WM300 motion-failure alarm (MFA) detects changes in the motion and speed of rotating, reciprocating, or conveying equipment. This alarm provides an early warning about a plant's machinery, alerting technicians to impending issues before they occur. It can monitor multiple machines at once with twin, independent probe inputs and an additional two inputs for differential speed detection. The alarm uses a dual-setpoint motion-sensor system with up to two MSP and XPP probes. It can also be converted into a noncontacting tachometer via an optional analog output module. The system has a setpoint adjustment range of 2 to 5,000 Hz or 120 to 300,000 ppm, which can be used for over- and under-speed alarming. It also features the ability to adjust and delay startup time and offers a visual indication of probe operation and relay status.
Siemens Corp.
Portable Containment Setup Is Durable and Chemical-Resistant
The Purair FLEX is a portable isolator constructed of a pliable, puncture-proof, 8-mm-thick ArmorFlex film, which offers complete visual clarity and excellent solvent resistance to a variety of chemicals. This container is suitable for use in pharmaceutical processing, industrial cleaning, biological isolation, and aerospace equipment. It is compliant with U.S. Food and Drug Administration (FDA) 21 CFR and 2002/72/EC standards for minimal outgassing, solvent, biological reactivity, and static resistance. The isolator also meets European ATEX Directive and has a shelf life of five years. The large work space measures 30 in. (762 mm) wide and has an internal volume of 3 ft3 (85 L), including a gas-tight access that has a 6-in. (152 mm) diameter sealed by a 12.5-in. (317 mm) zipper. The standard nitrogen gas barb can be used to create an oxygen-free workspace. Other features include sealed ambidextrous gloves, bag-out port, high-efficiency particulate air (HEPA) filtration, internal support rods, and a carrying handle.
Air Science
Adjustable Warning Signals Are Easy to Install
The latest addition to the Warning Signals D1x family are the D1xB2 beacons that have xenon and LED light sources. The high-power LED array features a steady mode for status applications and five flash patterns. The beacons are UL/cUL and ULC approved for use in Class I and II, Div. 1, Zone 1 and Zone 21 explosive atmospheres. They are IECEx and ATEX certified and meet SIL 1 and SIL 2 requirements. They can operate between –67°F and 176°F (–55°C and 80°C). Low inrush and operating current allow more units to be installed per circuit, simplifying system design and reducing cost. A threaded flame path enables quick installation and simplifies maintenance inspection, while the large termination area maximizes cabling space. Sound outputs up to 116 dB(A) are available with 64 user-selectable alarm tones and four remotely selectable stages/channels to support audible signaling from a single device. The alarm horn and strobe can be initiated simultaneously or independently. The enclosure measures 252.34 mm × 150.0 mm (9.93 in. × 5.91 in.) and is lightweight, made of marine-grade aluminum, and corrosion resistant, and can be either conduit- or surface-mounted using built-in mounting lugs. An optional stainless steel mounting bracket is available to enable a fully adjustable position in any direction.
E2S Warning Signals
1

Copyright Permissions
Would you like to reuse content from CEP Magazine? It's easy to request permission to reuse content. Simply click here to connect instantly to licensing services, where you can choose from a list of options regarding how you would like to reuse the desired content and complete the transaction.