Valves
Durable Butterfly Valve Is Available in a Variety of Materials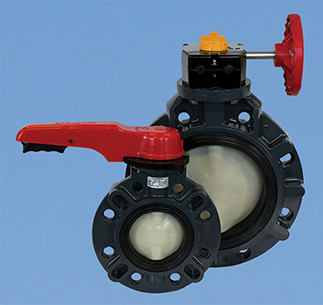 The Type-57P butterfly valve incorporates a full-seat and spherical-disc design that eliminates gaskets and prevents overtightening of the seat. Dual O-rings extend the life of the valve and enable smoother torquing. It has a visible position indicator with 19 fine-adjustment locking positions. The body and disc are injection-molded and can be fabricated from polyvinyl chloride (PVC), chlorinated polyvinyl chloride (CPVC), polypropylene (PP), or polyvinylidene fluoride (PVDF), while the stem is constructed from nonwetted Type 316 stainless steel. The valve is available with a lever in sizes ranging from 1.5 in. to 8 in., and with an operator in sizes of 1.5–14 in. All sizes can be electrically or pneumatically actuated. The valve is suitable for water handling, wastewater treatment, landfills, chemical processing, power plants, mining, and other applications. Available accessories include stem extensions, chain operators, manual limit switches, 2-in.-square operating nuts, and the company's speed handle for the operator.
Asahi/America
Heavy-Duty Rotary Valve Withstands High Pressures
Designed for food, mineral, plastics, and chemical applications, the ZRD rotary valve is engineered for heavy-duty industrial service with pressure differentials up to 21 psi (1.5 bar) and temperatures up to 212°F (100°C). It is suitable for use as a discharging and metering valve for conveying products in powder and granular form. Sizes are available with large throughputs ranging from 500 lb/hr to 400,000 lb/hr. The valves have a pressure surge-proof rating of 145 psi (10 bar), and are designed in accordance with National Fire Protection Association (NFPA) standards. The ZRD comes with air-purged seals mounted with plastic or stainless steel tubing, a solenoid, and a filter regulator. Standard seal options include the T3 polytetrafluoroethylene (PTFE) and quad ring assemblies, which eliminate the need for an air purge in most applications.
Coperion
Specified Check Valve Allows Pumping Systems to Operate in Harsh Conditions
Durable construction and a full flow area make this swing check valve well-suited for industrial and municipal water and wastewater applications. Its unimpeded design can provide savings in pumping costs over other check valves with smaller ports. The available closure options allow the valve to be used effectively in a wide variety of pumping system applications. Metal-to-metal seating is also available to allow operation in harsh conditions. The check valves are designed, built, and tested for compliance with the American National Standards Institute and the American Water Works Association (ANSI/AWWA) C508, the National Science Foundation (NSF)/ANSI 61, NSF/ANSI 372, and Manufacturers Standardization Society (MSS) SP-71/MSS SP-136 standards.
Valmatic
Dome-Loaded Backpressure Valve Provides Instantaneous Control
The single-use backpressure control valve is made of low-cost United States Pharmacopeia (USP) Class VI polymers that can be sterilized as an assembly by irradiation and then disposed of after use. Only the wetted components and diaphragm are disposable, and they are inserted into a permanent stainless steel support housing for quick and easy setup. The diaphragm is the only moving part, enabling frictionless operation without hysteresis. The valve features the same dome-loaded multiple-orifice technology as all of the company's products, delivering instantaneous control, frictionless operation, precision, and operation over wide flowrate ranges. It is suitable for the control of transmembrane pressure in tangential flow filtration control applications.
Equilibar
Safety Equipment
Explosion Protection Venting System Responds Quickly
The Q-Ball flameless explosion-venting system uses contour parallel venting for maximum venting effectiveness with the minimum required vent area. Its lightweight design does not include the outer frame common on other venting systems. Integrated signaling enables easy monitoring, and an optional cover protects the system from water and dust in both indoor and outdoor environments. The system can be retrofitted into existing panel installations to upgrade or replace older venting systems. Its stainless steel mesh material can cool flames up to 5,400°F efficiently within 500 msec. Heat, dust, and pressure from an explosion remain in the Q-Ball and the explosionproof housing structures require no external wall, so the explosion protection can be implemented within production lines. It is available in four sizes and is suited for low-strength equipment such as elevators and screeners.
Rembe
Distributed Control System Integrates Wearable Gas Detectors
Wearable detectors that sense gas, radiation, and dust exposure can be integrated into a company's distributed control system (DCS) to enable real-time employee safety monitoring. In case of harmful exposure, man-down, or panic alarms, accurate and automated signals alert control room operators in real time. In addition, safety teams can take advantage of powerful tools embedded in the DCS to provide detailed trending, reporting, and data analysis from the gas detectors. The system can identify and stop trace gas leaks, flag noncompliant or malfunctioning gas monitors for removal from the field, quickly generate safety reports for regulatory compliance, and help reduce maintenance costs. Customized alerts and notifications can be tailored to specific work environments and risks. The system also helps users identify hazardous areas, isolate gas leaks, boost industrial hygiene analysis and predictions, and improve post-incident evaluation. It is suitable for use in the oil and gas, petrochemicals, refining, pulp and paper, and a variety of other industries.
Honeywell
Motion-Sensing Technology Improves Loading Dock Safety
The Pedestrian-Vu and Approach-Vu communication systems work in conjunction with the company's Dok-Lok products to mitigate multidimensional dangers that threaten workers at loading docks. Pedestrian-Vu uses motion-sensing technology to trigger a bright light that is projected onto the dock level upon detection of material handling equipment or a pedestrian inside the dock area or trailer. The Approach-Vu sensor detects the motion of a tractor-trailer backing into a dock position and uses visual and audible alarms to communicate hazards and impending danger to workers inside and outside dock environments.
Rite-Hite
Enclosure Is Rated for Use in Hazardous Environments
The EPL-AEC-B2-2XM25-2XM32 explosionproof threaded enclosure provides a safe and secure location to house equipment in hazardous and flammable environments. The unit minimizes the possibilities of electrical wiring and equipment becoming an ignition source in flammable locations. It is constructed of aluminum with an electrostatically applied epoxy/polyester coating, and can withstand temperatures between –20°C and 60°C. It is compatible with surface-mount configurations and has two M25 hubs and two M32 hubs that provide access into the enclosure. It has a volume of 180 in.3 and is appropriate for compact equipment in petroleum refineries, chemical plants, food processing facilities, and other hazardous and flammable environments.This enclosure is Atmosphères Explosibles (ATEX)-rated, as well as Class I, Div. 1 and 2, Zones 1 and 2, Class II, Div. 1 and 2, and Class III, Div. 1 and 2 compliant.
Larson
Leak Detectors Boast Rapid Pump-Down and Short Response Times
The ASM 390 and ASM 392 mobile leak detectors are ergonomic, accurate, reliable, and have fast testing times. Specifically designed for the semiconductor and display industries, where rapid pump-down and high sensitivity are critical, both models are SEMI-S2 compliant. They are fitted with a dry frictionless backing pump and a powerful deep-vacuum pump suitable for clean environments. They are also equipped with an additional high-powered pump to reduce downtime. The detectors feature a fully rotatable and removable display, a secondary handle, and an inlet in the front for easy connection to test ports and maneuverability for access in all testing areas. These detectors simplify leak detection and response with a wide color touchscreen display, an integrated toolbox with modular compartments, and storage space for vacuum bellows.
Pfeiffer
Compact Swing-Down Mechanism Activates Eyewash and Saves Space
The Optimus swing-down laboratory eyewash has aerated spray heads and activates quickly and easily during an emergency. Various configurations offer maximum safety protection while minimizing the space needed. The newest models feature an upgraded swing-activated valve and aerated eyewash spray at 2.6 gpm and 30 psi. A recessed cabinet design was enlarged to collect more water and prevent spillage. Mounting holes provide sturdy installation and sealing tape around the well helps prevent leakage. The new models feature an emergency sign designed for universal comprehension, a brass- and chrome-plated valve, and a high-performance stainless steel showerhead with a built-in drain. It is American National Standards Institute and International Safety Equipment Association (ANSI/ISEA) Z358.1 certified. Available options include inline strainers and extended arms that make wall- and deck-mounted units compliant with the Americans with Disabilities Act (ADA).
Speakman
Online Tool Promotes Access to Safety Data Sheets
The 3E SDS provides online access to a database containing over 7 million safety data sheets (SDSs). The system optimizes hazard communication processes, improves workplace safety, and reduces risk. Its low cost makes it an option for businesses of all sizes. The online tool helps chemical manufactures, distributors, and importers provide the required SDSs to communicate the hazards of chemical products to employees and customers. It has an intuitive interface and expansive search functionality that allow users to search, view, download, and print SDSs from the extensive database.
Verisk 3E
Instrumentation
Gas Analyzer Monitors Well Drilling
The Series 9200 PetroAlert gas analyzer combines the detection capabilities of a gas chromatograph (GC) with the continuous monitoring abilities of a total hydrocarbon analyzer (THA). The instrument's speed and accuracy allow hydrocarbons at a drilling site to be analyzed qualitatively and quantitatively while drilling is in progress. The flame ionization detector (FID) on the GC can detect C1 to C5 in less than 30 sec with a detection limit of less than 10 ppm, while the FID on the THA simultaneously monitors hydrocarbons down to 0.003%. A microprocessor with a programmable touchscreen on the front panel is controlled by fully integrated software that eliminates the need for an external PC. Data are collected either continuously or based on events and are stored and exported in accordance with user-defined options. The automatic calibration allows for unattended operation, and the device's compact size makes it suitable for field applications.
Ametek
Laser Improves Liquid Level Detection
The OptioLaser S300 uses an infrared, low-gain GaAs laser diode to transmit light energy with a wavelength of 905 nm to a liquid surface. The time it takes for the reflected light to travel back to the instrument is calculated and translated into a distance to determine the liquid level. The device can be used with all types of liquids regardless of their dielectric properties, including highly reflective liquids, clear liquids, and turbulent liquids, as well as liquids that are typically difficult to measure, such as slurries, oils, agitated liquids, and even clear water. Its narrow beam divergence allows it to measure through grates and narrow passages. The device is user-configurable, operates without any calibration, is unaffected by background noise and vapor pressure, and can handle low-dielectric and acoustically absorbing materials.
Hawk Measurement
Environmental Equipment
High-Throughput Filters Clean Up Stormwater Runoff
Zinc-B-Gone is a sorptive media filtration system that removes dissolved zinc, copper, and lead from industrial stormwater roof runoff, cooling tower blowdown, and wastewater from mining operations and galvanization processes. The basic setup attaches to building downspouts, while Zinc-B-Gone pro monitors large or combined downspouts with more complex water chemistry. The systems are easily installed, require no power or chemicals, and have no moving parts. The basic system has a compact design that is 46-in. long, 26-in. wide, and 42-in. high, is rated at 15 gpm, and can treat up to 400,000 gal before the media needs to be replaced. Typical media life is 3–5 yrs, and debris screens allow for easy cleaning. The pro setup is available in models rated to handle 25–600 gpm. Zinc-B-Gone does not discharge nutrients with the exiting filtered stormwater, and it maintains high hydraulic throughput over time, which allows more water to be treated in a smaller footprint at a lower cost.
StormwateRX
Durable Enclosure Withstands Harsh Environments
Made of fiberglass-reinforced polyester, Freedom Series enclosures can withstand a broad array of chemical exposures and temperatures from –60°C to 134°C. They are fire-retardant and impact- and UV-resistant. The panel mounting in the cover can be used as an operator interface in industrial equipment control stations. Available options include the choice of an opaque cover or a flush bonded window; the flush bonded window allows maximum visibility of the raised panels and control devices. The enclosures are compliant with all industry standards for hose-down, water-tightness, and corrosion resistance, including Underwriters Laboratories (UL), and are Compliance, Safety, Accountability (CSA)-listed for National Electrical Manufacturers Association (NEMA) Type 1, 3, 3R, 4, 4X, 12, 13, and meet the International Electrotechnical Commission (IEC) 60529 IP66 safety standards.
Attabox
1
Copyright Permissions
Would you like to reuse content from CEP Magazine? It's easy to request permission to reuse content. Simply click here to connect instantly to licensing services, where you can choose from a list of options regarding how you would like to reuse the desired content and complete the transaction.