Fluids and Solids Handling
Bulk Bag Filler Is Equipped with a Pallet Dispenser
This bulk bag filler automatically places an empty pallet under a bulk bag prior to filling. Between 14 and 16 pallets can be loaded into the pallet dispenser. The filler removes the bottom pallet of the stack, places it below the bulk bag, and then fills the bag. Once the bag is filled, a power roller discharges the filled bag and pallet onto an accumulation conveyor for transport to a warehouse. The pallet dispenser eliminates the need for an operator to place an empty pallet under each bag, helping to free up personnel for more important tasks.
Best Process Solutions, Inc.
Box Dumper Prevents Product and Environmental Contamination
The TIP-TITE bulk transfer system moves material from boxes into a mobile bin equipped with a vibratory feeder that can then serve downstream processes. All stainless steel construction allows handling of corrosive materials and/or washdowns between runs of products sensitive to contamination, such as food, nutraceuticals, pharmaceuticals, and chemicals. Boxes measuring 36–48 in. wide and 39–44 in. high are loaded at floor level and raised hydraulically to seat against a discharge hood. The assembly is then hydraulically elevated and tipped, which mates the spout of the discharge hood to a gasketed receiving ring installed on the lid of the mobile bin. The dust-tight connection enables material discharge into the bin without contamination of the product or plant environment, and partially empty boxes can be returned to the plant floor without creating dust. Once the bin is moved to a downstream process, material flows through a vibratory feeder that provides gentle, volumetric metering.
Flexicon Corp.
Instrumentation
Flowmeter Leverages the Coriolis Effect to Determine Mass Flowrate
The FMC-5000 Series Coriolis flowmeter handles fluids that can be corrosive or difficult to measure. The electromagnetic coils mounted on the measuring tube vibrate two parallel measuring tubes at a fixed frequency. Fluid flowing through the measuring tubes generates a Coriolis force, which causes the top of the tubes to bend or deflect. This deflection is sensed as a phase shift between two electronic pick-ups mounted on the tubes, and the degree of phase shift is directly proportional to the mass flowrate within the tubes. Temperature is also measured and used for compensation. The meter can measure flow and density of liquids, gases, and slurries in batch control, blending, filling, dosing, custody transfer, process gas measurement, and other applications.
Omega
Human Machine Interface Can Be Installed Outdoors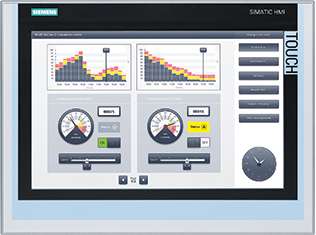 The Simatic human machine interface (HMI) TP1500 comfort outdoor panel is rugged, flexible, and easy to operate. The interface can be used over a wide range of temperatures, from –22°F to 140°F, and it operates reliably in up to 90% humidity, making it suitable for most outdoor industrial environments. The device carries an IP66 protection rating and includes ultraviolet protection. Automatic dimming and a nonreflective, antiglare interface enable the screen to be read at all times of day, even in changing light conditions. The high-resolution 7-in. and 15-in. widescreen displays can be mounted vertically or horizontally. In the event of a power failure, the HMI stores enough energy to exit all active archives without errors and back up the data.
Siemens
Rotameters Measure Corrosive Liquids
The rugged polytetrafluoroethylene (PTFE)-perfluoroalkoxy alkanes (PFA) Model L rotameters are suitable for measuring low to medium flowrates. The meters are constructed of inert, wetted materials such as PFA, PTFE, and poly-chlorotrifluoroethylene (PCTFE), which allows them to handle highly corrosive and ultrapure liquids. Liquid flowing through the tapered flow tube propels a float upward. The area between the float and the inside diameter of the flow tube gradually increases with increasing flowrate, and the pressure affecting the float decreases until the weight of the float and its buoyant force reach equilibrium. At equilibrium, the top of the float is aligned with a scale graduation on the flow tube, which denotes a discrete flowrate. Flowmeters are supplied with or without built-in needle valves and they are panel mountable.
Aalborg Instruments
Power Meter Improves Equipment Reliability
The WirelessHART Power Meter makes electrical demand and consumption measurements available via a secure and reliable highway addressable remote transducer (HART) signal. The small wireless power meter can be installed quickly to monitor voltage, current, power, energy, and other electrical parameters in real-time on single- and three-phase electrical systems. This insight enables granular energy management and effective equipment monitoring. Users will better understand their power usage and power quality, and thus, be able to improve energy efficiency at their facilities.
Emerson
Metering Device Supplies Inert Gas to Replace Hydrocarbon Foaming Agents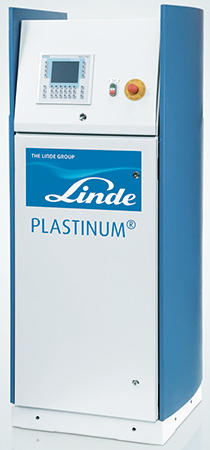 Manufacturers of extruded polystyrene (XPS), polystyrene foam insulation board, and polyolefin foaming processes can use this high-pressure gas dosing system to replace some or all hydro-carbon foaming agents with carbon dioxide or nitrogen. The DSD 400 metering system is tailored to each customer's process needs. Its high-performance compressor, mass flowmeters, and dynamic control valve enable it to provide the precise amount of liquid carbon dioxide or gaseous nitrogen during the extrusion process to help optimize foaming and reduce density. The device quickly reacts to pressure fluctuations at the extruder, helping to stabilize extrusion processes and deliver consistent foam structures. The system allows users to minimize or even eliminate the use of flammable hydrocarbons that can produce environmental emissions. The inert gas metering device handles pressures up to 400 bar (5,080 psi).
Linde
Laboratory Equipment
Automated Sample Storage Manages Low-Capacity Throughput
The SAM HD is a low-capacity automated sample management system for laboratories transitioning from manual to automated sample storage. Samples can be processed throughout the workday or outside of typical work hours to maximize productivity. Models are available for storing samples at 4°C, –20°C, –40°C, and –80°C at capacities of up to 60,000 tubes with standard racks and 86,250 tubes with the manufacturer's RackWare racks. A variety of labware can be chosen without requiring tooling changes and without compromising the integrity of unpicked samples. A camera with a wide field of view aids sample picking. The standard INSTICT S software can be integrated with laboratory information management systems (LIMS).
Hamilton Storage
Imaging and Analysis System Detects and Documents Large Particles
The FlowCam Macro system detects and produces digital images of solids from 250 μm to 5 mm. The unit automatically detects thousands of individual particles and microorganisms in a sample in seconds and takes a high-resolution, digital image of each one detected. More than 30 different basic and advanced morphological parameters are used to obtain real-time measurements based on the actual size and shape of a particle or organism. The system detects larger particles, complementing dynamic imaging, laser diffraction, microscopy, and other lab techniques that provide data on particles not visible to the naked eye, enabling comprehensive detection and documentation of solids. The technology can be used to characterize long and curled fibers, polymers, crystals, powders, and microorganisms, as well as a variety of chemical and pharmaceutical products.
Fluid Imaging Technologies, Inc.
Mass Spectrometry System Efficiently Characterizes Biomolecules to Reduce Time-to-Market
The 6545XT AdvanceBio LC/Q-TOF mass spectrometer (MS) combines high-performance liquid chromatography (LC) with robust quadrupole time-of-flight (Q-TOF) mass spectrometry and data-analysis tools to help users characterize biomolecules that could be the basis for new therapies. Improved efficiency of biomolecule characterization can help reduce time-to-market and improve drug efficacy. The system is suitable for profiling intact proteins, mapping peptides, and identifying translational modifications.
Agilent Technologies, Inc.
Environmental, Safety, and Health
Explosion Pressure Relief Device Minimizes Unusable Space
Combustible dust explosions occur within a few milli-seconds, yet leave behind considerable damage. Some safety devices, such as explosion panels, require an extensive margin of safety of unusable space. TARGO-VENT is an opening-angle limiter for use with the manufacturer's explosion panels. When the explosion panels burst at their predetermined pressure setpoints, the limiter guides the flames and shock wave to targeted areas where they will not harm adjoining infrastructure. Depending on the application or the equipment, the flames and shock wave are diverted at a defined angle of approximately 30–45 deg. upward or to the side so facility operators can minimize the safety areas around the vent opening, increasing usable area. The safety system does not require baseplates or reinforcements, and can simply be attached directly to the explosion panels.
Rembe, Inc.
Produced Water Evaporator Eliminates the Need for Disposal Wells
As hydraulic fracturing (i.e., fracking) of shale oil and gas wells increases, so does the need for methods to treat discharge (i.e., produced) water before it can cause an environmental problem. Hydroflare is an efficient and long-term solution for managing wastewater treatment in fracking operations. It evaporates and treats produced water using gases generated by the fracking process as energy to evaporate the wastewater. This eliminates the need to inject produced water into disposal wells, which can be expensive and hazardous to the surrounding environment.
Ship & Shore Environmental, Inc.
Materials and Chemicals
Medical-Grade Plastic Is Safe for Skin Contact
Medical devices that incorporate electronics demand a medical-grade polycarbonate with a unique combination of properties: flame retardancy, chemical resistance, and skin contact biocompatibility. Makroblend M4000 FR poly-carbonate/polybutylene terephthalate (PC+PBT) is a high-tech plastic that meets these demands. It is bio-compatible according to ISO 10993-5 (cytotoxicity) and ISO 10993-10 (irritation and sensitization). The material is suitable for patient monitors, diagnostic systems, fluid delivery devices, medication delivery devices, and other systems that come in contact with a patient's skin.
Covestro
1
Copyright Permissions
Would you like to reuse content from CEP Magazine? It's easy to request permission to reuse content. Simply click here to connect instantly to licensing services, where you can choose from a list of options regarding how you would like to reuse the desired content and complete the transaction.