Product Focus: Valves
Throttling Valve Provides Dependable Shutoff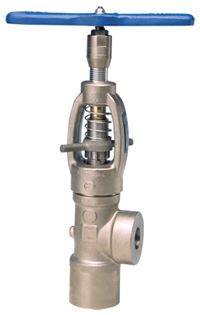 The Clampseal throttling valve is suitable for severe-service applications that require repeatable flow control and reliable shutoff. The seat and stem assembly can be easily changed inline if flow characteristics vary or if excessive corrosion or wear necessitates replacement. The orifice is sized to maintain the fluid velocity across the seat below levels that could damage the valve, and the exit orifice angle is designed to minimize downstream pipe erosion and noise. The simple but effective pressure seal bonnet does not have welds to cut or seal rings and gaskets to replace, which makes servicing the valve easy. A durable single-piece stainless steel gland extends the life of the assembly.
Conval
Diverter Valve Resists Wear
The second-generation PT45 diverter valve includes adjustable alignment stops located in the housing, position indication, and additional actuation options. A positive food-grade rubber silicon seal at each port helps to prevent contamination. Additional features include 45-deg. port-to-port rotation; two-way switching capability for dilute-phase or dense-phase conveying; and cast iron or aluminum housing, tunnel, and end plates with a Type 316 stainless steel actuator and arm assembly. The housing and tunnel are anodized to resist wear. Actuation time between the ports is 2–4 sec with the pneumatic actuator, and an electric actuator option is available.
Schenck Process
Butterfly Valve Can Be Installed in Critical Services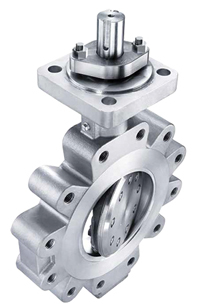 The FKX 9000 is a triple-offset butterfly valve that controls flow, optimizes flow coefficients, and maintains a low pressure drop in critical process applications. It is bubble-tight in accordance with American Petroleum Institute (API) 598 and 6D, offering zero-leak shutoff in high-temperature applications, hydrocarbon service, and emergency shutdown service. An optimized seat angle and cobalt-chromium alloy valve body seat extend the life of the seal and improve abrasion resistance. The stem seal controls fugitive emissions under recurring and extreme thermal cycling, reducing potential downtime. Unlike position-seated ball, butterfly, or plug valves, this torque-seated valve self-adjusts to evenly distribute seal compression to eliminate binding and improve performance.
Crane Co.
Pressure-Regulating Valves Resist Aggressive Chemicals
These polyvinyl chloride (PVC) and chlorinated polyvinyl chloride (CPVC) pressure regulating valves (PRVs) are small, modular, and composed of highly chemical-resistant plastic with no exposed metal parts. The pressure-reducing Type 582 valve maintains constant outlet pressure, and the pressure-retaining Type 586 valve maintains constant inlet pressure. Both models are suited for aggressive chemical processing applications. The valves feature a central housing nut that eliminates the need to retorque and injection-molded arrows to indicate flow direction. The modular valves can be maintained by simply swapping out the cartridge when necessary. Sizes from 3/8 in. to 2 in. are available.
GF Piping Systems
Combination Air Valve Operates in High-Pressure Conditions
The ASU-CAV is a high-pressure combination air valve that builds on the design of the manufacturer's ASU-SCAV valve, expanding the pressure range to 2–300 psi. The single-body automatic air valve is suitable for clean or dirty petrochemical, water treatment, reverse osmosis, wastewater, or mining services. It resists corrosion and requires minimal maintenance. With a lightweight, low-profile design, the valve operates without linkages. A large-diameter air/vacuum disc provides high-volume airflow for rapid venting during pipeline filling and allows a large volume of air to enter the pipeline during draining. Under normal pipeline flow conditions, the dual-range air release prevents air buildup and flow restrictions throughout the full range of flow.
DeZURIK, Inc.
Relief Valves Adhere to the API 2000 Standard
The Anderson Greenwood 4000 Series of pressure and vacuum relief valves is compliant with the latest American Petroleum Institute (API) 2000 standard, which covers normal and emergency vapor venting requirements for bulk liquid storage tanks. The valves have higher flow capacities, and they fully open at 10% overpressure to help protect tanks from physical damage caused by internal pressure fluctuations. This enables the valves to be set more closely to a storage tank's maximum allowable working pressure (MAWP) or maximum allowable working vacuum (MAWV). Users can fill and empty tanks more quickly and operate tanks at higher pressures, while reducing emissions. The valve line includes weight- or spring-loaded options in sizes of 2–12 in.
Pentair
Pressure Relief Valve Offers Easy Operation
Users can adjust the pressure settings of the #46 sanitary pressure relief valve, and service the valve, without removing it from the process line. The valve can be tuned from 15 psig to 105 psig without the need for special tools, and an adjustment locking mechanism and stainless steel cap protect against accidental pressure changes. The valve body and spring chamber are connected by a sanitary three-segment clamp connection, enabling easy disassembly. An O-ring sandwiched between the two disc members is not affected by liquid velocity or accidental bumping or sticking, which ensures a tight seal. The valve is suitable for applications in the pharmaceutical, biotech, food and beverage, and chemical industries.
Unibloc-Pump, Inc.
Check Valve Series Includes Multiple Configurations
Eight new barbed check valves that boast a cracking pressure of 0.087 psi are available in three different configurations. The barb-to-barb straight and reducing models (#80500–#80503) are made of methylmethacrylate acrylonitrile butadiene styrene (MABS) and silicone. The female-luer-lock-to-barb and the barb-to-male-luer-lock models (#80504–#80507) are made of styrene acrylonitrile (SAN), MABS, and silicone; #80504 and #80505 options feature a female luer lock inlet, and the #80506 and #80507 offerings feature a male luer lock outlet.
Qosina
New Products
MATERIALS AND CHEMICALS
Epoxy Creates a Durable Coating even under Harsh Conditions
Epoxies have a brittle structure that makes them susceptible to cracking and delamination when exposed to heat or some chemicals. SiVance C2010 resin is a reactive silicon technology that can be used to create highly durable epoxy-silicone hybrid coating formulations. Replacing a portion of an epoxy system with this resin helps to extend the flexibility and impact resistance of the protective coating, enabling its use in harsh operating conditions, such as those found in chemical manufacturing, hydraulic fracturing, and undersea drilling. Adequate protection prevents corrosion or failures, which reduces maintenance, replacement costs, and downtime. These improvements to flexibility and impact resistance are achieved with only minor reductions in other critical properties, including hardness and glass transition temperature.
Milliken
Thermoplastic Boasts Structural and Aesthetic Excellence
Fiber-reinforced thermoplastics are attractive for their light weight, applicability to diverse designs, and amenability to mass production. However, apart from exceptional mechanical performance, most composite thermoplastic parts have rough or uneven surfaces. StyLight is a styrenic copolymer composite that combines excellent mechanical performance with a high-quality finish. It is stiff, strong, and resists impact, and it can be used to produce complex parts in a hybrid production process. The thermoplastic composite sheets can be thermoformed, back-injection-molded, and then decorated in one processing step. The thickness of the product is 50–70% of injection-molded parts, which reduces the weight of the parts by 40–50%.
INEOS
INSTRUMENTATION
Analyzer Determines Process Liquid Concentration
Based on the principles of sonic velocity measurement, the LiquiSonic V10 is a user-friendly inline analytical instrument that accurately determines the concentration of process liquids. The sensor is suitable for use in hazardous environments in the petrochemical industry, and a 3-A-certified model is available for use in the food and pharmaceutical industries. The design of the controller is based on smartphone and tablet technology. It incorporates a high-resolution touchscreen, a high-performance processor, and extensive memory that enable fast and reliable data analysis. Measured values can be integrated into corporate networks via an Ethernet connection.
SensoTech
Power Supply Is IIoT-Ready
The SPS.500 secure power supply provides cybersecurity authentication, onboard intelligence for diagnostics, and secure communications. Unlike traditional power supplies that are housed in open-vented metal, this power supply is encased in a NEMA 4X sealed aluminum enclosure that can be located indoors or outdoors, as well as in harsh environments. It is Industrial Internet of Things (IIoT)-ready and includes features not typically found in other power supplies, such as Ethernet and open platform communication/united architecture (EPC/UA) communications, a powerful cyber-secure microprocessor and onboard memory, a built-in redundancy module, and two built-in contact relays. The unit can be mounted on pipes or walls, and occupies about the same footprint as a typical 500-W power supply with redundancy.
Bedrock Automation
Infrared Camera Enables Image Editing and Analysis in the Field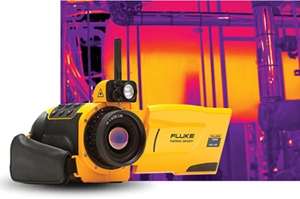 The TiX620 infrared camera is suitable for experienced thermographers. It provides high measurement accuracy and includes a 5.6-in. high-resolution LCD screen that makes problem identification quicker and easier. Users can spot problems and edit images directly from the large display, reducing time spent in the office optimizing images and generating reports. EverSharp multifocal recording captures multiple shots from different focal distances and combines them into one image, displaying objects in the foreground and background in sharp focus. The SmartView software includes a suite of advanced tools to view, optimize, annotate, and analyze images, as well as generate customizable professional reports. Telephoto and wide-angle lenses are available.
Fluke
FLUIDS AND SOLIDS HANDLING
Duct System Vents Corrosive Fumes
The Pro-Vent duct system is designed for ventilation and exhaust systems that transport corrosive fumes. Its chemical resistance, mechanical properties, solid construction, and ease of installation give it advantages over polyvinyl chloride (PVC), fiberglass, and sheet-metal systems. The pipe and fittings are joined by either hot air or extrusion welding and do not require additional cure time after cooling. The duct system is available in polypropylene (PP), PP self-extinguishing (PPs), PPs-electroconductive (PPs-el), polyethylene (PE), and polyvinylidene fluoride (PVDF) to suit water treatment, pharmaceutical, and other applications.
Asahi/America, Inc.
Strainer Gaskets Protect Processing Equipment
These strainer gaskets are an affordable way to remove particulates and debris from process fluids. They are suitable for standard flanged connections and can be inserted upstream of sensitive and costly processing equipment. They may be deployed as a single filter or as a graduated system of several strainers, costing less and consuming less space than options like filtration cartridges. The strainer gaskets are offered in a variety of materials and thicknesses, and the stainless steel mesh is offered in standard mesh weaves as well as dual layers. Sizes of 1.2 in. to 30 in. inner diameter (ID) are available.
Garlock
High-Intensity Blender Handles Materials Sensitive to Contamination
The Model HIM-124-S316 high-intensity blender achieves homogenous blends of dry solids, agglomerates, slurries, and pastes in as little as 20 sec, depending on material characteristics, at throughput rates up to 200 ft3/hr. Liquids can be added to the blender through optional injection ports for dedusting and agglomerating dry materials, as well as for producing pastes, emulsions, and slurries. The unit's horizontal cylindrical vessel has a single high-speed rotating agitator that is supported by externally mounted bearings with sanitary-type seals. Insulated low-pressure and high-pressure jackets are available for processes that require heating or cooling. The Type 316 stainless steel construction meets U.S. Dept. of Agriculture (USDA) and Food and Drug Administration (FDA) requirements.
Munson Machinery Co.
ENGINEERING SERVICES
Training Course Can Make You a Cybersecurity Expert
This cybersecurity training and certification program helps professionals involved in industrial IT and industrial control systems understand and acquire a command of the principles covered in the International Society of Automation (ISA)/IEC 62443 series of standards. The program consists of four training courses, including a two-day long fundamentals course and a three-day long course that dives deeper into risk assessment, design, and maintenance. Students will learn to identify and mitigate vulnerabilities in industrial automation and control systems, and have the option to take an exam to demonstrate command of the material. Students that take all four courses and pass all four exams may use the title ISA/IEC 62443 Cyber-security Expert.
aeSolutions
Software & Information Technology
Portfolio Bolsters Supply Chains
A business is only as good as its weakest link. Symphonite ensures every link in the supply chain contributes equally to a sequence that is reliable, responsive, agile, and efficient. The comprehensive portfolio of supply chain and production management software services is an end-to-end solution that serves production management, planning, shipping, production accounting, and reconciliation, helping to support informed business decisions. The scalable portfolio encompasses proven production and supply chain software and incorporates new releases, including the Refinery and Petrochemical Modeling System (RPMS) R510, the Capacity and Distribution Planner (CDP) R230, and Production Accounting and Reconciliation 2000 (PAR2000). These new additions improve modeling, production and inventory forecasting, and accounting.
Honeywell
Analytics Solution Informs Business Decisions
IntelliChief Analytics automates the management of documents and workflow content, and now includes business-planning capabilities. The software aggregates existing information stored in each business system, enabling users, regardless of their technical expertise, to make data-driven decisions. The analytics software helps users to identify underutilized assets; determine new markets for existing products and services; characterize strategic partnership opportunities; create new revenue channels with existing customers; gain awareness of potential risk management liabilities; and measure brand perception and performance.
IntelliChief
Software Digitizes Hard-Copy Graphs
Digitizing graphs is easier with the UN-SCAN-IT Version 6.2 software. This update features a zoomable and scalable digitizing screen. The software is compatible with any scanner or image file, and can be used to extract data from journal graphs, strip chart output, old graphs, or any other hard copy. It can also integrate peak areas, smooth data, rescale plots, and store data in American Standard Code for Information Interchange (ASCII) text format for use in other software programs.
Silk Scientific, Inc.
Informatics Suite Integrates into Existing Systems
Dotmatics Version 5.0 enables more productivity and better communication. This release allows IT departments to incorporate the software seamlessly into existing informatics landscapes, while minimizing the total cost of ownership through easier maintenance, less need for user training, and optional cloud deployment. Users involved in informatics-based scientific discovery will benefit from the electronic lab notebook (ELN), chemical registration, assay data management, scientific search, work requisitioning, and scientific collaboration capabilities. A cleaner, simpler framework and drag-and-drop interface make operation simpler and faster. A scientific data management system allows data files generated by instruments connected to remote PCs to be automatically uploaded and stored. A teamboard application provides a central place for dispersed teams to communicate.
Dotmatics
Website Centralizes Data on Women in Engineering
An inclusive workplace that welcomes diverse perspectives and ideas lifts morale as well as the bottom line. Those involved in workplace inclusion and diversity efforts will find the website http://research.swe.org useful. It provides a centralized data source on trends about women in engineering across the globe. The organization's own research, for example, on the differences between women's and men's personal and workplace priorities, supplements the knowledge base established by other data sources included on the site. This information can be used to inform workplace decisions to help ensure an inclusive environment, and, thus, business success.
The Society of Women Engineers
1
Copyright Permissions
Would you like to reuse content from CEP Magazine? It's easy to request permission to reuse content. Simply click here to connect instantly to licensing services, where you can choose from a list of options regarding how you would like to reuse the desired content and complete the transaction.