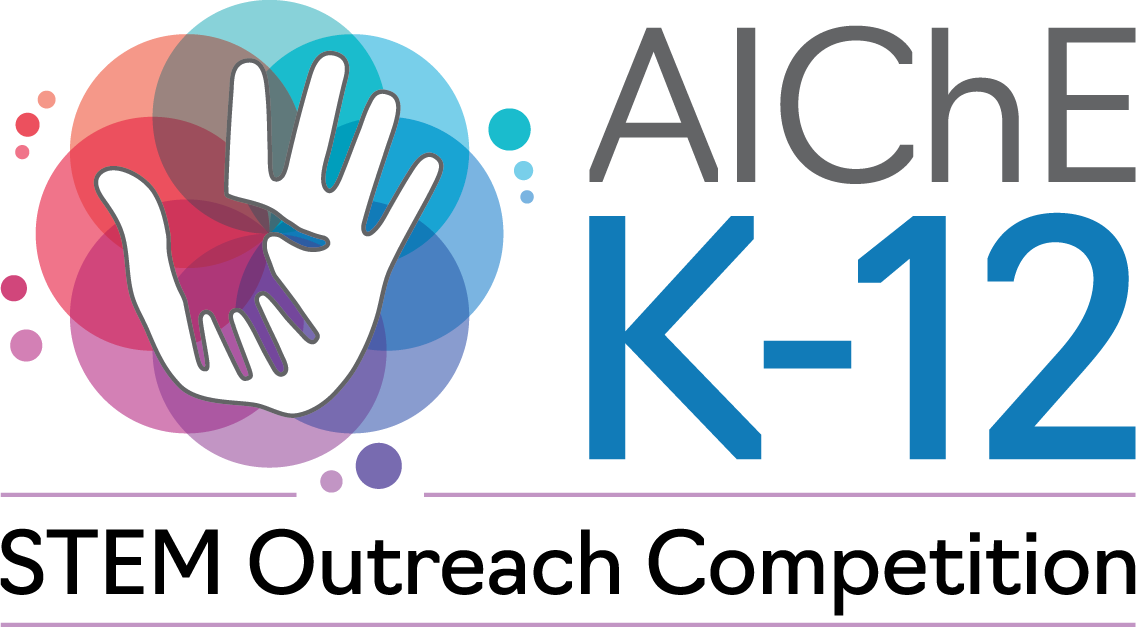 2023 AIChE K-12 STEM Outreach Competition
The 2023 AIChE K–12 STEM Outreach Competition will take place Sunday, November 5, 2023 in conjunction with the 2023 AIChE Annual Meeting and Annual Student Conference in Orlando, Florida, USA. We are so excited to return to our in-person format and bring K-12 students, parents, and teachers a truly "hands-on" experience.
The AIChE K–12 STEM Outreach Competition is presented by the AIChE K-12 Committee and Executive Student Committee and is generously supported by the AIChE Foundation. Through the AIChE K-12 STEM Outreach Competition, AIChE seeks to:
Connect members of the AIChE & K-12 communities
Increase the AIChE community's engagement in K-12 STEM Outreach
Build & grow a central repository of educational resources for use in K-12 STEM Outreach initiatives
Participate
Open eyes to the wonders of STEM and inspire your peers when you showcase your interactive STEM modules to 100+ elementary, middle, and high school students, their parents and educators, and members of the AIChE community.
Modules can take the form of discussions, demonstrations, or experiments, and can address any concept within the range of STEM, but will ideally connect to concepts or applications within chemical engineering. Each module will have both an experiential component and a written component.
Eligible AIChE members are encouraged to submit an entry for an opportunity to share their K-12 STEM module during the AIChE K-12 STEM Outreach Competition.
What's New in 2023?
To our returning competitors, welcome back! Here is a quick overview of some important adjustments to the competition from previous years. Please be sure to reference the latest versions of all competition documentation, linked below, for full instructions and all requirements.
The 2023 AIChE K-12 STEM Showcase & Outreach Competition will take place in-person in Orlando, Florida, USA, on Sunday, November 5, 2023.
Prospective competitors are still required to submit video demonstrations of their module at the time of their entry into the competition. These videos will live along with finalists' modules in the AIChE K-12 Module Database
Details
Award

Evaluation Criteria

Modules will be assessed by volunteer judges on 10 criteria:

Feasibility – mobility, accessibility, & cost
Meaningfulness of objectives
Target audience appropriate explanation of theory or concepts
Connection to real world application
Audience specialization
Audience interactivity
Innovativeness or creativity
Safety
Benefit to volunteers
Takeaway handouts

Awards

EXECUTIVE STUDENT COMMITTEE AWARDS

for undergraduate student-submitted modules accepted for presentation and participation in the competition

1st Place Award & $500 USD
2nd Place Award & $300 USD

K-12 COMMITTEE AWARDS

for non- undergraduate student submitted modules accepted for presentation and participation in the competition:

1st Place Award & $500 USD
2nd Place Award & $300 USD

And more

Top K-2 Module Award & $200 USD

Top 3-5 Module Award & $200 USD

Top 6-8 Module Award & $200 USD

Top 9-12 Module Award & $200 USD

Deadline
September 1, 2023
Administrators
Executive Student Committee (ESC), Societal Impact Operating Council (SIOC)
Presentation
Awards will be presented at the conclusion of the event. Award winning modules will be included in a central repository of educational resources for use in K-12 STEM Outreach initiatives.
Nomination Instructions

Entry

Interested participants must review and fulfill all eligibility criteria, requirements for modules, and all entry requirements in their entirety by the specified deadline in order to be considered for participation in the competition.

Please be advised that due to space and time limitations, we will not be able to accept all submitted modules for participation in the competition.

Competitors may submit a maximum of one competition entry per target audience, for a maximum of four total submissions from any competing entity.

Eligibility Criteria

All participants must be active AIChE members
All participants must be active AIChE K-12 Community members
Undergraduate student participants must register to attend the Annual Student Conference
All other participants must register to attend Annual Meeting
Entries will be accepted from both teams and individuals

Requirements, Forms, & Documents

Institute Policies Attestation Form

Deadline for Entry

September 1st, 11:59 PM ET

Timeline for Notification

Primary contacts associated with submissions accepted for presentation will be notified of acceptance in mid-September (Target: September 15th)

Entry Instructions

Ready to submit your module?

Step 1: Submit an ENTRY FORM

Step 2: Submit a VIDEO

*Prior to uploading, please ensure that your video file name matches your "Name of Module" as indicated in your entry form.

Contact k12@aiche.org with any related questions.

Sponsors
AIChE Foundation – All for Good Campaign