Wednesday, March 25, 2020, EDT
Is Your Focus Your Magic!
Understand and Build on You Leading to Success and Joy on Your Terms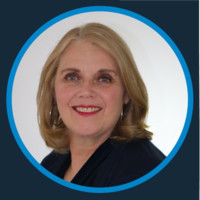 Abstract: As a consultant, your consulting business is your baby. You have an emotional bond with it and at times it can be just plan frightening. Whether you are starting your consulting business or expanding it, clarity of vision is important but there is another key ingredient that if not properly defined and implemented, hinders your progress. That key ingredient-YOUR FOCUS! Focus impacts everything from defining your ideal client and building meaningful relationships to how you deliver your services.
"Is Your Focus Your Magic?" discusses the key building block that answers the "why" and "what" questions so important to your clients and necessary for any successful consulting business. It is the consultant's responsibility to define their focus and then clearly articulate and implement it. Focus is a Consultant's Magic-the key for their success.
This presentation discusses the key components for defining and refining your focus, the impact of focus on all aspects of your business, and the importance of communicating a business' focus. Walk away with at least one idea that you can implement immediately.
Bio: Laura Dallas Burford, PMP
Laura Burford focuses on helping business professionals achieve consulting success enabling them to make money and live life on their terms. As she partners with consultants to unlock their potential, she leverages her proprietary Consultancy Model©, a framework designed based on Laura's thirty plus years of consulting experience and expertise. The model is supported by the Consultant Jumpstart Blueprint© and on-line courses at Laura's Consulting Guide. The blueprint and courses include flexible guidelines to help professionals become successful consultants

Laura began her own management consulting firm focused on information technology in 2002 after 9/11 forced the closing of a start-up international consulting operation. Over the years, her firm has changed to where it is today-a firm focused on helping consultants and business leaders grow their own consulting businesses. Prior to starting her own business, Laura was recruited by the CEO of a Fortune 100 company for a start-up consulting operation, worked 10 years for two "Big 4" consulting organizations, and worked with or consulted to several Fortune 50 companies.

Laura offers consulting and project management seminars, is a public speaker, writes blogs and articles for trade magazines, and supports her own YouTube channel focused on providing consulting insights. She is the author of Project Management for Flat Organizations (2012, J. Ross Publishing, Inc.), one of ten 2013 Small Business Book Awards winners.
focuses on helping business professionals achieve consulting success enabling them to make money and live life on their terms.
Laura's Consulting Guide, www.linkedin.com/in/lauradallasburford, laura@lauraburford.com
Owner and Founder, LAD Enterprizes
Help yourself to any videos on the new YouTube Channel.
https://www.youtube.com/channel/UCmj45Fj2eAXKaE90LNbCElw
Here are a few you might find of interest.
How to Determine Your Consulting Focus! (You Know-Your NICHE!)
Consultants! Three Common Focus Challenges: Easy Solutions to Implement Immediately
Frequently Asked Questions When Evaluating if Consulting is for You (or Not)?
| | | | | | |
| --- | --- | --- | --- | --- | --- |
| Meeting | Date | UTC Time | Find your # | Direct Dial | US Toll Free |
| Primary | 26-Mar | 2:00 AM | Find your local number: https://zoom.us/u/ai5uWhmhK | +19292056099,,167891908# US (New York) | 877 853 5257 US Toll-free |
| Alt-1 | 27-Mar | 11:00 AM | Find your local number: https://zoom.us/u/ai5uWhmhK | +19292056099,,992000407# US (New York) | 888 475 4499 US Toll-free |
| Alt-2 | 27-Mar | 6:00 PM | Find your local number: https://zoom.us/u/ai5uWhmhK | +19292056099,,490482175# US (New York) | 888 475 4499 US Toll-free |
| | | | | |
| --- | --- | --- | --- | --- |
| UTC Offset | Example Location | Primary Meeting | Alt 1 Meeting | Alt 2 Meeting |
| | UTC Time | Mar 26, 2:00 AM | Mar 26, 11:00 AM | Mar 26, 6:00 PM |
| UTC-8 | Los Angeles, USA | Mar 25, 6:00 PM | Mar 26, 3:00 AM | Mar 26, 10:00 AM |
| UTC-7 | Phoenix, USA | Mar 25, 7:00 PM | Mar 26, 4:00 AM | Mar 26, 11:00 AM |
| UTC-6 | Mexico City, Mexico | Mar 25, 8:00 PM | Mar 26, 5:00 AM | Mar 26, 12:00 PM |
| UTC-5 | New York, USA | Mar 25, 9:00 PM | Mar 26, 6:00 AM | Mar 26, 1:00 PM |
| UTC-3 | Santiago, Chile | Mar 25, 11:00 PM | Mar 26, 8:00 AM | Mar 26, 3:00 PM |
| UTC-3 | Sao Paulo, Brazil | Mar 25, 11:00 PM | Mar 26, 8:00 AM | Mar 26, 3:00 PM |
| UTC+0 | London, UK | Mar 26, 2:00 AM | Mar 26, 11:00 AM | Mar 26, 6:00 PM |
| UTC+1 | Lagos, Nigeria | Mar 26, 3:00 AM | Mar 26, 12:00 PM | Mar 26, 7:00 PM |
| UTC+2 | Cairo, Egypt | Mar 26, 4:00 AM | Mar 26, 1:00 PM | Mar 26, 8:00 PM |
| UTC+3 | Istanbul, Turkey | Mar 26, 5:00 AM | Mar 26, 2:00 PM | Mar 26, 9:00 PM |
| UTC+3.5 | Tehran, Iran | Mar 26, 5:30 AM | Mar 26, 2:30 PM | Mar 26, 9:30 PM |
| UTC+4 | Dubai, UAE | Mar 26, 6:00 AM | Mar 26, 3:00 PM | Mar 26, 10:00 PM |
| UTC+4.5 | Kabul, Afghanistan | Mar 26, 6:30 AM | Mar 26, 3:30 PM | Mar 26, 10:30 PM |
| UTC+5 | Karachi, Pakistan | Mar 26, 7:00 AM | Mar 26, 4:00 PM | Mar 26, 11:00 PM |
| UTC+5.5 | Delhi (NCT), India | Mar 26, 7:30 AM | Mar 26, 4:30 PM | Mar 26, 11:30 PM |
| UTC+5.75 | Kathmandu, Nepal | Mar 26, 7:45 AM | Mar 26, 4:45 PM | Mar 26, 11:45 PM |
| UTC+6 | Dhaka, Bangladesh | Mar 26, 8:00 AM | Mar 26, 5:00 PM | Mar 27, 12:00 AM |
| UTC+6.5 | Yangon, Myanmar | Mar 26, 8:30 AM | Mar 26, 5:30 PM | Mar 27, 12:30 AM |
| UTC+7 | Jakarta, Indonesia | Mar 26, 9:00 AM | Mar 26, 6:00 PM | Mar 27, 1:00 AM |
| UTC+8 | Shanghai, China | Mar 26, 10:00 AM | Mar 26, 7:00 PM | Mar 27, 2:00 AM |
| UTC+9 | Tokyo, Japan | Mar 26, 11:00 AM | Mar 26, 8:00 PM | Mar 27, 3:00 AM |
| UTC+11 | Sydney, Australia | Mar 26, 1:00 PM | Mar 26, 10:00 PM | Mar 27, 5:00 AM |
| UTC+8 | Auckland, New Zealand | Mar 26, 2:00 PM | Mar 26, 11:00 PM | Mar 27, 6:00 AM |