Wednesday, August 28, 2019, 9:00pm EDT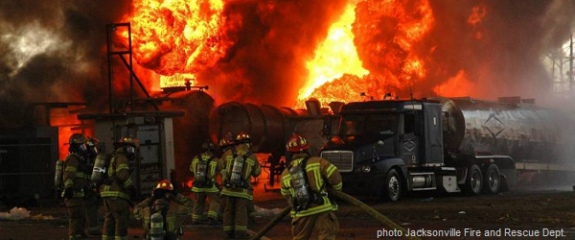 by Amy Theis, PE

Incidents due to reactive chemical hazards continue to occur in the manufacturing industry, resulting in loss of life, property damage, and environmental impacts. There are many federal regulations as well as best industry practices that can be utilized to identify potential reactive chemical hazards, evaluate the impact of consequences, and develop appropriate strategies to prevent or mitigate the impacts. In this presentation, several reactive chemical incidents investigated by the U.S. Chemical Safety Board will be reviewed. The lack of hazard recognition and inadequate protection strategies will be discussed, along with:

• Common root causes of incidents due to reactive chemical hazards

• Lessons learned from these incidents

• Guidelines for identifying reactive chemical hazards in your process

• Process design considerations for exothermic reactions

Amy Theis is a recognized safety professional with 20 years of experience in the chemical, pharmaceutical and manufacturing industries. She has comprehensive background in the identification and quantification of chemical reaction hazards using a variety of calorimetry techniques. Her areas of expertise include calorimetry test design for emergency relief system design, safe storage, transportation and processing of reactive chemicals as well as conducting process hazard analyses and dust hazard analyses. She has a BS in Chemical Engineering from the University of Iowa and is a registered professional engineer in the state of Illinois.
This meeting is free and open to all, not just to Virtual Local Section members.
======================
THREE MEETING OPTIONS
======================
You can use this calculator to find out what time the meetings occur in your time zone:
https://www.timeanddate.com/worldclock/converter.html
| | | | |
| --- | --- | --- | --- |
| Example Locations | primary meeting | alt 1 meeting | alt 2 meeting |
| UTC Time | 8/29/19 1:00 AM | 8/29/19 10:00 AM | 8/29/19 5:00 PM |
| Los Angeles, USA | 8/28/19 6:00 PM | 8/29/19 3:00 AM | 8/29/19 10:00 AM |
| Phoenix, USA | 8/28/19 6:00 PM | 8/29/19 3:00 AM | 8/29/19 10:00 AM |
| Mexico City, Mexico | 8/28/19 8:00 PM | 8/29/19 5:00 AM | 8/29/19 12:00 PM |
| New York, USA | 8/28/19 9:00 PM | 8/29/19 6:00 AM | 8/29/19 1:00 PM |
| Santiago, Chile | 8/28/19 9:00 PM | 8/29/19 6:00 AM | 8/29/19 1:00 PM |
| Sao Paulo, Brazil | 8/28/19 10:00 PM | 8/29/19 7:00 AM | 8/29/19 2:00 PM |
| London, UK | 8/29/19 2:00 AM | 8/29/19 11:00 AM | 8/29/19 6:00 PM |
| Lagos, Nigeria | 8/29/19 2:00 AM | 8/29/19 11:00 AM | 8/29/19 6:00 PM |
| Cairo, Egypt | 8/29/19 3:00 AM | 8/29/19 12:00 PM | 8/29/19 7:00 PM |
| Istanbul, Turkey | 8/29/19 4:00 AM | 8/29/19 1:00 PM | 8/29/19 8:00 PM |
| Tehran, Iran | 8/29/19 5:30 AM | 8/29/19 2:30 PM | 8/29/19 9:30 PM |
| Dubai, UAE | 8/29/19 5:00 AM | 8/29/19 2:00 PM | 8/29/19 9:00 PM |
| Kabul, Afghanistan | 8/29/19 5:30 AM | 8/29/19 2:30 PM | 8/29/19 9:30 PM |
| Karachi, Pakistan | 8/29/19 6:00 AM | 8/29/19 3:00 PM | 8/29/19 10:00 PM |
| Delhi (NCT), India | 8/29/19 6:30 AM | 8/29/19 3:30 PM | 8/29/19 10:30 PM |
| Kathmandu, Nepal | 8/29/19 6:45 AM | 8/29/19 3:45 PM | 8/29/19 10:45 PM |
| Dhaka, Bangladesh | 8/29/19 7:00 AM | 8/29/19 4:00 PM | 8/29/19 11:00 PM |
| Yangon, Myanmar | 8/29/19 7:30 AM | 8/29/19 4:30 PM | 8/29/19 11:30 PM |
| Jakarta, Indonesia | 8/29/19 8:00 AM | 8/29/19 5:00 PM | 8/30/19 12:00 AM |
| Shanghai, China | 8/29/19 9:00 AM | 8/29/19 6:00 PM | 8/30/19 1:00 AM |
| Tokyo, Japan | 8/29/19 10:00 AM | 8/29/19 7:00 PM | 8/30/19 2:00 AM |
| Sydney, Australia | 8/29/19 11:00 AM | 8/29/19 8:00 PM | 8/30/19 3:00 AM |