Thursday, March 22, 2012, EDT
Professor Akira Tokuhiro is our keynote speaker on Thursday, March 22 at 9:00 pm US Eastern Standard Time.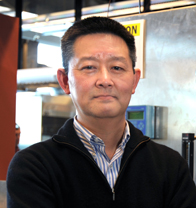 He will discuss the Lessons learned one-year after the Fukushima Daiichi Disaster. Akira is a Professor of Mechanical and Nuclear Engineering at the University of Idaho. He brings an interesting perspective as he was born in Tokyo but educated in the US. He has has more than 20 years of experience in nuclear engineering and has been closely monitoring the situation in Japan following that country's devastating earthquake and tsunami. Tokuhiro is using his experience and knowledge about nuclear energy to help others understand what is happening at Japan's Fukushima Dai-ichi nuclear power plant.