Wednesday, April 24, 2019, EDT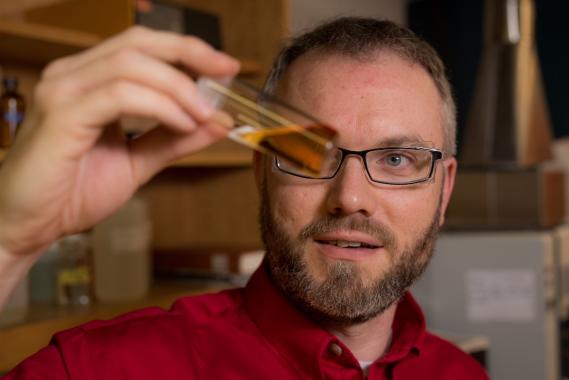 The Chemistry of Bourbon: the "Spirit" of Molecules



by Lenny Demoranville, Assistant Professor of Chemistry, Centre College



The production of quality bourbon involves an understanding of the chemistry involved in the process. Most modern distilleries rely on both sensory and chemical analysis as part of their process. This talk will highlight some of the chemistry involved in the production of the distilled spirit, its aging, and your enjoyment of it. For those not familiar with bourbon, a basic overview of the spirit will be weaved into the talk.
Lenny Demoranville is an Assistant Professor in the Chemistry Program at Centre College in Danville, KY, a top-50 liberal arts college. Dr. Demoranville earned his B.S. in chemistry from Eastern Nazarene College and his Ph.D. at University of Maryland-College Park. He was an NRC-Postdoctoral Fellow at the National Institute of Standards and Technology. At Centre, he has chaired the undergraduate research committee and is currently the lead faculty member of a renovation of one of Centre's science buildings. His research group has recently shifted focus to analyze congeners in bourbon. This new interest developed during his teaching of a class entitled "The Chemistry of Beer, Wine, and Bourbon." He has given a number of public talks about that topic and was honored with the Kentucky Academy of Science's 2018 Excellence in Science Education and Outreach Award.
======================
THREE MEETING OPTIONS
======================
| | | | |
| --- | --- | --- | --- |
| Example Locations | primary meeting | alt 1 meeting | alt 2 meeting |
| UTC Time | 4/25/19 1:00 AM | 4/25/19 10:00 AM | 4/25/19 5:00 PM |
| Los Angeles, USA | 4/24/19 6:00 PM | 4/25/19 3:00 AM | 4/25/19 10:00 AM |
| Phoenix, USA | 4/24/19 6:00 PM | 4/25/19 3:00 AM | 4/25/19 10:00 AM |
| Mexico City, Mexico | 4/24/19 8:00 PM | 4/25/19 5:00 AM | 4/25/19 12:00 PM |
| New York, USA | 4/24/19 9:00 PM | 4/25/19 6:00 AM | 4/25/19 1:00 PM |
| Santiago, Chile | 4/24/19 9:00 PM | 4/25/19 6:00 AM | 4/25/19 1:00 PM |
| Sao Paulo, Brazil | 4/24/19 10:00 PM | 4/25/19 7:00 AM | 4/25/19 2:00 PM |
| London, UK | 4/25/19 2:00 AM | 4/25/19 11:00 AM | 4/25/19 6:00 PM |
| Lagos, Nigeria | 4/25/19 2:00 AM | 4/25/19 11:00 AM | 4/25/19 6:00 PM |
| Cairo, Egypt | 4/25/19 3:00 AM | 4/25/19 12:00 PM | 4/25/19 7:00 PM |
| Istanbul, Turkey | 4/25/19 4:00 AM | 4/25/19 1:00 PM | 4/25/19 8:00 PM |
| Tehran, Iran | 4/25/19 5:30 AM | 4/25/19 2:30 PM | 4/25/19 9:30 PM |
| Dubai, UAE | 4/25/19 5:00 AM | 4/25/19 2:00 PM | 4/25/19 9:00 PM |
| Kabul, Afghanistan | 4/25/19 5:30 AM | 4/25/19 2:30 PM | 4/25/19 9:30 PM |
| Karachi, Pakistan | 4/25/19 6:00 AM | 4/25/19 3:00 PM | 4/25/19 10:00 PM |
| Delhi (NCT), India | 4/25/19 6:30 AM | 4/25/19 3:30 PM | 4/25/19 10:30 PM |
| Kathmandu, Nepal | 4/25/19 6:45 AM | 4/25/19 3:45 PM | 4/25/19 10:45 PM |
| Dhaka, Bangladesh | 4/25/19 7:00 AM | 4/25/19 4:00 PM | 4/25/19 11:00 PM |
| Yangon, Myanmar | 4/25/19 7:30 AM | 4/25/19 4:30 PM | 4/25/19 11:30 PM |
| Jakarta, Indonesia | 4/25/19 8:00 AM | 4/25/19 5:00 PM | 4/26/19 12:00 AM |
| Shanghai, China | 4/25/19 9:00 AM | 4/25/19 6:00 PM | 4/26/19 1:00 AM |
| Tokyo, Japan | 4/25/19 10:00 AM | 4/25/19 7:00 PM | 4/26/19 2:00 AM |
| Sydney, Australia | 4/25/19 11:00 AM | 4/25/19 8:00 PM | 4/26/19 3:00 AM |
PRIMARY MEETING (LIVE PRESENTATION/LIVE CHAT)
-----------------------------------------------------------------------------
1:00 am UTC April 24, 2019
Meeting number/access code: 214 419 107
To use phone for audio:
1-866-469-3239 Call-in toll-free number (US/Canada)
+1-650-429-3300 Call-in number (US/Canada)
ALTERNATE 1 (RECORDED PRESENTATION/LIVE CHAT)
-------------------------------------------------------------------------------
10 am UTC April 24, 2019
Meeting number/access code: 211 830 782
To use phone for audio:
1-866-469-3239 Call-in toll-free number (US/Canada)
+1-650-429-3300 Call-in number (US/Canada)
ALTERNATE 2 (RECORDED PRESENTATION/LIVE CHAT)
------------------------------------------------------------------------------
5:00 pm UTC April 24, 2019
Meeting number/access code: 213 959 299
To use phone for audio:
1-866-469-3239 Call-in toll-free number (US/Canada)
+1-650-429-3300 Call-in number (US/Canada)
---------------



For the primary meeting: