Wednesday, September 22, 2021, EDT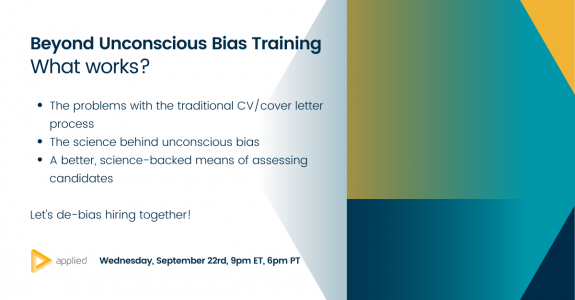 By now we've all heard that unconscious bias is part of being human. Although we may believe we're being objective, we all have unconscious biases.

At this meeting, we'll be breaking down the behavioural science behind unconscious bias - and exploring its effect on recruitment. We'll find out if unconscious bias training works, and if not, what strategies we can use to remove unconscious bias from our processes.

Expect research-based insights, plenty of fascinating studies and some practical next steps for building a fairer, more inclusive hiring process.
Presented by WuQing Hipsh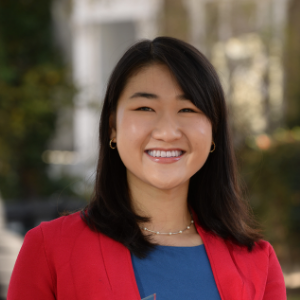 WuQing is the Community Lead at Applied, a platform designed to help recruiters make the best decisions. She utilises design thinking to ideate and implement outreach methods, to foster a genuine community for fair hiring. She is passionate about interdisciplinary design strategy, driven to use human-centred design for social change. She holds a MSc from Imperial College London, and an MA from the Royal College of Art in Innovation Design Engineering.

Before becoming a design engineer, she worked as an educator and artist for over seven years. Her artwork has been displayed at the Metropolitan Museum of Art in New York City, and was featured in the New York Times' Art and Design Section.
This meeting is free and open to all, not just to Virtual Local Section members.
======================

THREE MEETING OPTIONS

======================

You can use this calculator to find out what time the meetings occur in your time zone: https://www.timeanddate.com/worldclock/converter.html

PRIMARY MEETING (LIVE PRESENTATION/LIVE CHAT)

9:00 PM ET Wednesday, September 22, 2021

Register in advance for this meeting: https://us02web.zoom.us/meeting/register/tZ0of--grTotEtTWmTV-vaRPwAvit4-Pjg5l

After registering, you will receive a confirmation email containing instructions for joining the meeting.

ALTERNATE 1 (RECORDED PRESENTATION/LIVE CHAT)

7:00 AM ET Thursday, September 23, 2021

Register in advance for this meeting: https://us02web.zoom.us/meeting/register/tZ0vcumgqDwjGtLENJB_HFuv7fzGkboxsZ4O

After registering, you will receive a confirmation email containing instructions for joining the meeting.

ALTERNATE 2 (RECORDED PRESENTATION/LIVE CHAT)

1:00 PM ET Thursday, September 23, 2021

Register in advance for this meeting: https://us02web.zoom.us/meeting/register/tZYpf--hqzooHtDneuS0VEE0l7KmVqmMyos3

After registering, you will receive a confirmation email containing instructions for joining the meeting.



Use the button below to register for the primary meeting:

https://us02web.zoom.us/meeting/register/tZ0of--grTotEtTWmTV-vaRPwAvit4-Pjg5l