Fluids and Solids Handling
Biodiesel Combustion Shut-Off Valves Improve Safety
The ASCO Series 262 and 263 biodiesel valves are combustion safety shut-off valves certified for use with biodiesel blend fuels supplied to boilers. Biodiesel's high corrosivity makes safety a concern for heating systems transitioning to this more sustainable energy source, and using equipment not certified for biodiesel can lead to mechanical failure. In addition, these shut-off valves meet the Underwriters' Laboratories' (UL) updated requirements for biodiesel fuels.
Emerson
Blender Fully Discharges Mixture
The VB-1-S315 is a one-cubic-foot (28-L) vee cone blender constructed of 316 stainless steel. It can achieve uniform blends of dry bulk solids in 15–30 min and delivers homogeneity of fill volumes from 25% to 100% capacity. The smooth internal surfaces allow for complete discharge of material through a handwheel-operated butterfly valve. A safety-interlocked polycarbonate housing protects the user from rotating vessels. The blender is suitable for the food, dairy, and pharmaceutical industries.
Munson Machinery
Rotary Valves Enable Continuous Flow in Pneumatic Vacuum Conveyors
The proprietary design of Volkmann's updated rotary valves, used in the company's pneumatic vacuum conveyors, allows for the continuous flow of bulk materials instead of standard pulsed plug flow. This unique ability makes pneumatic vacuum conveyors suitable for extruding, feeding, and packaging applications where uninterrupted flow is critical. These valves are resistant to leaking and are certified explosionproof. The rotary valves are available in 4-in. and 6-in. diameters, making them applicable for a wide range of materials and flowrates.
Volkmann, Inc.
Hydraulic Separator Includes Temperature and Pressure Gauges
The Webstone hydraulic separator balances flow between primary and secondary piping. It can automatically capture trapped air and remove it from the system. The separator has a built-in hose drain for flushing the accumulated debris. The forged brass construction of the separator can be disassembled for cleaning. It includes a dual-scale temperature and pressure gauge, along with a 12,000-gauss magnet and mounting brackets. It is available with different connections in 1–1.5 in. sizes.
NIBCO
Versatile Right-Angle Valves Are Suitable for Sanitary Applications
The 6051 aseptic right-angle valve and the 6052 hygienic right-angle valve are designed for food processing applications, with a stainless-steel body configured to be easily sanitized. Both of these versatile valves can function as shut-off and control valves. The 6051 model is European Hygienic Engineering & Design Group (EHEDG)-certified, and the 6052 model is 3A-compliant. The process chambers are separated from the valve actuator by a polytetrafluoroethylene (PTFE)-coated diaphragm. Both models are heat-resistant, which makes them suitable for sanitize-in-place cleaning procedures.
Schubert & Salzer, Inc.
Flexible-Screw Conveyor Prevents Caking and Packing
This flexible-screw tilt-down conveyor efficiently transports bulk materials without separating blended media, while avoiding the common issues of caking, packing, and smearing. The screw conveyer effectively transports diverse materials, from large pellets to fine powders. For enhanced mobility, the conveyor's discharge end can be fixed to ceilings, process equipment, and vessels, as well as an available castor-mounted frame. Hopper-shaking devices are available for use with materials that are not free-flowing and require agitation.
Flexicon Corp.
Instrumentation
Ultrasonic Meter Measures Sugar Concentration
The Teqwave H ultrasonic meter measures the concentration of dissolved sugar in fruit juices, distilled beverages, and other beverage processing systems. Additionally, these sensors can measure the concentration of cleaning agents in a solution during sanitization. A single ultrasonic meter can measure multiple solutions, and each unit is preinstalled with concentration data for quick setup. The sensor uses a full-bore stainless steel design, making it hygienic and non-intrusive on process flow. The meter can also measure and monitor dispersions, such as gas bubbles or particles, and alert operators if these dispersions affect accuracy.
Endress+Hauser
Process Analyzer Accurately Detects Hydrogen Sulfide
The Model 205 PermaStream process analyzer monitors the amount of hydrogen sulfide (H2S) in sample streams of crude oil. The inline analyzer provides measurements in ppm and percent ranges and supports online monitoring of H2S. To eliminate potential false positives in measurement, the analyzer separates H2S as a gas from the liquid sample. It requires no field calibration, sample conditioning, filters, or pumps.
KECO
Motion Speed Control Utilizes a Magnetic Connector
The Mag-Neat-O is a motion speed control that couples to the end shaft of the tail pulley of conveyor belts. It determines whether the conveyor belt has slowed down or stopped moving and can shut down rotating equipment before any severe damage occurs. The pulse output can be wired into a programmable logic controller (PLC) or a distributed control system (DCS). It is constructed of a chemical- and impact-resistant polymer material with stainless steel internal parts. The motion speed control uses a magnetic connector that does not require any drilling or tapping of the tail pulley shaft.
Conveyor Components
Electromagnetic Flowmeter Measures Process Flow without Pressure Loss
The Pro-M electromagnetic flowmeter provides accurate flow metering with a simple yet reliable full-bore design that eliminates pressure loss and reduces necessary maintenance. With a design that is unaffected by differences in viscosity or pressure and a maximum temperature of 356°F, these flowmeters are suitable for a variety of applications. Data can be collected and monitored through analog output channels or advanced software collection systems. Available diameters range from 0.5 in. to 80 in.
VorTek Instruments
Linear Heat Detection Cables Measure Temperature Across Large Distances
The LHD N45-Series of fiber optic linear heat detection (LHD) cables measures temperature at each point along their length and provides up to 16 km of measurable distance per cable, longer than any competing LHD cables. Each cable has four channels, regardless of distance range, with 2,000 configurable alarm zones per channel and up to 98 integrated relay contacts. These cables relay temperature data to an integrated web server that can alert personnel of emergencies and an emergency's location. The cables are resistant to electromagnetic interference.
AP Sensing
Laboratory Equipment
Spectrometer Features High Sensitivity and Resolution
The IR5 is a benchtop Fourier transform infrared (FTIR) spectrometer that analyzes a broad spectral range, between 8,000 cm–1 and 350 cm–1, with high sensitivity and resolution. The optional addition of a second detector increases the sensitivity at certain spectral ranges. This unit can also be made more versatile by adding integrated Fourier transform photoluminescence (FT-PL) capability, enabling absorption and spectrometric testing in the mid-infrared (MIR) range.
Edinburgh Instruments Ltd.
Chilling Incubators Improve Protein Crystallography
The EchoTherm chilling incubators are vibration-free and programmable, making them suitable for protein crystallography applications. The incubators operate at temperatures between 4°C and 70°C, and they use Peltier (i.e., electrothermic) heating, eliminating the need for compressors that would disturb incubation. With optional add-ons, these units are stackable, reducing the unit's footprint. These incubators could also be used for enzyme reactions and deactivations, hybridizations, ligations, oocyte storing, and other lab incubation applications.
Torrey Pines Scientific, Inc.
Materials and Chemicals
Epoxy Has High Temperature Resistance
The EP17HTDA-2 is a one-component epoxy for bonding, sealing, and die attachment. It features a service temperature range of –80°F to 600°F (–62°C to 316°C). It has a low coefficient of thermal expansion and is electrically insulative. The epoxy does not require mixing, and it cures in the temperature range of 300°F to 350°F for 4–5 hr with minimal shrinkage. After curing, it features a tensile modulus of over 1,100,000 psi. It can withstand chemicals such as acids, bases, salts, fuels, and oils, among others.
Master Bond
Operations and Maintenance
Biodegradable Grease Meets Environmental Guidelines
The Bio-High Temp 180 extreme pressure (EP) grease — suitable for electric motors, pumps, and other equipment — is a multipurpose lithium complex grease. The formulation has a high-viscosity index base oil and lithium complex thickener, which allows for a high load-carrying capacity and resistance to water and corrosion. It has high-temperature properties and good mobility in cold temperatures. It adheres to the U.S. Environmental Protection Agency (EPA) 2013 Vessel General Permit (VGP) guidelines for environmentally acceptable lubricants for use in hydraulic systems where low toxicity, biodegradability, and non-bioaccumulation properties are required.
Renewable Lubricants
Vacuum Gripper Utilizes Communications Interface
The CVGL and MVG vacuum grippers are suitable for handling parts of various sizes, weights, and materials. The CVGL gripper is lightweight and adaptable, while the MVG offers configurability based on the application. They allow for three multistage vacuum pump configurations: non-piloted, piloted, and communicating. The communicating configuration, obtained by integrating the CMS HD VX multistage pump version, allows for continuous diagnostics and centralized parameterization.
COVAL Vacuum Technology Inc.
Environmental, Health, and Safety
Battery Storage Allows for Safe Transport and Storage
The Lithium-Ion Stations enable safe storage of new, questionable, damaged, defective, or end-of-life lithium-ion batteries typically found in small handheld devices. The storage station is available in two standard sizes, allowing for the storage and transportation of batteries from 1 kg to 10 kg, up to 100 W. It features up to two hours of fire resistance and has integrated forklift pockets for easy relocation. The storage unit has thermo-dissipative media for Class D fires, as well as visual identification on the sides to alert emergency personnel of its contents and hazards.
DENIOS
Safety Gloves Reduce Fatigue and Strain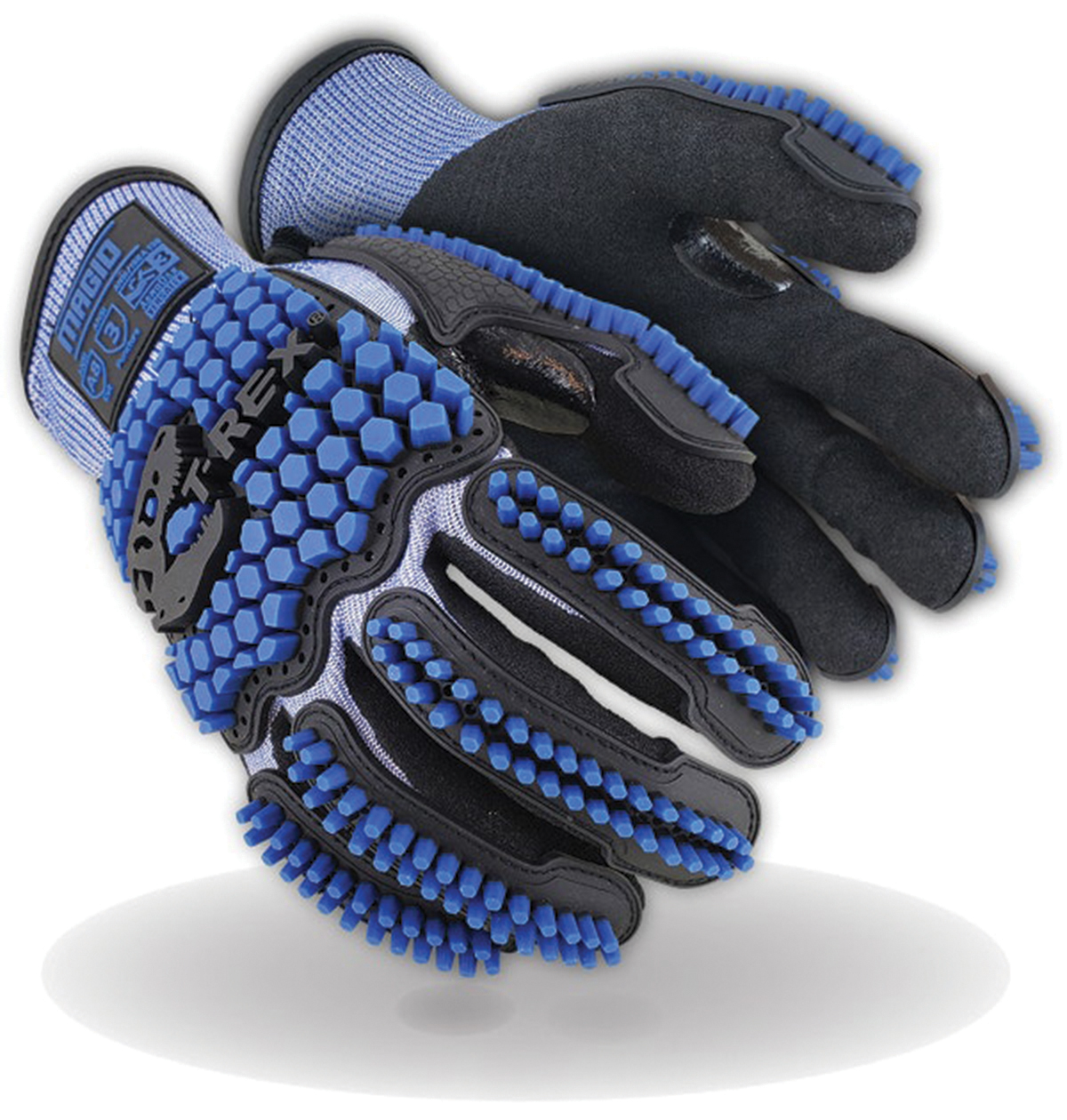 TRX883 gloves offer Level 3 impact protection. The thermoplastic rubber (TPR) provides a high degree of safety while reducing discomfort and fatigue. The thinness and malleability of the TPR, despite its considerable durability, reduces the strain on operators' hands. To meet the qualifications for a Level 3 safety rating, these gloves transfer an average force of 4 kN or less onto an operator's hands in the most severe impacts. The TPR's honeycomb pattern provides increased dexterity and thicker deflection points. These gloves are also American National Standards Institute (ANSI) Level A8 cut resistant, despite being 50% lighter than other comparable gloves.
Magid Glove & Safety Manufacturing Co.
Software
Platform Connects Machines in Single Interface
The Talk2M Visualization platform allows operators to monitor process data from multiple machines through a single dashboard. The platform generates reports summarizing past operating conditions and data trends, which helps predict future issues to preempt equipment failure and long periods of downtime. Users can set alarms to notify machine operators of deviations from process setpoints. The platform receives data transmitted from the company's sensors and can connect any number of machines.
Ewon
Vacuum Pump Management System Enables Control Over Individual Pumps
The Multi-VAControl system allows operators to manage, monitor, and synchronize individual vacuum pumps within larger central vacuum systems. The system provides personnel with useful process data and system control to help improve energy efficiency. Data is collected from each vacuum pump and transmitted to an interface where operators can monitor pump performance data in real time. Operators can use process data and programmed warnings to detect operational issues, avoiding unnecessary and costly downtime. The system is scalable and easily integrates new pumps.
Leybold
Copyright Permissions
Would you like to reuse content from CEP Magazine? It's easy to request permission to reuse content. Simply click here to connect instantly to licensing services, where you can choose from a list of options regarding how you would like to reuse the desired content and complete the transaction.