Instrumentation
Condition Monitor Improves Asset Management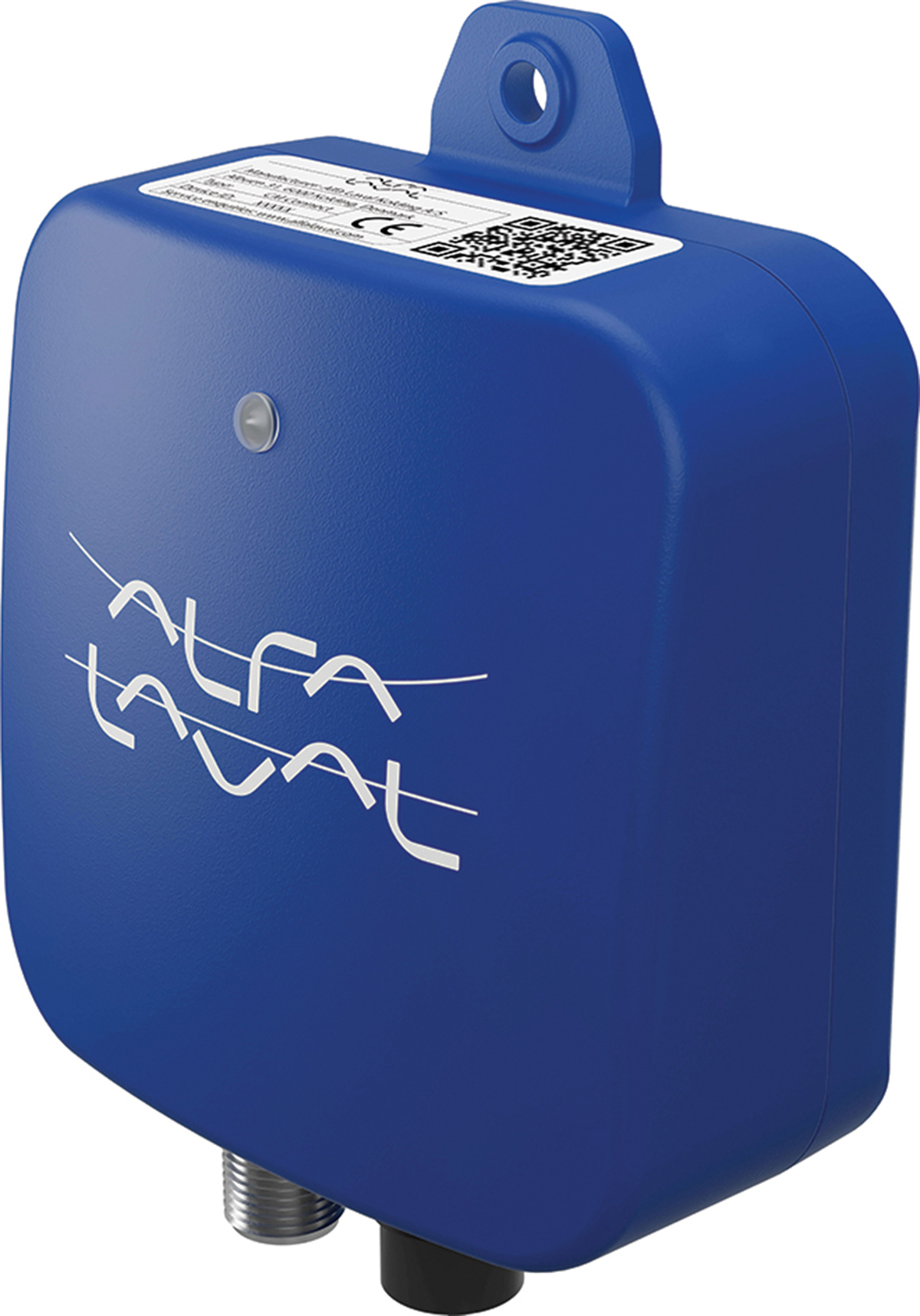 The CM Connect is a subscription-based condition monitor and cloud gateway. It allows plant operators to remotely access the data of rotating equipment, including runtime, trend analysis, and servicing, to make informed maintenance decisions. Complete visibility of connected assets helps operators to detect issues that impact future performance, prevent unplanned downtime, and improve asset management. The condition monitors use advanced vibration analysis to detect any deviation from equipment setpoints. In addition, the monitors communicate via Bluetooth and transmit data over a 4G cellular network to the cloud for review and analysis on an intuitive, user-friendly dashboard.
Alfa Laval
Vacuum Controller Offers Connectivity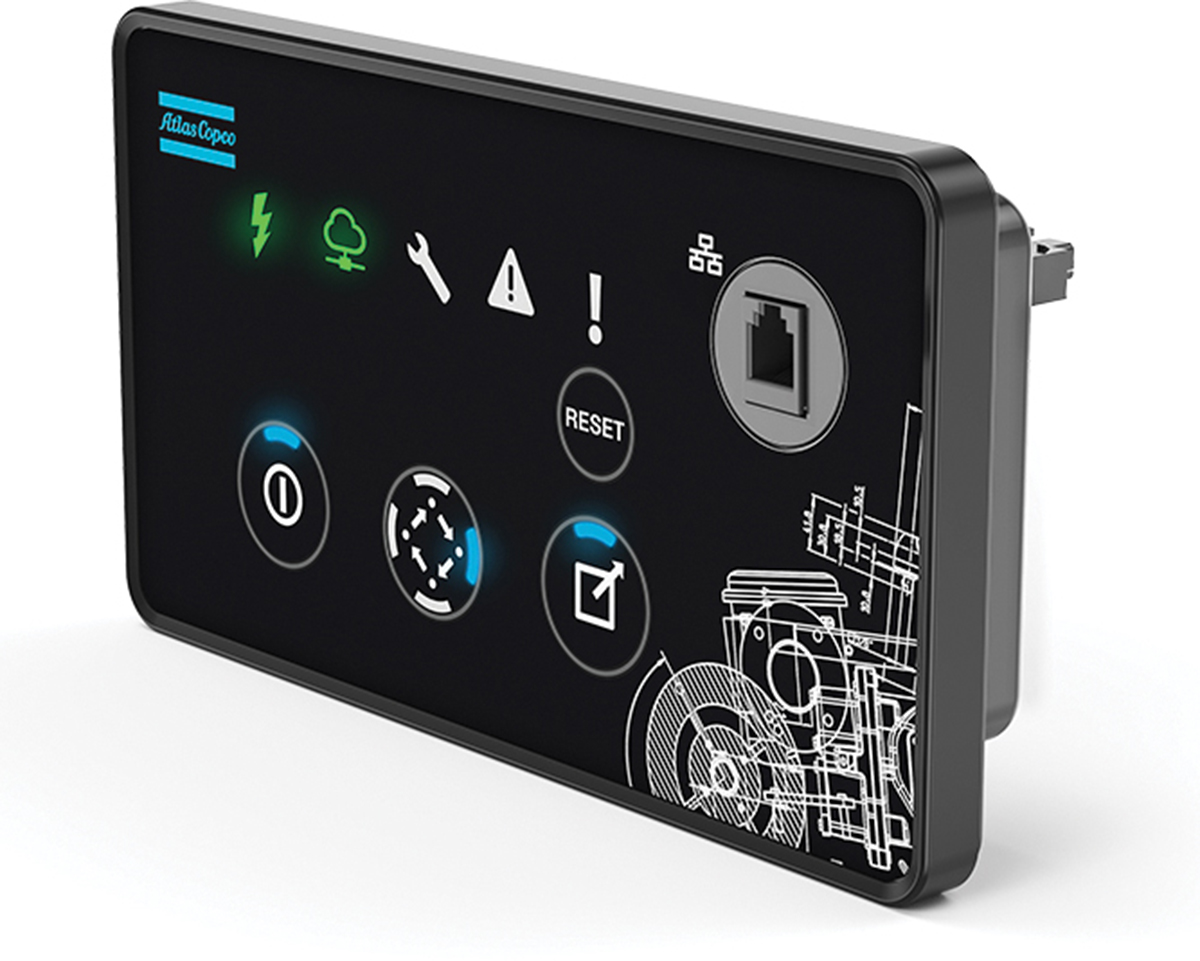 The HEX@ vacuum controller is suitable for Industry 4.0 processes. The controller has an intuitive user interface that displays key data directly on the home screen and provides quick access to settings and controls. The controller displays uptime, performance, ECO, and health statuses to evaluate the vacuum system. The uptime status indicates the availability of the pump and pump runtime without failure. The performance status indicates if the pump is achieving the required vacuum targets set by the user. The ECO status provides information about the efficiency potential of the vacuum pumps. The health status evaluates failures and measurements to indicate when service is needed. In addition, users can remotely access the unit using mobile devices and desktops.
Atlas Copco
Toxic Gas Detector Operates in Extreme Environments
The Rosemount 936 open-path toxic gas detector uses ultraviolet technology to detect hydrogen sulfide and ammonia in extreme environments. Extreme environments include both heavy vibration conditions and operating temperatures ranging from –55°C to 65°C (–67°F to 149°F). Hydrogen sulfide and ammonia are two of the most common toxic gases in industrial facilities. Hydrogen sulfide is immediately dangerous to life and health at 100 ppm and ammonia irritates skin, eyes, nose, and the respiratory tract at 130 ppm. The gas detector uses xenon flash technology that has a high tolerance for misalignment between the beam and receiver, enabling quick installation to streamline project schedules.
Emerson
Software
Artificial Intelligence Tool Analyzes Image Feeds
The Vision AI Assistant is an image classification analytics tool that transforms existing image feeds into actionable industrial data. The artificial intelligence (AI) tool converts video and images from existing general-purpose cameras into user-friendly information and timely alerts. The tool uses deep learning to train and deploy AI models that improve operations and situational awareness. It detects visual anomalies, assesses quality, and monitors production.
AVEVA
Operational Management Platform Is Available in Cloud-Based Version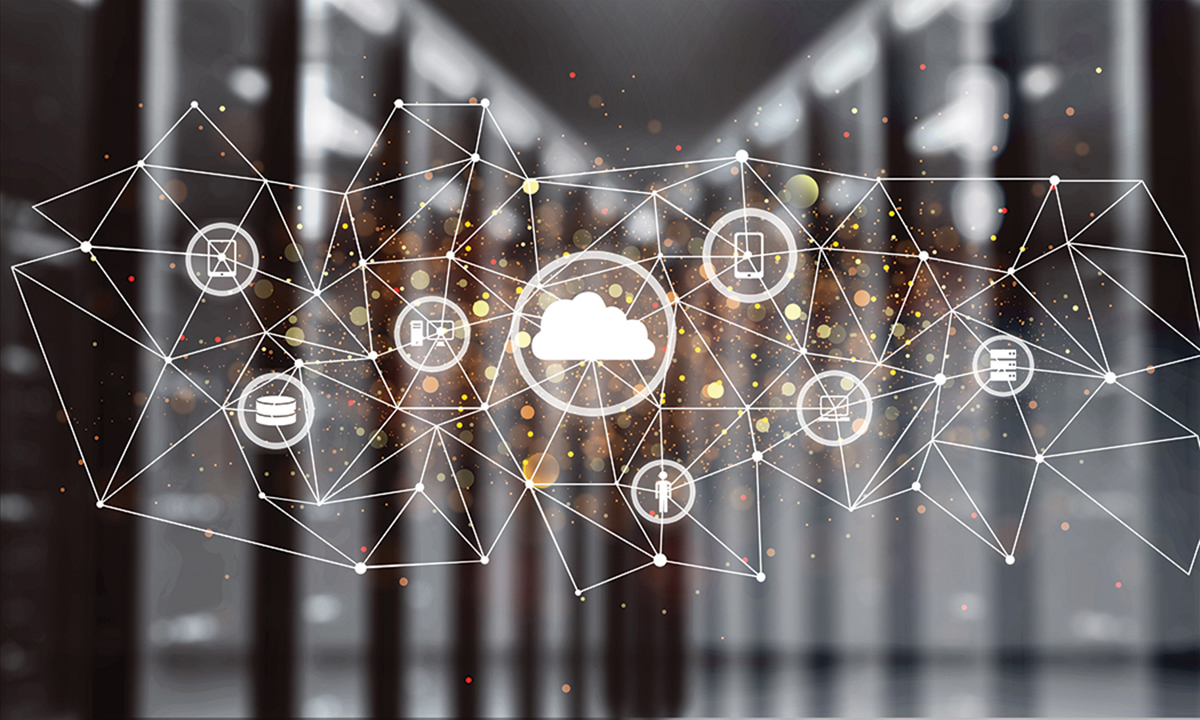 The OpreX platform is now available in a Cloud edition. It supports remote monitoring and maintenance of operational technology (OT) and information technology (IT) field assets. The platform helps users determine appropriate maintenance activities for the entire system, guard against security threats, and improve production efficiency. It provides visual information on each device's performance, reliability, and security for the entire plant system to help minimize unexpected plant shutdowns.
Yokogawa
Operations and Maintenance
Fully Powered Pallet Stacker Simplifies Pallet Moving
The PowerStak high-performance pallet stacker features a powered drive to move heavy palletized loads. The compact, lightweight design and quiet operation suit a variety of work environments. An ergonomic control handle allows easy access to functions, including lift, lower, forward, and reverse. The instrument control panel includes a key switch, emergency e-stop, and battery status indicator. For operator safety, an auto-reversing belly switch protects operators from potential injury when walking the unit backward, and an automatic brake stops travel when the drive/steering handle is released. A low-speed switch reduces drive speed by 50% to give operators more precise control when working in high-traffic areas or tight corners. Six models are available in fork-over configurations for open bottom pallets or with adjustable straddle bases for any type of pallet. All models have a 2,200-lb capacity at a 24-in. load center. The pallet stacker is available with lifting heights of 62 in., 101 in., 125 in., or 150 in.
Presto ECOA Lifts
Bioprocessing
CRISPR Protein Improves Precision in Genome Editing
The Invitrogen TrueCut HiFi Cas9 is a protein for CRISPR genome editing. CRISPR genome editing is a complex process that often results in edits in unintended locations. Limiting off-target effects is critical for applications such as translational research, drug screening, and drug modeling. The protein demonstrates near-complete elimination of off-target effects compared to wild-type Cas9 in several cell types, including T cells and induced pluripotent stem cells (iPSCs), while retaining maximum on-target editing efficiency.
Thermo Fisher Scientific
Materials and Chemicals
Polymer Coating Retains Seed Treatment Active Ingredients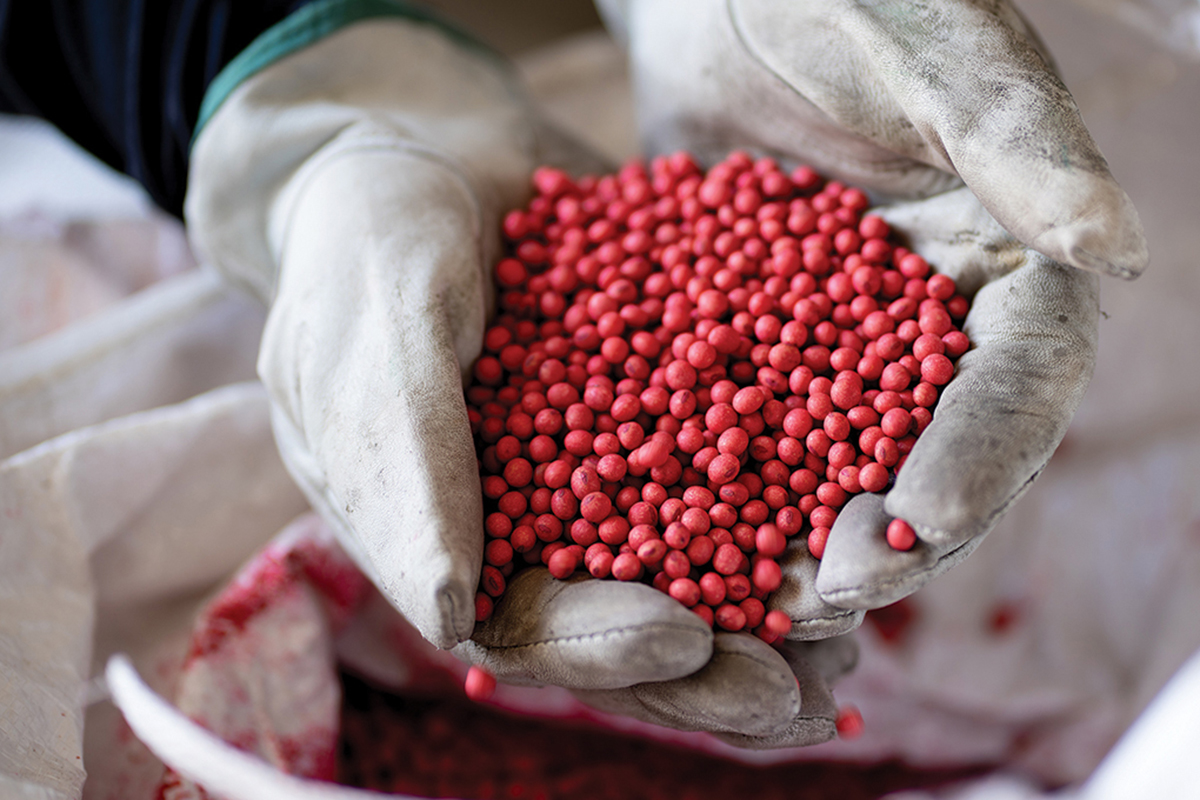 Flo Rite Pro 2805 is a coating polymer for agricultural seed treatment. The coating polymer improves the adhesion and retention of active ingredients. It enables uniform coverage and application of seed-applied insecticides, nematicides, and fungicides. The coating polymer reduces stickiness, bridging, and clumping to improve seed flowability and seed drop accuracy. The coating polymer is compatible with most fungicides, insecticides, nematicides, and inoculants.
BASF
Polybutylene Terephthalate Compounds Contain Recycled Fibers
The LNP ELCRIN WF006XXPiQ and WF0061XPiQ polybutylene terephthalate (PBT) compounds incorporate fibers diverted from industrial waste streams. The materials are reinforced with 30% pre-consumer recycled short glass fibers, offering the same mechanical properties and color equivalency as the conventional ELCRIN iQ grades. According to the mass balance approach, the glass fibers contain 100% recycled content. The LNP ELCRIN WF006XXPiQ compound contains 67% recycled content and has a 29% lower carbon footprint than virgin PBT reinforced with virgin glass fiber. The LNP ELCRIN WF0061XPiQ compound contains 55% recycled content and has a 24% lower carbon footprint than virgin PBT reinforced with virgin glass fiber. The recycled compounds are a drop-in material for current PBT and ELCRIN iQ grades. In addition, the LNP ELCRIN WF0061XPiQ compound offers nonhalogenated flame retardance.
SABIC Chemical
Fluids and Solids Handling
Mobile Flexible Screw Conveyor Includes a Bag Dump Station and Compactor
This sanitary mobile tilt-down flexible screw conveyor features a bag dump station and compactor. The conveyor transfers material from handheld bags into elevated process equipment and disposes the empty bags without generating dust. The bag dump station is mounted on a mobile frame with quick-release casters and a fold-down step; a bag disposal chute through the sidewall of the hopper hood allows operators to pass empty bags directly into the bag compactor. The compactor has a pneumatic air cylinder that compresses 50–80 empty bags into a removable bin. The hopper discharges into an enclosed, 15-ft (4.6-m) flexible screw conveyor that handles bulk solids. Dust generated from both dumping and compaction is drawn into the two cartridge filters.
Flexicon
Micropump Provides Gentle Dispensing
The i-FILL micropump is a precision liquid dispensing pump. It provides precise, repeatable dispensing of volumes from 100 μL to 15 mL in a single stroke. Larger volumes are possible with multiple strokes. The micropump delivers liquid filling accuracy within 0.5% of the desired volume. The hybridized design incorporates aspects of diaphragm and piston pumps, offering gentler and more reliable dispensing than peristaltic pump technology. Because rollers do not squeeze liquids in the pump, sensitive materials are not damaged when flowing through the tubing. The design maintains the integrity of tubing throughout the process, prevents tiny fragments of tube from breaking off to preserve product quality, and eliminates shearing. The pump dries and does not drip between dispensing batches to avoid product loss at the end of a batch run. In addition, the pump allows multiple fill profiles to be stored as recipes and reused to streamline production and product changeover.
Intellitech Inc.
Dispenser System Provides High-Precision Material Coating
The Rotorspray vipro-SPIN provides high-precision, uniform material coating of boreholes and internal threads. The spinner head has a conical inner geometry that suits vertical and horizontal orientation. The system uses a volumetric dispensing system instead of a time-pressure system to avoid over- or under-dispensing. The system sprays single-component materials as well as two-component materials. The spinner head and dispenser are disassembled easily to streamline the cleaning of the components. Four different spin heads are available to accommodate coating of interior cylindrical surfaces with diameters from 16 mm to 50 mm.
ViscoTec
Multi-Shaft Mixer Streamlines Powder Dispersion into Liquids
The VersaMix multi-shaft mixers are now available with solids/liquids injection manifold (SLIM) technology. SLIM technology enables fast and efficient large-scale powder dispersion into low-viscosity liquids, such as resins, oils, melted waxes, emulsions, and aqueous solutions. The mixer creates a powerful suction that draws solids directly into the high-shear zone. This method of material addition accelerates powder wet-out and significantly minimizes issues such as agglomeration (fisheyes), floating powders, and dusting. The second agitator is a two-wing anchor equipped with hinged Teflon scrapers for consistent heat transfer across the vessel sidewalls and bottom, which can be jacketed for temperature control. In addition, the mixer is available with a third agitator option, such as a sawtooth disc blade or a screw auger.
Charles Ross & Sons, Inc.
Vibratory Tables Are Available in Several Models
These vibratory tables are used for settling product contents in drums, bulk bags, portable bins, bulk boxes, and other applications. The tables are air- or electric-powered and handle load capacities up to 10 tons. Several models are available, including jogger tables, light-duty tables, flat-deck tables, flat-deck tables with scales, grid-deck tables, grid-deck tables with rollers, and grid-deck tables with scales.
Best Process Solutions, Inc.
Engineering Services
Facility Expands Flow Calibration Capabilities
The flow calibration center in Houston, TX, offers accredited calibration services for flowmeters, helping customers with compliance while reducing costs and increasing uptime. The Houston center has a new flow calibration rig that expands calibration capabilities. The rig services customers' flowmeters, including those from third-party vendors, and expands flow capabilities to 12-in. line sizes and up to 1,750 gal/min. The calibration rig services Coriolis (standard and premium calibration), electromagnetic, vortex, ultrasonic in-line, and ultrasonic clamp-on flowmeters. The facility offers expedited calibration, providing turnaround in one to three days, as well as flowmeter cleaning services.
Endress+Hauser
Copyright Permissions
Would you like to reuse content from CEP Magazine? It's easy to request permission to reuse content. Simply click here to connect instantly to licensing services, where you can choose from a list of options regarding how you would like to reuse the desired content and complete the transaction.