Software
Cloud-Based Platform Advances Employee Development
Unified Learning is a cloud-based learning platform for employee development. It helps organizations advance industrial workers from novice to expert by using custom and generic experiential training modules, such as the company's Process Competency Training and Pipeline Competency Training. The platform provides access to a vast portfolio of training and simulation applications in a single hub, including eLearning, video content, and simulation-based learning programs.
AVEVA
Vacuum Management Platform Simplifies Maintenance
Virtual Service Management (VSM) is a free platform for managing vacuum equipment from different manufacturers. Users can consolidate vacuum equipment data and operating instructions from different locations and departments. It provides a clear display of units and vacuum components to simplify planning and documentation (e.g., service activities, maintenance, and repairs). Customers can also store additional information, such as maintenance intervals, the average running time, and the last service date. The platform organizes servicing and maintenance intervals and aligns maintenance activities to reduce system downtimes. Each vacuum component is uniquely identified via an ID code and QR code. A mobile app is also available for Android and iOS devices. Users can scan the QR code on smartphones or tablets to view equipment details.
Pfeiffer Vacuum
Instrumentation
Furnace Tracker System Delivers Accurate Temperature Profiles
The Datapaq furnace tracker system provides thermal profiles for furnace equipment. It provides real-time temperature profiling to ensure process specifications, improve performance and system accuracy, and reduce temperature uniformity survey (TUS) reporting times. The system includes data loggers, thermal barriers, and the intuitive Datapaq Insight software. The data logger is fully waterproof and equipped with Bluetooth communication for quick setup from either a PC or mobile device. The system is available in several models with 10 thermocouple channels or 20 thermocouple channels to accommodate a wide range of furnace applications.
Fluke Process Instruments
www.flukeprocessinstruments.com
Sensor Warns of Threats to Industrial Operations
The Saber is an operational threat sensor for industrial asset and network monitoring. It provides operational technology (OT) visibility in a wide range of industrial control system (ICS) environments, from remote substations to global manufacturing. The palm-sized device mounted on a small, nimble platform enables secure operation of ultra-small DIN rail-sized hardware.
SynSaber
Operations and Maintenance
Access Platforms Improve Worker Safety
These anti-slip access platforms allow workers to safely reach elevated process equipment, eliminating the need for ladders, scissor lifts, and forklift cages. The modular system includes braced frames that can be bolted to the floor and stairways with elevations up to 96 in. (2.4 m). Upper grab rails and mid-height rails bolted to stairway stringers and deck perimeters, auto-closing hinged safety gates, and anti-slip grating on treads and decks improve personnel safety. The 48-in.2 (1220-mm2) deck sections can be arranged to construct customized elevated walkways and extended areas based on equipment configurations and plant layouts. Control panels can be mounted to the frame, allowing operation of equipment at various elevations.
Flexicon
Environmental, Health, and Safety
Safety Gloves Protect Against Harmful Chemicals
The SmartSkin nitrile gloves are coated with two layers of nitrile butadiene rubber (NBR) for extra protection and grip. Nitrile protects against chemicals, oils, and most harmful cleaning solvents, and it has three times the puncture resistance of latex. The gloves are constructed of a thin-gauge, 0.018-in. nylon shell fully coated in NBR. A second coat of NBR on the fingers and palm has a sandy finish to enable grip in wet conditions. The second coat also improves resistance to abrasions, tears, and punctures in critical wear areas.
Brass Knuckle Safety Products
www.brassknuckleprotection.com
Continuous Emissions Monitoring System Simplifies Environmental Compliance
The Rosemount XE10 continuous emissions monitoring system (CEMS) helps industrial facilities meet increasingly stringent environmental regulations and evolving sustainability goals. It uses performance analytics and automated validation capabilities to deliver accurate, real-time emissions monitoring and reporting, reducing the risk of noncompliance shutdowns and penalties. It offers fully automated calibration that facilitates drift checks to ensure reliability and operational performance. The system supports up to three gas analyzer modules. Each module can accommodate different measurement ranges for various gas components, including CO, NOx, SO2, CO2, and O2. In addition, the system is compliant with the emissions reporting requirements of the U.S. Environmental Protection Agency (EPA).
Emerson
Fluids and Solids Handling
Double Planetary Mixer Is Suitable for Viscous Applications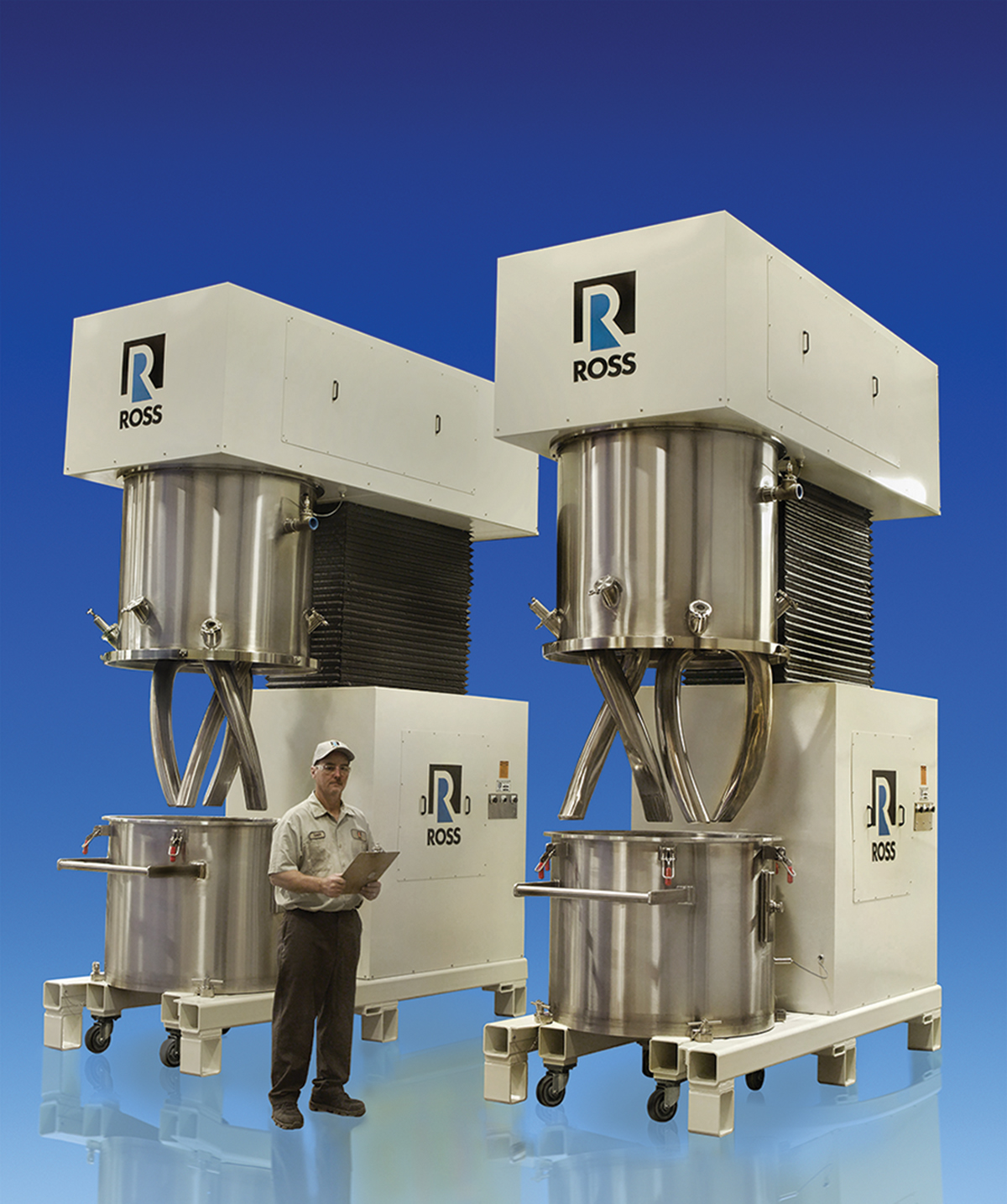 The Model DPM-200 double planetary mixer is suitable for high-precision mixing, granulation, and vacuum drying. The high-viscosity (HV) blades work in tandem to knead and mix from a vertical orientation, augmented by large shafts and heavy-duty bearing spreads. The mixer is suitable for tough-to-mix formulations with viscosities of 6 million cP or higher. In addition, a heavy-duty fabricated gearbox provides stability and delivers smooth planetary movement of the stirrers as they orbit a common axis.
Charles Ross & Sons, Inc.
Metal Tubing Resists Corrosion
The Super Duplex tubing offers high strength and corrosion resistance. It is suitable for heavy-duty oil and gas, subsea, and chemical process applications, within heat exchangers, flowmeters, downhole pressure housings, and smart wells. The tubing is constructed of stainless steel and nickel alloys that can withstand pressures up to 100,000 psi. It is available in straight lengths that can be seamless cold redrawn and annealed to suit customer specifications. Typical outer diameter tubing sizes range from 3 mm to 31 mm (0.040 in. to 1.25 in.).
Fine Tubes
Electric Actuator Suits a Variety of Valve Applications
The Series 19 electric actuator is available in smart and basic options, as well as three sizes to meet most valve torque requirements. The multi-voltage, general-purpose unit operates at a 75% duty cycle for frequent valve cycling. The Series 19 SAV Smart Pack is controlled by firmware and is available as an on/off, failsafe, modulating, and modulating-failsafe unit. It mounts on the company's Type-21/21a Seat Support Technology (SST) ball valves, Type-23 Multiport ball valves, and Type-57 Series butterfly valves. The smart actuator features push buttons for actuator calibration and local control, an organic light-emitting diode (OLED) screen, and fault contacts. The Series 19 CAV Com Pack is a mechanical actuator that is available as an on/off unit. The actuator mounts on the company's Type-27 Omni ball valve (sizes 3/8 in. to 2 in.) to provide smooth operation in a compact and lightweight package. Both actuators feature a QR code for easy and instant access to user manuals.
Asahi/America, Inc.
Dispensing Pump Handles Abrasive Materials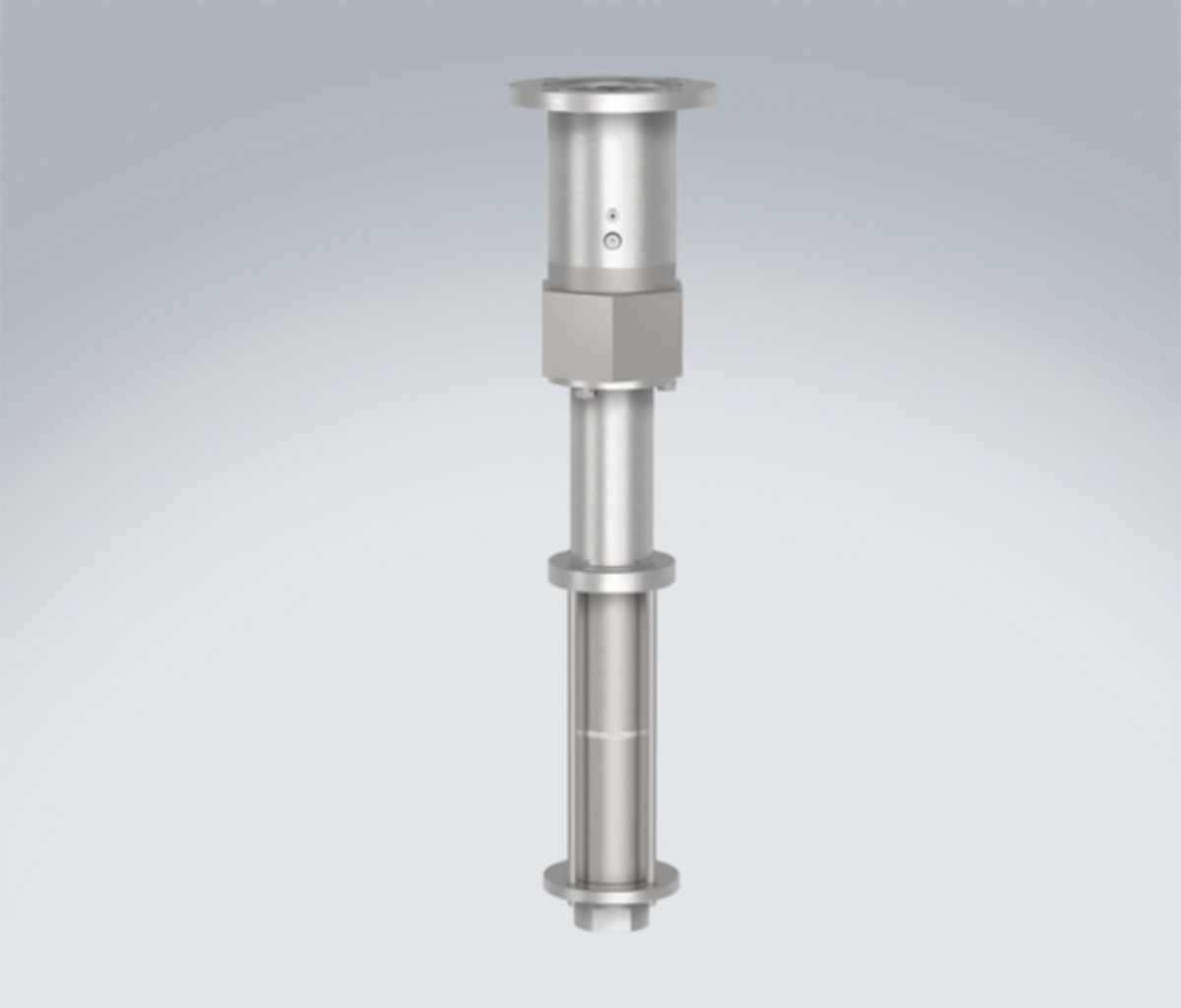 The 2VMP22-3D pump dispenses single-component fluids and pastes in large volumes. The stators are available in different elastomers, making the pump suitable for applications with abrasive or chemically aggressive materials. The pump can be integrated into barrel emptying or material treatment systems for 20–200-L containers, or it can serve as a standalone dispensing pump. Quick assembly and disassembly ease cleaning and maintenance.
ViscoTec
Belt Alignment Control Improves Conveyor Operation
The Model TA is a rugged belt alignment control that indicates when a conveyor belt has drifted to a dangerous misalignment condition. It is suitable for belt conveying systems, wastewater filter presses, biomass transfer conveyors, and associated equipment. The alignment control includes 20-A single-pole, double-throw (SPDT) or 15-A double-pole, double-throw (DPDT) microswitches to support four separate output functions. A cast aluminum housing with an optional epoxy coating is available for corrosive environments.
Conveyor Components Co.
Peristaltic Pump Has Long Service Life
The Qdos Conveying Wave Technology (CWT) pump uses peristaltic action that offers a longer service life than traditional tube-based designs. The pump design provides consistently high accuracy for flowrates from 0.1 mL/min to 500 mL/min. It prevents vapor locking and delivers stable, reliable performance, even with fluctuations in ambient temperature and pressure. In addition, the pump has a user-friendly keypad and thin-film-transistor (TFT) display.
Watson-Marlow Fluid Technology Group
Laboratory Equipment
Desktop Scanning Electron Microscope Simplifies Material Characterization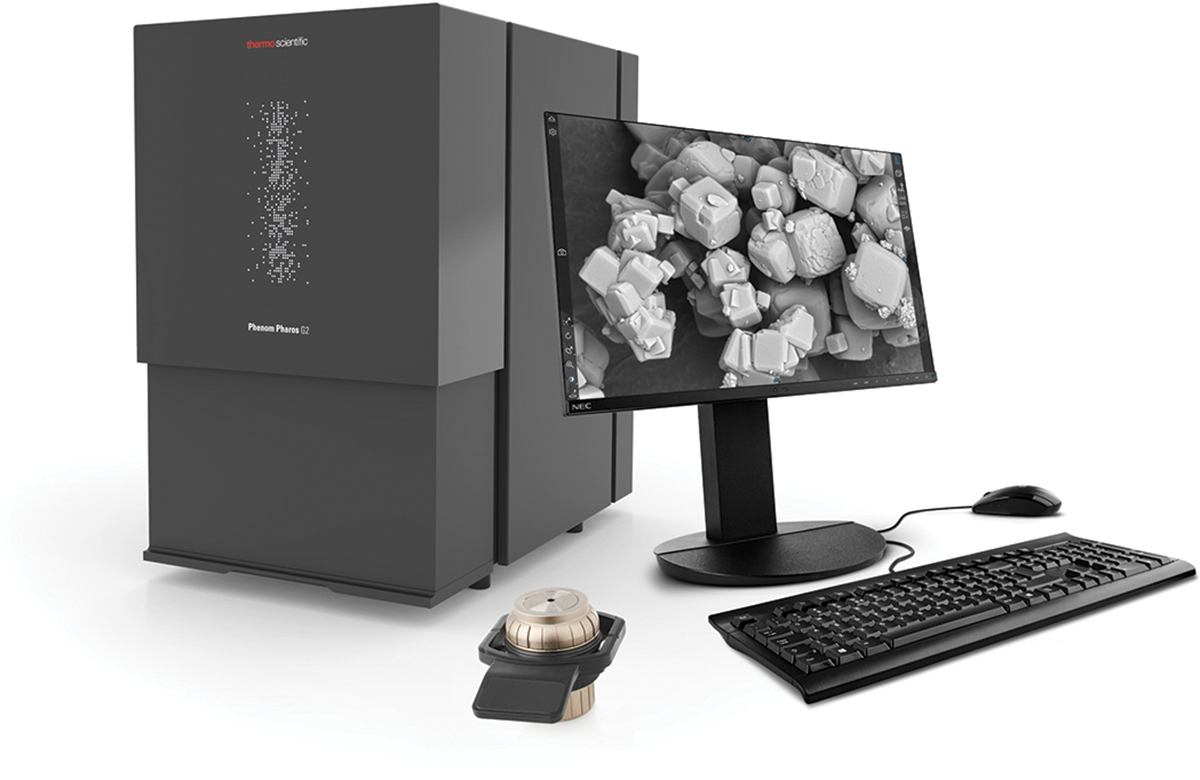 The Phenom Pharos G2 desktop field emission gun-scanning electron microscope (FEG-SEM) allows researchers to conveniently characterize a wide range of nanoparticle size, shape, and chemical composition at high resolution. Users can obtain high-resolution images of metal, mineral, and ceramic nanomaterials at 2 nm in 30 sec for high sample throughput. The instrument can also image soft, beam-sensitive, or insulating samples at energy levels as low as 1 kV, obtaining high-resolution views of polymers and multilayer organic films without damaging or obscuring nanoscale features. An acceleration voltage range of 1–20 kV enables imaging of a wide range of samples. A 24-in. monitor simplifies use and reduces human error when organizing workflows.
ThermoFisher Scientific
Materials and Chemicals
Biobased Moisture Transmission Film Is a Sustainable Option
Green KTF is a biobased microporous film with pores large enough to allow water vapor to pass but small enough to block water droplets. The biobased film functions as effectively as conventional KTF, but approximately 90% of the material is sourced from natural products, such as calcium carbonate and plant-derived polyethylene. The process to produce the film emits approximately 30% less carbon dioxide than production of the conventional product.
Mitsubishi Chemical
Thermoplastic Compound Has Excellent Electrical Insulation Properties
The VESTAMID LX9050 OR polyamide 12 (PA12) compound is an electrical insulation and fire-retardant thermoplastic. The compound can be processed via extrusion or injection molding. It features high elasticity to simplify shaping after extrusion. The compound uses halogen-free flame retardants, making it suitable for many applications. The compound is particularly suitable for electric vehicle (EV) battery insulation. It has a UL94 V-0 flammability rating and can be used for electrical insulation up to 1,000 V and above.
Evonik
Recyclable Polyethylene Terephthalate Film Is Compatible with Existing Equipment
KpNext is a recyclable polyethylene terephthalate (PET) blister film for pharmaceutical packaging. Pharmaceutical companies can use the film as a drop-in replacement of conventional films on their form, fill, and seal (FFS) equipment with no loss of line speed or need to retool. The film is produced from a globally recyclable material and can be recycled in the resin identification code (RIC) #1 PET stream.
Klöckner Pentaplast
Bioprocessing
Purification Kits Streamline Nucleic Acid Purification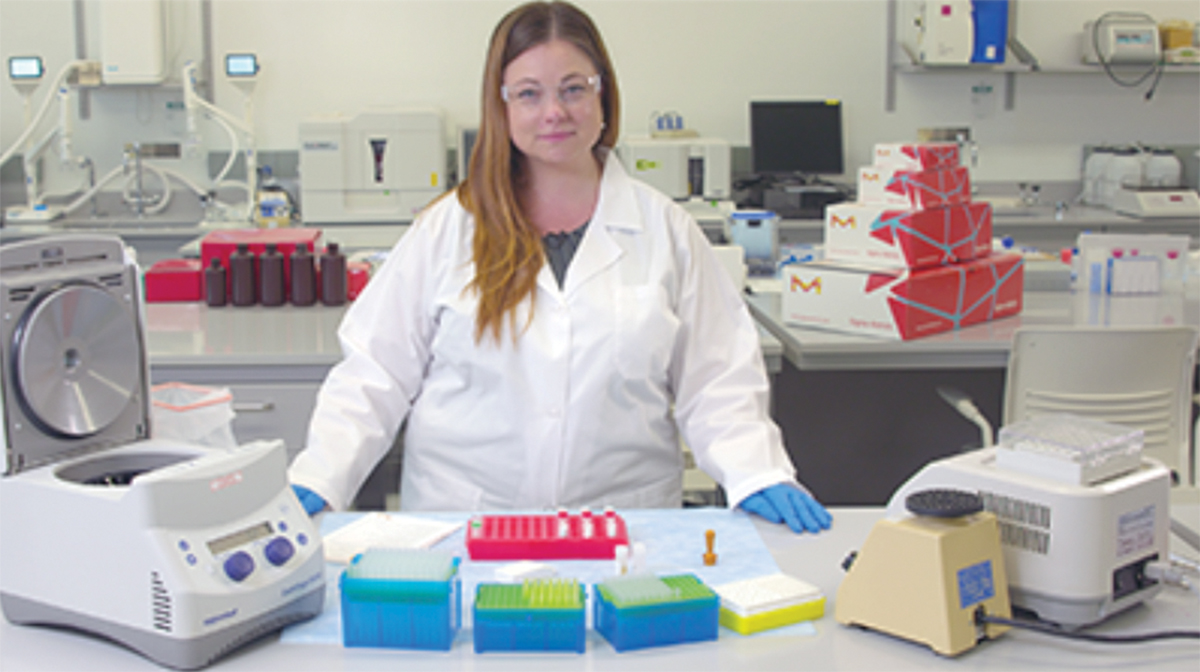 The GenElute-E single-spin kits improve nucleic acid purification. Nucleic acid purification is an essential step in virus detection and surveillance, research and therapeutic development, and wastewater testing. The kits use negative chromatography technology, which separates molecules in the sample by size, eliminating the multiple binding and wash steps commonly required for purification. While traditional silica-based purification requires about 45 min of hands-on work, the kits reduce this time to only 3 min. Application-specific SmartLyse enzymes perform lysis in 10–40 min, eliminating the need for overnight processing of complex samples. In addition, the kits produce 55% less plastic waste than traditional silica-based methods.
MilliporeSigma
Copyright Permissions
Would you like to reuse content from CEP Magazine? It's easy to request permission to reuse content. Simply click here to connect instantly to licensing services, where you can choose from a list of options regarding how you would like to reuse the desired content and complete the transaction.