Instrumentation
System Efficiently Controls Compressed Air Stations
The Airtelligence Provis 3 is an intelligent control system that can manage an unlimited number of compressors and accessory components. It uses high-performance control algorithms to optimize compressor use based on consumption and avoid energy-intensive over-compression. Users control any number of compressed air networks with the 15.6-in. touchscreen display and can also access the web-based data on any PC, tablet, or smartphone. In addition, this control system can be easily incorporated into existing information technology (IT) infrastructures.
BOGE
Sensor Monitors Conveyor Belt Speed
The Model Belt Speed Detector (BSD) monitors the speed of a conveyor belt and detects when a belt has slowed or stopped moving altogether. It can be used for overspeed, underspeed, or zero speed control. It protects interlocked conveyor belts and can shut down rotating equipment before damage occurs, especially if one of the belts fails from overload or stops because of tearing. The detector is shielded between the top and bottom of the conveyor belt and can be wired into several different types of controllers, including a programmable logic controller (PLC) or a distributed control system (DCS). The unit has a carbon steel frame with a safety-yellow polyester powder coating.
Conveyor Components Co.
Pressure Transmitters Accommodate Many Applications
The PxS100 pressure transmitters have a flexible design that can be rapidly configured to service a variety of applications, including water, wastewater, metals, and pulp and paper processes. The pressure transmitters feature abrasion-resistant technology that protects the metallic diaphragm and extends its working life. The compact, stainless steel housings have several ingress protection (IP) ratings — including IP66, IP67, IP68, and IP69K — to ensure operability in settings with high humidity or high levels of dust. The IP ratings also ensure suitability for clean-in-place applications in the food and beverage sector. The pressure transmitters are available in both gauge and absolute sensor variants and in five different measurement ranges between 40 mbar and 100 bar.
ABB Group
Software
Platform Manages Unmanned Aircraft Systems
The Enterprise Energy Solution is an unmanned traffic management (UTM) program that allows energy organizations to plan, schedule, operate, and monitor unmanned aircraft system (UAS) operations. It runs on the company's secure, cloud-based Air Mobility Platform and integrates all critical inspection needs into a single ecosystem with automated technology. It provides digital compliance, situational awareness of airspace and assets, emergency response capabilities, analytics, and asset performance tools in one platform to simplify UAS management.
AiRXOS
Augmented Reality Application Connects Remote Teams
Avatar CONNECT is a user-friendly application that uses augmented reality (AR) to connect remote team members. It facilitates collaboration anywhere in the world to improve design, field coordination, installation, project management, quality control and assurance, productivity, safety training, and maintenance across multiple industries. The application allows onsite team members to share real-time views of equipment and work environments with up to 15 remote concurrent users in multiple locations. With AR features and 3D annotation, team members can provide relevant work guidance by virtually viewing and drawing on objects using a tablet or PC. The platform is compatible with iOS/OS, Android, and Windows 10 systems.
AVATAR Partners, Inc.
Materials and Chemicals
Alkaline Detergent Generates a Thick, Stable Foam
DART 444 is a chlorinated, moderately alkaline detergent that can be used as a general-purpose foaming cleaner. It performs well in most water conditions and can produce a thick, stable, wet foam without dry-out or run-off when used in a foam generator. The detergent is ideal for cleaning vertical or overhead surfaces, especially machinery surfaces that are difficult to reach. It is suitable for cleaning ferrous and stainless surfaces, as well as most copper alloys. It can be easily rinsed off without streaking. The detergent is acceptable for use in food and beverage facilities as an A1 general cleaning agent on all surfaces.
Madison Chemical
Polymer Material Can Replace Polyamide-Imides
THERMEC K is a cost-efficient polyether ether ketone (PEEK) that is blended with a solid polymeric lubricant. It is designed to replace polyamide-imides (PAIs) without affecting performance. The polymer material is suitable for numerous industrial applications. In particular, it is suitable for applications requiring low wear, low friction coefficients at temperatures up to 200°C, and resistance to high load-bearing conditions, such as bushings and bearings, pump and valve components, and food-processing machinery components. In addition, it has a density (1.32 g/cm3) lower than that of PAI solutions (1.42 g/cm3).
DOMO Chemicals
Laboratory Equipment
Liquid Chromatograph Mass Spectrometer Increases Laboratory Output
The LCMS-8060NX triple-quadrupole liquid chromatograph mass spectrometer (LC-MS/MS) features high sensitivity and acquisition speeds. The device is designed to increase the desolvation efficiency and promote strong ionization over a wide range of compounds. It expels neutral particles to reduce noise and provide the highest stability. The system's UFsweeper technology effectively sweeps ions from the collision cell without deceleration to maintain high-sensitivity analysis even at high acquisition speeds. The system maintains high ion transmission efficiency to increase the maintenance interval times, which improves laboratory throughput. In addition, the consumable parts such as the electrospray ionization (ESI) spray needle and the inlet desolvation line (DL) can be changed quickly and easily without breaking vacuum.
Shimadzu Scientific Instruments
Programmable Vacuum System Automates Cold-Mounted Sampling
The SimpliVac vacuum system expedites the impregnation of porous samples in cold-mounting epoxy resins. It quickly and efficiently pulls a vacuum to evacuate trapped air from any porous samples to optimize edge retention and help process delicate samples. It uses programming and automation to streamline sample impregnation and speed production run testing. The device can be programmed to select the number of cycles, vacuum level, and time under vacuum. This allows technicians to perform multiple tests at one time and significantly reduces process times by eliminating the need for lengthy manual restarts. It has a large chamber and sample tray that can accommodate large samples. In addition, the vacuum system requires minimal installation and set-up time.
Buehler
Analyzer Measures Fluorine Content in Wastewater
The Profiler wastewater analyzer accurately measures the total fluorine concentration in liquid samples with high sensitivity. It uses combustion technology to determine the covalently bound organic fluorine in the presence of a 25-fold higher free fluorine background. The analyzer simultaneously quantifies the total fluorine and free fluoride present in wastewater. It assists water treatment facilities in complying with fluorine discharge levels and avoiding environmental violations.
Metrohm USA
Ion Chromatography System Simplifies Water Analysis
The Dionex Easion ion chromatography (IC) system simplifies the routine anion and cation analysis of drinking water. The IC system encompasses a single flow path, simplifying both operation and maintenance to allow operators to focus on sample analysis rather than system setup and optimization. It is equipped to run out of the box, including the columns, suppressor, and consumable items required to perform IC separations. The system design eliminates the need for peristaltic and auxiliary pumps, which lowers analysis costs and reduces the downtime associated with system servicing. Optional preconfigured kits for analysis are available to further simplify system setup and operation.
ThermoFisher Scientific
Fluids and Solids Handling
Rotary Electric Vibrators Provide Durable Performance
These heavy-duty, rotary-electric vibrators and drives are designed for bins, hoppers, chutes, screeners, vibratory feeders, conveyors, tables, and other vibratory applications. They can operate continuously at maximum-force operation — from 30 lb to 40,000 lb. The vibrators feature dust-tight, splashproof motors that can perform in harsh conditions, including dirt, rain, and snow. They have a heavy-duty construction with ductile-iron castings, steel end covers, and high-alloy steel fasteners to ensure durable performance. They are available in 3,600-rpm, 1,800-rpm, 1,200-rpm, and 900-rpm models with motors from 0.02 hp to 17.5 hp. All units can be mounted horizontally or vertically.
Best Process Solutions
Mobile Processing Machine Simplifies Pilot-Scale Operations
The VENTILUS Pilot is a mobile processing machine that is designed for pilot-scale operations. This versatile, all-in-one system is well-suited for laboratories and small-scale manufacturers that handle small batches with volumes of 4–25 L. It can be used for granulating, drying, and coating particles with sizes from 10 μm to 2 mm. It requires less energy than traditional fluidized-bed processes and can also shorten processing times. The pilot-scale system is mounted on wheels and can fit through any standard doorframe. It can be freely positioned or mounted onto a wall.
Romaco Innojet
Environmental, Health, and Safety
Safety Shoe Features Durable Polyurethane Components
The PRO Reaxion safety shoe incorporates durable polyurethane materials. The safety shoe is comprised of three layers — an antifatigue footbed, a foam midsole, and a nonmarking outsole. The shoe's midsole and footbed incorporate Elastopan high-rebound polyurethane (PU) foam to offer all-day support and comfort. The shoe's outsole incorporates Elastollan thermoplastic polyurethane (TPU) with excellent antiabrasion, grip, and traction performance. These versatile features make the shoe suitable for both indoor and outdoor work. The safety shoes combine the comfort and flexibility of an athletic shoe with the performance and durability of a work boot.
Timberland
Antiviral Surface Treatment Is Long-Lasting
Si-Quat combines a safe and well-established disinfectant with a proprietary chemical binding technique to kill 99.99% of microbes and most viruses, including SARS-CoV-2. The product is noncorrosive, contains no silver salts or heavy metal nanoparticles, and is perfectly safe to touch. Quaternary ammonium is the main ingredient that protects against the novel coronavirus. The product uses positively charged nitrogen particles to attract viruses and bacteria, penetrate their membranes, and kill them within minutes. It can be applied as a layer and is effective for up to a month on frequently touched surfaces and up to years on rarely touched surfaces, such as walls. It adheres to almost any surface and can be brushed or sprayed on. The product is accepted by the World Health Organization (WHO), the U.S. Environmental Protection Agency (EPA), the American Chemistry Council (ACC), and the European Chemical Agency (ECHA).
AFFIX Labs
Operations and Maintenance
Industrial Gear Unit Provides Design Flexibility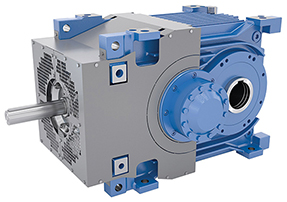 The MAXXDRIVE XT is a modular industrial gear unit that provides high output torques from 132,000 lb-in. to 2,250,000 lb-in. It is designed for heavy-duty industrial applications, such as bucket elevators, agitators, belt drives, mixers, mills, drums, and crushers. The gear unit features a rigid, one-piece unicase housing that offers a longer bearing life than gear casings that are manufactured from jointed parts. It combines high thermal and mechanical load capacities and increased bearing life to deliver reliable, efficient transport of bulk materials. In addition, its large, low-friction rolling bearings allow for extremely high axial and radial load capacities. The modular units are easily customized to suit specific applications.
NORD Gear Corp.

Copyright Permissions
Would you like to reuse content from CEP Magazine? It's easy to request permission to reuse content. Simply click here to connect instantly to licensing services, where you can choose from a list of options regarding how you would like to reuse the desired content and complete the transaction.