Materials and Chemicals
3D Printing Filament Is Suitable for Medical Implants
The VESTAKEEP i4 3DF is a polyether ether ketone (PEEK) filament for 3D printing plastic implants and other medical devices. It allows manufacturers to quickly develop custom-made plastic implants that meet the requirements of ASTM F20206 — the standard specification for PEEK polymers for surgical implants. The material is easy to handle and has excellent biocompatibility, biostability, and X-ray transparency. It has a diameter of 1.75 mm and is wound on either 250-g or 500-g spools for direct use in standard fused filament fabrication (FFF) 3D printers for PEEK materials.
Evonik
Cleaner Is Designed for Food and Beverage Processing Equipment
The ProClean PAN WASH is a moderately alkaline cleaner for use in the food and beverage processing industries. It is well-suited for use in pan washing equipment or as a soak cleaner, and for automatic washing of dairy and beverage cases. It is an acceptable A2 cleaning agent that is authorized by the U.S. Dept. of Agriculture (USDA) for use only in soak tanks with steam or mechanical cleaning devices in all areas. The cleaner is compatible with aluminum, stainless steel, and other ferrous alloys. In addition, it is effective and will rinse away freely in both hard and soft water.
Madison Chemical
Polymers Withstand Aggressive Disinfectants
The family of LNP ELCRES CRX polycarbonate (PC) copolymers offers higher chemical resistance to aggressive healthcare disinfectants than traditional polycarbonates. The materials utilize copolymer technology that enhances the mechanical properties and prevents stress cracking, which is common with frequent cleanings. In addition to chemical resistance, the nine different grades offer a wide range of properties — such as scratch resistance, flame retardancy, and biocompatibility — to accommodate specific applications.
SABIC
Software
Platform Allows Condition Monitoring for Measurement Devices
The Ability condition-monitoring platform ensures clean air operations by keeping continuous gas analyzers under control. The platform tracks the status of measurement devices and performs real-time data analysis to quickly identify problems and undesirable changes in device conditions. It allows personnel to actively monitor and manage equipment to prevent problems, which reduces emergency maintenance requirements, unplanned outages, and the potential for a safety incident. The platform can reduce the operation and maintenance costs of measurement equipment by ensuring the reliability of these devices.
ABB Group
Application Connects Teams That Work from Home
Zello is an application that provides push-to-talk capabilities to businesses with remote and work-from-home employees. The push-to-talk concept — modeled on walkie talkies — helps to maintain accountability, productivity, and personal connection. It increases communication and collaboration in businesses by making it easier to stay in touch with teams and coworkers. Employees can push to talk to other coworkers, rather than setting up a formal meeting or waiting for someone to respond to a written message. The application is compatible with all Android, iOS, and Windows devices.
Zello
Instrumentation
Free-Chlorine Analyzer Is Suitable for Hazardous Locations
The FCX80 free-chlorine analyzer is explosionproof and certified for hazardous locations in water-treatment areas where combustible gases can be present. The analyzer monitors free chlorine from 0.05 ppm to 20 ppm in drinking water, rinse water, and other freshwater samples. It is compliant with the U.S. Environmental Protection Agency (EPA) Method 334.0 for drinking water treatment. The analyzer features a plug-and-play design that is easy to install and compatible with supervisory control and data acquisition (SCADA) systems or large distributed control systems (DCSs).
Electro-Chemical Devices
Radar Level Sensor Simplifies Liquid Storage and Transport
The Micropilot FWR30 is a smart radar level sensor that continuously measures and records data in the cloud. It is an 80-GHz wireless industrial internet of things (IIoT) sensor that simplifies the storage and transport of liquids. It is suitable for measuring levels up to 50 ft at temperatures from –4°F to 140°F. The sensor features noncontact measurement that can be used in any liquid media, making it suitable for several different applications. In addition, it is resistant to corrosion, abrasion, viscosity, and toxicity.
Endress+Hauser
Analyzer Measures Hydrogen Sulfide in Crude Oil
The Model 205 analyzer provides real-time, automated measurements of hydrogen sulfide (H2S) levels in crude oil. The analyzer uses an advanced colorimetric-rateometric detector and membrane system that is capable of precise quantitative analysis in ultralow ppb, ppm, or percent levels. Accurate H2S detection is critical to maintain personnel safety, avoid cross-contamination that affects product quality, ensure compliance with state and federal regulations, and control corrosion. The device offers dependable operation and does not require field calibrations, even in the event of unexpected process changes or interruptions.
Analytical Systems Keco
Air Transducer Offers Long Measurement Range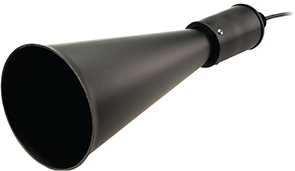 The ART15 Airducer is an ultrasonic air transducer for long-range level measurement of solids and liquids in silos, wells, wastewater facilities, and large-capacity tanks. The device can measure up to 197 ft (60 m) and is not affected by color or object transparency. It can also measure in dark environments. The air transducer operates at temperatures from –30°C to 60°C and features a built-in thermistor to measure the ambient temperature.
AIRMAR Technology Corp.
Fluids and Solids Handling
Flow Conditioners Correct for Fluid Disturbances
Flow conditioners help to minimize pressure drops from upstream flow disturbers — such as elbows, expanders, and valves — to reduce energy costs and improve pump efficiency. These process flow conditioners are designed with anti-swirl and inclined-vortex generating tabs that neutralize flow disturbances and produce a uniform, symmetrical flow profile. Flow conditioners can eliminate the need for long runs of straight pipe that would otherwise be needed to produce a symmetrical flow profile. The flow conditioners can be made from carbon steel, Type 316L stainless steel, or Hastelloy C-276 in almost any pipe size.
Vortab Co.
Recirculation Control Valve Protects Pumps
The RTK discharge and pump protection control valve is designed for industrial pumps that require a minimum amount of water flow to avoid overheating and cavitation, such as boiler feedwater and condensate pumps. It combines a pump protection recirculation valve and control valve to regulate both the main flow and recirculation flow with a single valve, reducing operational costs and extending the lifespan of pumps. In addition, the valve provides an inline-adjustable recirculation port that allows for inline valve control during pump operation.
CIRCOR International, Inc.
Environmental, Health, and Safety
Safety Boots Protect Against Chemicals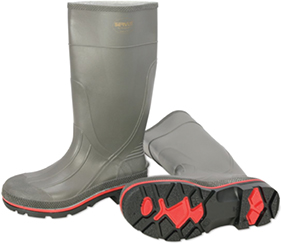 Servus is a line of safety footwear that is made of injection-molded polyvinylchloride (PVC). The footwear protects against a wide range of chemicals that are common in the petrochemical and food processing industries, including hazardous organic compounds, acids, and oils. It has a seamless, fully waterproof exterior that uses triple density technology (TDT) to prevent degradation from chemicals, as well as a tall 15-in. boot shaft to protect against large spills and splashes. It also features a ribbed steel shank and lightweight, contoured insole to elevate the arch and support the heel for a more natural stride. The safety boots are available with or without steel-toe protection.
Honeywell
Safety Cabinet Protects Personnel from Biohazards
The Purair BIO Class II, Type A2 biological safety cabinets (BSCs) provide a safe laboratory workspace using directed airflow and an integrated high-efficiency particulate air (HEPA) filtration system. BSCs are the primary containment work area for life science research, cell culture processing, and other applications where protection of the user, the work product, and the environment is needed. The safety cabinets can mitigate cross-contamination of biological systems and experiments. The BIO Class II, Type A2 BSC is suitable for working with biosafety agents at levels 1–4 and is NSF-certified.
Air Science
Cooling Vest Prevents Heat Stress
These industrial cooling vests and undervests help personnel keep their body temperatures cool and prevent heat stress. The vests include four ThermoPaks that lower body core temperatures during strenuous activities. The vests are lightweight and can be worn under other work-related, protective clothing. The vests feature adjustable shoulder and side straps to ensure proper fit and mobility. The vests are also available in fire-retardant materials.
StaCool Industries
Operations and Maintenance
Belt Cleaner Provides Long Wiper Blade Life
The Model LP is a single-blade belt cleaner that is compatible with a variety of carryback materials, such as beet pulp or wet sewage treatment plant sludge. It has a heavy-duty, durable 80-durometer rubber wiper. The belt cleaner has a mounting flange that allows for quick adaptation to most conveyor rails. It self-adjusts until the blade-stop assembly is activated, then the wiper blade can be flipped over and used for an additional cycle. Urethane (90-durometer) wiper blades are also available.
Conveyor Components Co.
Leak Detector Rapidly Detects Hydrogen and Helium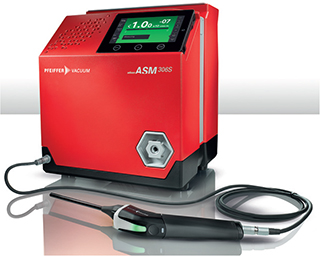 The ASM 306 S helium and hydrogen sniffer leak detector measures leaks with high sensitivity. It is designed for portable use on production lines that require accurate, quick, and reliable leak detection. The device features an ergonomic, high-flow sniffer probe that reduces worker fatigue during continuous operation. It uses a high-resolution, 7-in. screen and color LEDs to display the gas measurements. The device is also available with various hose and cable lengths.
Pfeiffer Vacuum
Hygienic Enclosures Shelter Vacuum Pumps
Hygienic enclosures protect vacuum pumps from corrosion caused by frequent washdowns and aggressive cleaning media. The stainless steel enclosures reduce contamination risks in sanitary environments and allow for vacuum pumps to be safely positioned near machines and other equipment. The enclosures are available in seven different sizes to accommodate most vacuum pumps.
Leybold
Laboratory Equipment
Flow Controller Adjusts Pump Speed as Tubing Ages
The Masterflex flow controller adjusts the speed of a pump to maintain a set flowrate or dispense volume based on input from a flow sensor. On the LED touchscreen, users choose between continuous-flow or volume-dispense mode. In continuous-flow mode, the controller varies the output to the pump to automatically maintain a desired flowrate. In volume-dispense mode, the controller runs the pump until the desired quantity has been pumped. The flow controller automatically adjusts pump flowrates as tubing wears.
Cole-Parmer
Mass Spectrometer Delivers
Good Analytical Performance
The Orbitrap Exploris 240 is a versatile, high-resolution mass spectrometer that analyzes molecules with precision and accuracy. It is designed to characterize a wide range of small and large molecules in various research fields, including proteomics, metabolomics, and biopharmaceuticals. The device delivers mass accuracy, sensitivity, and resolving power across a wide dynamic range to improve molecular discovery and identification. The device features software functionalities — such as Proteome Discover, BioPharma Finder, and Chromeleon Chromatography Data System (CDS) — that streamline data acquisition and processing for multiple analytical applications. It offers comprehensive sample coverage, fast scan speeds, and fully automated data acquisition.
Thermo Fisher Scientific
1
Copyright Permissions
Would you like to reuse content from CEP Magazine? It's easy to request permission to reuse content. Simply click here to connect instantly to licensing services, where you can choose from a list of options regarding how you would like to reuse the desired content and complete the transaction.