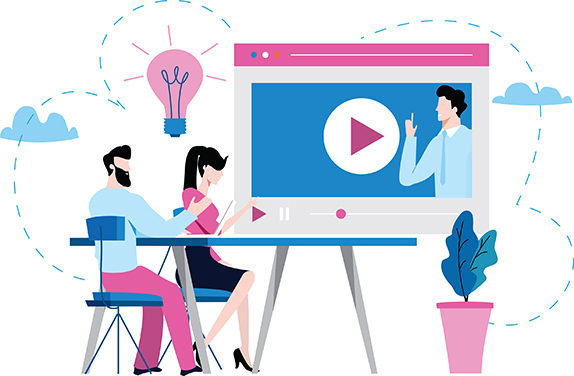 Virtual presentations, such as webinars or video conferences, can pose unique challenges. Give a successful presentation no matter the distance between you and your audience with help from this guide.
Technical presentations can be difficult to master, as the speaker must present complex information in a limited amount of time. Many presentations now occur using video conferencing tools, such as webinars or virtual meetings. Webinars are usually formatted to show a series of graphics or slides accompanied by your voice. Video conferences that take place using tools like Skype may only show your talking head on the screen, with no opportunity for graphics (unless you provide supplementary material via email).
If the presentation takes place virtually, the audience is often required to view technical graphics without being able to see the presenter at the same time. In such cases, the audience misses out on the presenter's nonverbal cues. Therefore, presenters must add all of the necessary information into the presentation itself or the accompanying verbal description.
In cases where the presenter is visible onscreen, poor display resolution or Internet connectivity may muddle or eliminate nonverbal cues. The combination of verbal and nonverbal cues is critical for clear and complete communication. Adding to the challenge are conference room screens that are inadequately sized for virtual group learning or discussions. Presenters can overcome these challenges and give great technical presentations by focusing on the graphics and voice-over...
Would you like to access the complete CEP Article?
No problem. You just have to complete the following steps.
You have completed 0 of 2 steps.
Log in

You must be logged in to view this content. Log in now.

AIChE Membership

You must be an AIChE member to view this article. Join now.
Author Bios
Copyright Permissions
Would you like to reuse content from CEP Magazine? It's easy to request permission to reuse content. Simply click here to connect instantly to licensing services, where you can choose from a list of options regarding how you would like to reuse the desired content and complete the transaction.